'A message of hope, optimism and humanity': U of T's Defy Gravity brand to showcase the university to the world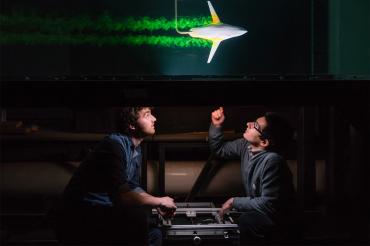 Climate change. Racial injustice. Mass technological disruption and pandemic recovery.
These are just a few examples of the pressing challenges the University of Toronto seeks to address by drawing on the depth, breadth and diversity of research and scholarly expertise across its three campuses – all informed by a core commitment to inclusive excellence.
They also play a central role in U of T's new brand – Defy Gravity – which focuses on the many ways that students, faculty, staff, alumni and others are stepping up to solve intractable global problems, create new knowledge and effect meaningful change in the world, defying obstacles and expectations along the way.
"From groundbreaking medical discoveries to reinventing literary criticism and revolutionizing artificial intelligence, the University of Toronto has a long history of breaking barriers, challenging conventions and transforming society through research, teaching, and innovation," said U of T President Meric Gertler. "Defy Gravity is our way of capturing the spirit and mindset of a place that has never viewed the impossible as a foregone conclusion."
Created by U of T's in-house Brand Hub marketing team, the Defy Gravity brand was developed following consultations with students, faculty, staff, alumni, prospective students and others who are invested in U of T's mission. The team also drew on the global research capacity, data and insights of U of T's agency of record, McCann Global.
The new brand will inform a storytelling approach that showcases how U of T brings together top minds in every discipline, background and perspective in one of the world's most diverse urban regions – and gives them the platform to achieve incredible things.
"Having a sterling academic reputation and ranking among the world's best universities goes a long way, but you also need a strong brand to help convey who you are, what you stand for and the urgency and relevance of your mission," said David Estok, U of T's vice-president, communications. "Defy Gravity does that."
The brand aims to support and amplify the important work of U of T's many faculties, colleges and divisions, and underpins U of T's new fundraising and alumni engagement campaign, which was launched in December.
"Defy Gravity presents a positive and hopeful vision for the world at a time when we need it most," said David Palmer, vice-president, advancement. "It speaks powerfully to our values of inclusive excellence and reminds all of us that U of T is one of few places in the world that can bring talent, ideas, and disciplines together to solve complex challenges and deliver much-needed change – at home and abroad."
U of T News recently spoke to Estok and Tanya Kreinin, assistant vice-president, brand strategy and integrated marketing, about how the Defy Gravity brand came together – and the types of stories it will be used to tell.
Can you explain the importance of developing a brand for a university like U of T?
Estok: The post-secondary sector is a highly competitive market where we are all vying for people's time, attention and interest. The stakes are high, compounded in turn by the pressures brought on by the pandemic.
Just like everyone else, we want the best talent. We want students, faculty and staff to come here. We want our researchers to get the funding they need to thrive and succeed in groundbreaking research that will impact the country and the world at large. Our success depends on attracting the best students, faculty and staff, and building excellent partnerships with government, industry, alumni, donors and other supporters. 
Having a sterling academic reputation and ranking among the world's best universities goes a long way, but you also need a strong brand to help convey who you are, what you stand for and the urgency and relevance of your mission. Defy Gravity does that. It captures not only the impact and excellence of our university, across so many different disciplines, but it also speaks to our aspirations and optimism for the future.
With Defy Gravity, we've created a brand that speaks to our immense diversity, our excellence, our commitment to providing opportunities for all and our status as one of the world's top public universities. And it does so in a warm, inviting and emotionally appealing way that will help our community tell a more consistent, inspiring and memorable story about our impact on the world.
What would you describe as the core elements of the new brand?
Estok: The brand is a distillation of the university's vision, mission, values and spirit. We spent several months consulting with students, faculty, staff, alumni and other key internal and external stakeholders to capture insights on what made U of T unique and compelling.
The responses were remarkably consistent. They were proud that U of T is one of the few universities worldwide that's not only excellent in so many fields but also accessible to students from every background. They were also proud of our record of discovery, innovation and impact and our insatiable drive to take on complex problems. And they highlighted our ongoing efforts to build more supportive and inclusive environments for students, faculty and staff across our three campuses. These insights helped us develop a brand that stood for excellence, as well as being accessible – and for caring, inclusive communities.
Kreinin: Defy Gravity captures these insights in a vivid and relatable way. It speaks to how our university somehow competes with the world's top private universities on a sliver of their budgets and without compromising on our commitment to access and equity. It describes a community of problem-solvers that sees the impossible as a dare and are willing to defy all obstacles and expectations to solve problems and accomplish great things.
We think it's an ideal way to express our values, character, mettle and collaborative DNA. You'll see that through the stories we'll be sharing of brilliant people coming together to create a more just and inclusive world and simply refusing to give up when things get tough.
Can you describe how conversations with students, faculty, alumni and others helped shape the brand development process?
Kreinin: This is the first time in U of T's history that we've developed a brand at such a scale. We conducted hundreds of hours of interviews and received fantastic input from stakeholders across all three campuses and from alumni worldwide. And it's really thanks to their time, generosity and thoughtfulness that we were able to build something that represents our community's vision and aspirations.
When you interview so many bright, diverse and passionate people, you always face a strong possibility of receiving a lot of conflicting opinions and expectations. But David and I were pleasantly surprised – and encouraged – to see tremendous alignment in our community's views.
Estok: We really were. People had a very strong sense of what makes U of T special and relevant in today's world. It definitely made our job easier as we translated these insights into a cohesive brand strategy that's so authentic. We also partnered with our agency of record, McCann Global, to conduct additional local and global research to ensure we came up with something that would resonate and stand out.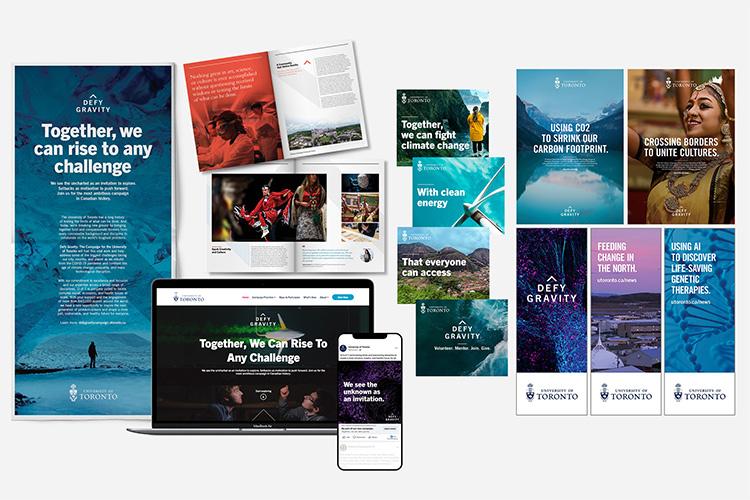 A collection of marketing materials created by U of T's Brand Hub for the launch of Defy Gravity.
Did you encounter any challenges during the brand development process?
Estok: U of T is a large, complex place with a huge variety of stakeholders. This presents a challenge for brand development because you have to come up with something that captures the aspirations and strengths of so many distinct faculties, colleges, divisions and communities. It's hard to get it right.
How will the Defy Gravity brand support the work of the U of T community now and in the future?
Estok: Telling a consistent and powerful brand story about U of T will benefit everyone. It will help our target audiences internalize why we exist and why we matter, and give them reasons to care about our work. It will help our faculties and divisions craft messages and marketing materials that help them recruit the best talent, attract funding, engage alumni and spark partnerships and collaborations with other top institutions.
Kreinin: Our goal with Defy Gravity is to create a unified voice for our institution. But for us, unity is not the same thing as conformity. We know that U of T has many distinct communities and they all defy gravity in their own way. We strongly believe that our communities need to tell their stories in their voice. What a strong, central brand offers is a way to connect this storytelling to a much larger story about the institution. It allows people to tell their stories in a way that enriches the university as a whole.
How are the challenges posed by the pandemic – and the U of T community's response to them – reflected in Defy Gravity?
Estok: It's difficult to overstate how challenging the last couple of years have been for so many people in our community and beyond. But the way people have risen to the challenge is truly inspiring. Our experts have worked tirelessly to lead us through this crisis. Our students and faculty have adapted to new ways of teaching and learning with unflagging creativity and ingenuity. To see how well our community has responded to the pandemic gives me hope for the future. Obviously, this reality was on our minds constantly as we developed the brand – and Defy Gravity is a testament to that hope and optimism.
Kreinin: The pandemic revealed just how resilient and indispensable our community could be during a time of crisis. This is a community that doesn't shrink from complexity or just accept the world as it is. We have a defiant streak. We're a community that wants to change the world for the better. We may not always succeed, but we don't let that hold us back. We use every setback as motivation to push onwards. We've seen this time and again during the pandemic. We're a place where people come together to work on problems and overcome seemingly impossible challenges. This is a message that we think will resonate with people as we help our city and world recover from this pandemic.
What do you hope people ultimately take away from the Defy Gravity brand? What personally excites you about it?
Kreinin: As David said, it's really a message of hope, optimism and humanity. And ultimately, we hope it will instill even greater pride in our community and inspire others to join us to take on the massive challenges we're facing. I think what excites me the most is that it's not a stodgy brand but one that's incredibly human and emotional. It will allow us to tell so many great stories both locally and globally, individually and collectively.
Estok: I'd have to say it's the storytelling that excites me the most, too. Stories not only about scholars revolutionizing their fields or trying to cure diseases, but students who are the first in their family to attend university and people who have overcome adversity, dug in their heels and kept going. These stories, featuring an incredibly diverse range of people and perspectives, are all around us at U of T and it's an immense privilege to be able to help share them with the world.
UTC