In Memoriam: Bill Graham (1939-2022)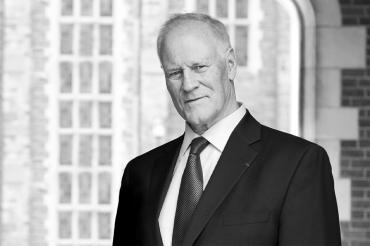 The University of Toronto has lost a visionary leader and generous supporter: the Honourable William (Bill) C. Graham, chancellor of Trinity College, a U of T alumnus and honorary degree recipient.
An internationally respected politician and legal mind, Graham served Canada in several high-profile federal government positions before devoting his time and experience to Trinity College.
"Bill Graham's dedication to our country and to the University of Toronto was an inspiration," said U of T President Meric Gertler. "Everyone who had the privilege of knowing Bill will miss his friendship, his devotion to fairness and justice, his insight, and his leadership.
"On behalf of the University of Toronto community, I would like to extend my deepest condolences to his wife Catherine, daughter Katy and son Patrick."
An outstanding legacy of support for causes from bilingualism to contemporary international history
Graham's generosity of spirit and abundant goodwill made him a natural volunteer and philanthropist in areas that captured his passions. Throughout Graham's career as a litigator, professor and politician, he made French-English bilingualism central to his practices and his understanding of the country.
His love of French culture and devotion to francophone Canada led to his involvement in Alliance Française Toronto, which made Graham its president for 10 years, beginning in 1978. In recognition of this work, Graham received France's most esteemed accolade, l'ordre national de la Légion d'honneur.
At U of T, the Grahams' generous philanthropy supported initiatives across the university, including, most recently, a significant donation to the Living Trinity campaign for the Lawson Centre for Sustainability – Trinity College's new sustainable academic and residence building. In 2000, family and friends honoured Graham's commitment to public life by establishing the William C. Graham Chair in International Law and Development at the Faculty of Law. 
When Trinity College and the Munk School of Global Affairs (now the Munk School of Global Affairs & Public Policy) launched the Centre for Contemporary International History in 2011, the Grahams were early supporters. In 2013, Trinity College renamed it the Bill Graham Centre for Contemporary International History to honour a lifetime of leadership at Trinity College. The Grahams also helped create a new faculty position in contemporary international history at Trinity College in collaboration with the department of history in the Faculty of Arts & Science.
"Chancellor Graham's lifelong devotion to Trinity College has left an indelible mark on our institution," said Mayo Moran, provost and vice-chancellor of Trinity College. "His generosity and vision, along with his commitment to advancing our understanding of international affairs and law, will inspire and shape the views of generations of students to come."
The spirit of adventure in an international youth
Graham was born on March 17, 1939, in Montreal, and he enjoyed a childhood split between Toronto and Vancouver in a large family with 12 siblings. His father, Francis Graham, was a Canadian sugar baron and financier. He and Graham's mother, Helen Graham (née Bailey), settled the family in Vancouver when Graham was four years old.
Graham grew up with regular exposure to an interesting cast of international characters, including Indian physicist Homi J. Bhabha, Group of Seven painter Lawren Harris and musicians such as Louis Armstrong and Glenn Gould. As an undergraduate, he joined the Royal Canadian Navy through the University Naval Training Division and put his diplomatic skills to their first test while attempting to drive from England to India in the summer of 1960, navigating a coup d'état in Turkey and suspicious Iraqi border guards.
After completing his undergraduate degree at Trinity College in 1961, Graham enrolled in U of T's Faculty of Law, where he became editor of the Law Review and graduated with the 1964 gold medal. He completed a doctorate in international law at the Université de Paris and then began a practice in international law with Toronto firm Fasken.
In 1980, Graham's sterling reputation as a litigator earned him an offer from Frank Iacobucci, then dean of U of T's Faculty of Law, to return to the university as a professor of international law. The subject had become vitally important to teach, and Graham stood out as one of Canada's leading practitioners.
A principled public servant who helped Canada re-envision its place in the world
As Graham adapted to academic life, he also began exploring public service in federal politics, becoming a member of Parliament in 1993 – a seat he held until retiring from politics in 2007. During that time, he held several prominent positions, including minister of foreign affairs, minister of defence, and briefly, leader of the official Opposition and interim leader of the Liberal Party of Canada.
As an MP, Graham was early supporter of LGBTQ2S+ rights. He called for federal HIV-AIDS funding and advocated for prohibiting discrimination based on sexual orientation. And in 2003, as minister of foreign affairs, Graham won nationwide respect for his principled refusal to involve Canada in the U.S. invasion of Iraq.
Graham returned to Trinity College as chancellor after retiring from politics in 2007, and received an honorary doctorate from U of T at the 2018 Spring Convocation.
"Bill Graham's extraordinary life of public service helped Canada re-envision its place in the world," said David Palmer, U of T's vice-president of advancement. "As Chancellor of Trinity College, and through philanthropic leadership with Catherine, Bill has had an enormous impact elevating research and teaching at Trinity College and the Faculty of Law.
"Thanks to Bill and Catherine's generosity at U of T, a new generation of leaders will benefit from excellence in research and education in international history and law."
DUA