Honorary degree recipient William C. Graham's political career is inspiration to graduating students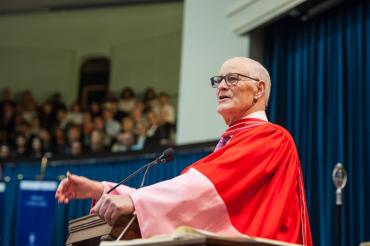 For university students graduating this year, the story of William "Bill" Graham's entry into politics can be a lesson in perseverance, holding true to the adage, "If at first you don't succeed, try, try again."
While teaching at the University of Toronto's Faculty of Law, Graham decided to launch his political career, running for MP in the 1984 federal election. He lost against former Toronto mayor David Crombie in the Toronto Centre-Rosedale riding.
Four years later, he tried – and lost – again, by only 60 votes.
But in 1993, on his third attempt, he won – and remained the MP of that riding for 14 years.
"My message was Canada is becoming more integrated into the world and we're not doing enough in Parliament to deal with that issue," Graham said about running the third time in an interview with Global News in 2016. "I thought, well, why not? I was teaching law, I could take the time – it was an opportunity to try and do it and I'm glad I did."
During his political career, Graham served as minister of foreign affairs, minister of defence, and leader of the federal Opposition. After leaving politics, he became chancellor of Trinity College at the University of Toronto.
On Friday, Graham added another accolade to his already impressive list: an honorary degree from U of T.  
"It's a great honour from my old alma mater," Graham told CTV News in an interview on Wednesday.
Graham, who graduated with the gold medal at U of T's Faculty of Law in 1964, received a Doctor of Laws honoris causa, "for his outstanding service for the public good and the nation, and to the university, as a lawyer, a leading parliamentarian, and philanthropist and volunteer."
After graduating from U of T, Graham completed his doctorate in law at the University of Paris. When he returned to Canada, he joined the law firm Fasken & Calvin. At the same time, he taught at U of T's Faculty of Law where he eventually joined the full-time faculty, teaching until 1993 when he became an MP.
Graham was foreign minister in Jean Chrétien's government at a time when Canada had to make some tough decisions. In 2003, the federal government decided it would stay out of the Iraq war.
"That was a dramatic moment and it was an important moment in Canadian history," Graham told Global News.
At the same time, Graham's son Patrick was a reporter in Baghdad. In the Globe and Mail, Patrick Graham wrote that he and his father could not talk about the events at the time for fear their phones were bugged.
In Parliament, Graham was also an advocate for LGBTQ rights – making a plea for the government to support same-sex marriage.
Graham marked his exit from politics with a tearful goodbye in 2007.
"My notes tell me to say, `It is with considerable regret and some emotion ...' but I think the emotion has betrayed me," Graham said, quoted in the Toronto Star.
Politics' loss was U of T's gain when Graham became chancellor of Trinity College, where he established the Bill Graham Centre for Contemporary International History.
In 2016, he released his autobiography Call of the World: A Political Memoir, in which he speaks about his journey from childhood to the public service.
Graham still maintains his ties to federal politics as a part of the Canadian government's Ministerial Advisory Panel on Canada's Defence Policy Review.
A message to U of T grads from William C. Graham:
"At some point in your life give thought to public service in some form. Ultimately, democratic societies will only thrive if good people are prepared to contribute to their political life. And in our ever more integrated world, the same is true of the international institutions that are so important for global security and prosperity. The scope for public action today is vast, the challenges are complex, but the prospects are exciting."
UTC