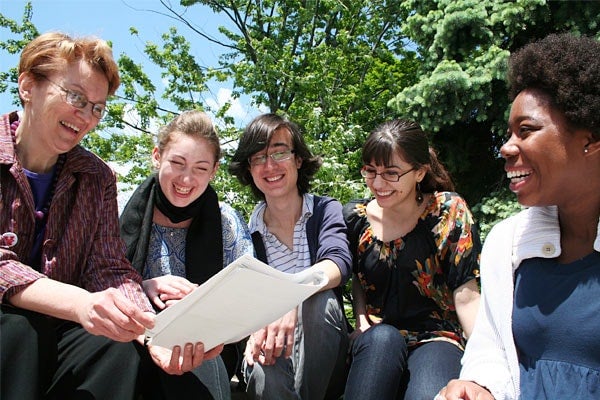 Meet the College Ones: small classes, field trips, lively debates
They're known as the College Ones – and they offer undergraduates at the largest university in Canada the chance to spend part of their first year studying in a small class, getting to know professors and classmates, and taking part in field trips.
"The smaller class sizes helped immensely with my transition into the university learning environment," says Fiona McNestry, who enrolled in the Trinity One program in 2007. "The learning experience in small classes is so rich. Students are able to interact with one another and professors in small groups or one-on-one and really discuss and absorb the class material and beyond.
"The course gave me the confidence to thrive at university."
Victoria College launched the first College One program in 2003 but 2012 marks a milestone in the development of the popular program: for the first time, One programs are being offered at every college and at the University of Toronto Scarborough campus and the University of Toronto Mississauga campus.
"The First Year Foundational programs are hugely exciting because they provide our students with a first year experience that is truly exceptional," says Cheryl Misak, vice-president and provost of the University of Toronto.
Each College One program is unique. The largest is Vic One - a program which today comprises five different streams of study, each with an enrolment of 25 students.
"We put into freshman classes, teachers who are visibly high level practitioners in their field," says Vic One professor Albert Moritz, an award-winning poet who is associated with the Northrop Frye (humanities) and Norman Jewison (the arts) streams.
"The program provides the students with a little bit of a window into the field they are studying," says Moritz. "For instance, I'll invite students to my poetry readings or ask for their opinion on a book I'm publishing, and so on."
With the exception of students in commerce or computer science, any student enrolling in the Faculty of Arts & Science can apply to any of the College Ones programs.
Already fully enrolled for this year, next year the Vic One program will offer a total of 225 spaces across the five streams. They include the Northrop Frye stream, geared to literary topics; the Norman Jewison Stream for Imagination and the Arts; the Lester B. Pearson stream which explores public life and citizenship; the Egerton Ryerson stream which focuses on education; and the Augusta Stowe-Gullen stream, which explores the ethical, social and political consequences of scientific advancement. Under consideration for next year's students is a possible Arthur Schawlow stream for physical sciences. Named after the inventor of the laser and Nobel Laureate who graduated from Victoria College, the Schawlow stream would take a multi-disciplinary look at the physical sciences, the factors that enable scientific progress, and the environment in which science is performed and advanced today.
"I was very concerned that my voice would be lost in the stacks of essays and assignments," says Jade Huguenin, a student of Vic One two years ago. "That is why I pursued the program- to have a voice in the ever growing institutional framework of universities."
The Ones programs can also help students overcome shyness or hesitancy around approaching professors after class or during office hours.
"Vic One has taught me the value of getting to know your professors," says former Vic One student Tegan Hansen-Hoedeman.
Trinity College's Margaret MacMillan Trinity One provides three different streams: International Relations, Ethics, and Public policy. University College's UC One: Engaging Toronto has four streams: Citizenship and the Canadian City; Sex and the City; Performing the City; and Gradients of Health in an Urban Mosaic.  
Third-year student Patrick Quinton-Brown says his time in the Trinity One program was his fondest university experience.
"Trinity One was challenging but highly rewarding because it played to the importance of critical thinking and class participation," says Quinton-Brown. "By questioning my own beliefs as well as the beliefs of others, Trinity One showed me that asking good questions is sometimes more important than providing good answers."
Four colleges have launched Ones program this year. Woodsworth One: Order & Disorder; SMC One: Cornerstone; Innis One: the Creative City; and New One: Learning Without Borders. And both UTSC and UTM also offer Ones programs.
"The expansion of the foundational year programs to include all the colleges, UTM and UTSC, means that more of our students will have the opportunity to have this great foundational year, and more of them will find a 'One' program to perfectly suit their needs and interests," says Misak.
As interest in the College Ones continues to build among prospective students, so does competition for the program. However, the Faculty of Arts and Science offers further options for small classes to ease students' transition to university. Its popular first-year learning seminars, with enrolment capped at 24 students per class, cover a diverse range of topics.
This year's offerings include such classes as: Baguette Served With Poutine and a Hint of Zombies: French and Francophone Cultures Beyond Stereotypes; More Than Just a Dinner Party: High Style and Serious Attitude in the Literary Salon of 1830s Paris; Modern Physics in Perspective; and How to Gamble if You Must.
"I am really excited about teaching a small first-year course" says Professor Marry-Ann Pouls Wegner of her new course, The Mummy: Technology and Transformation.
"The smaller setting will allow me to get to know the students, and to work more closely with them on developing skills like critical reading and writing."