Medicine by Design to accelerate regenerative medicine discovery and translation with new $20-million investment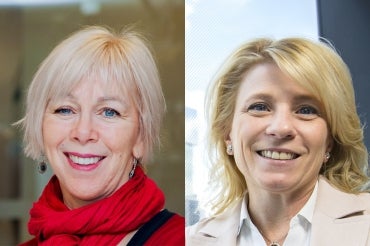 Medicine by Design is strengthening the University of Toronto as a global leader in regenerative medicine with a new investment of as much as $20 million in research that will accelerate stem cell and gene therapy, advance understanding of how the body repairs itself and generate new technologies that will propel the field for decades.
The three-year awards will support as many as 12 multi-disciplinary research teams across U of T and its affiliated hospitals that are working at the convergence of engineering, medicine and life and physical sciences. These teams are leading the development of stem cell-based strategies to replace damaged heart and liver tissue and induce the body to self-repair damaged nerve and muscle, as well as tackling key challenges in the field such as the lack of control in producing specific tissue types from stem cells, with the goal of turning discoveries into new therapies, products and companies sooner.
"Medicine by Design has generated breakthroughs that are transforming regenerative medicine and sparking tremendous activity throughout Canada's life sciences ecosystem," said U of T President Meric Gertler. "This new investment will build on these advances, lay the foundation for translating these innovations into tangible benefits to patients and society, and advance Toronto's position as the leading international centre of excellence in regenerative medicine for decades to come."
Funded by a $114-million grant from the federal government's Canada First Research Excellence Fund, Medicine by Design is a strategic research initiative at U of T that is catalyzing transformative discoveries in regenerative medicine and accelerating them toward the clinic. It builds on decades of made-in-Canada excellence in regenerative medicine dating back to the discovery of stem cells in the early 1960s by Toronto researchers Drs. James Till and Ernest McCulloch.
This is the second time Medicine by Design has awarded large-scale funding for collaborative team projects. Research supported by the first round of Team Project awards (2016-2019) has already driven significant advances, including the first "map" of the human liver, which attracted further funding this year from the Chan Zuckerberg Initiative. Another Medicine by Design-funded team has developed "safe cells" that are programmed to be killed if they become harmful, a key advance in improving the utility of cell therapies.
Over the past three years, Medicine by Design-funded researchers have also launched 15 startups.
The new awards will build on these discoveries and continue to spur innovations that will push the field forward, said Michael Sefton, executive director of Medicine by Design.
"By bringing together leading investigators across disciplines and institutions to confront the most challenging problems in the field, we have created new collaborations that have fundamentally changed how the regenerative medicine community in Toronto works together," said Sefton, a University Professor at the Institute of Biomaterials & Biomedical Engineering (IBBME) and the Michael E. Charles Professor in the department of chemical engineering and applied chemistry.
"These new projects all have significant potential to achieve transformative and globally competitive outcomes and advance groundbreaking discoveries toward the clinic, transforming how we treat many devastating diseases."
One team led by Shana Kelley, a University Professor at the Leslie Dan Faculty of Pharmacy, is developing a suite of advanced tools to enable researchers to gain new insights into how stem cells differentiate into any specialized cell type.
Freda Miller, a senior scientist at the Hospital for Sick Children (SickKids), heads a team that is developing a platform that will enable the rapid identification and testing of signals that activate stem cells in muscle and brain to repair damaged tissue, which could transform the treatment of muscular dystrophy and demyelinating disorders, such as multiple sclerosis.
Restoring heart function after heart failure is the focus of another team led by Michael Laflamme, a senior scientist at the McEwen Stem Cell Institute at University Health Network (UHN).
"We've come a long way from deriving stem cell-derived heart muscle cells in the Petri dish to optimizing them now for eventual use in patients," said Laflamme. "This massive effort would not have been possible without Medicine by Design, which brought us all together toward a common goal of finding a cure for heart failure."
Medicine by Design selected projects for funding after an extensive evaluation process, which included consultation with the research community, external peer review and scientific and strategic advice from Medicine by Design's scientific advisory board.
Other funded research includes projects aimed at:
Using stem cells to regenerate damaged livers, led by Gordon Keller, director of the McEwen Stem Cell Institute at UHN, in collaboration with Ian McGilvray, a senior scientist at the Toronto General Hospital Research Institute (TGHRI) and a transplant surgeon at UHN, Sonya MacParland, a scientist at TGHRI specializing in liver immunology, Molly Shoichet, a University Professor in the department of chemical engineering and applied chemistry, Axel Guenther, an associate professor in the department of mechanical and industrial engineering, Gary Bader, a professor in the Donnelly Centre for Cellular and Biomolecular Research, and Christine Bear, a senior scientist at SickKids.
Reprogramming brain cells to treat amyotrophic lateral sclerosis and stroke, led by Cindi Morshead, a professor and chair of the division of anatomy in the department of surgery, in collaboration with: Isabelle Aubert and Carol Schuurmans, senior scientists at the Sunnybrook Research Institute, Maryam Faiz, an assistant professor in the department of surgery, and Melanie Woodin, a professor in the department of cell and systems biology and dean of U of T's Faculty of Arts & Science.
Understanding how immune cells function in healthy and damaged blood vessels, led by Clint Robbins, a scientist at TGHRI, in collaboration with Myron Cybulsky and Jason Fish, both senior scientists at TGHRI.
Studying how material exchange – a process whereby cellular material from transplanted cells is transferred to host cells – could play a role in improving outcomes of cell-based retinal therapy aimed at preserving and restoring sight. This project is led by Molly Shoichet in collaboration with Derek van der Kooy, a professor at the department of molecular genetics and the Donnelly Centre, Valerie Wallace, a senior scientist at the Krembil Research Institute at UHN, and Julie Lefebvre, a scientist at SickKids.
Additional projects, including those focused on the effect of aging on cardiac disease, organoids, diabetes and organ repair, are under review, with final decisions expected by December.
Medicine by Design