MasterCard Foundation Scholars: U of T celebrates students from Sub-Saharan Africa
As the first U of T MasterCard scholars prepare to graduate, others' journey is just beginning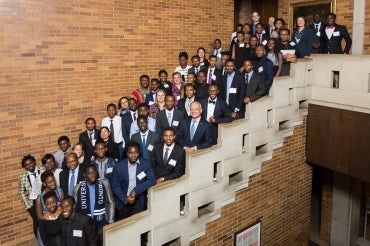 Vanessa Grace Bart-Plange came to Toronto from Ghana four years ago as part of the first wave of MasterCard Foundation Scholars.
In a speech at U of T's fourth annual MasterCard Foundation Scholars dinner last week, she reflected on her time here – from her first days as a naïve new student on campus to the present.
In her scholarship application, she had written that she wanted to become a professor and improve education and vocational training in her native country to lessen graduate unemployment. And there was the small matter of wanting to win a Nobel Prize in Literature.
She said she stills wants to teach at a university and is applying to grad schools.
"As for the Nobel Prize, I have found that each day spent making someone's life better, whether as a volunteer tutor or an intern at a constituency office at City Hall is a Nobel Prize in and of itself," she said.
She's a little closer to accomplishing her goals now, after making the most of her time on campus and studying abroad at the Paris Institute of Political Studies (SciencesPo).
"As I stand here as a scholar with a world-class education about to be released into the world, all I can say is 'Thank you,'" she said. "This scholarship is not the end but the beginning of greater things to come."
U of T President Meric Gertler saluted the university's 52 MasterCArd Foundation Scholars at the dinner Thursday, noting that the graduation of several members of the original cohort marked a milestone for the university.
"Their experiences and their plans are truly inspiring," he said.
The scholarship was made possible by a $22.8-million grant from the MasterCard Foundation. It covers tuition in the Faculty of Arts & Science or the Faculty of Applied Science & Engineering, as well as the cost of books, living expenses and airfare. U of T was one of the first Canadian universities, along with the University of British Columbia and McGill University, to partner with the MasterCard Foundation to offer this scholarship.
The foundation's goals "resonate strongly" with U of T's own strategic priorities, President Gertler said.
"The program helps equip emerging leaders with the core competencies needed for leadership in a complex, rapidly changing and sometimes turbulent world," he said. "In turn, our MasterCard Foundation Scholars bring unique perspectives to our campuses, and they enhance our capacity to think and engage on a global level."
Sylvia Mwangi, from Nyeri, in central Kenya, was the first in her family to go to university – and if all goes to plan, she will soon be one of the first U of T students to graduate thanks to a MasterCard Foundation scholarship. Partly inspired by one of her favourite courses at U of T, the industrial engineering major wants to improve the processes behind health-care systems.  
For other students, their journey is just beginning.
Michael Samakayi, the first deaf MasterCard Foundation Scholar at U of T, has yet to choose a major – he's leaning toward criminology or sociology.
Although he is just starting his undergraduate education, he already has a clear career goal: he wants to be his country's first deaf lawyer and advocate for the rights of young people.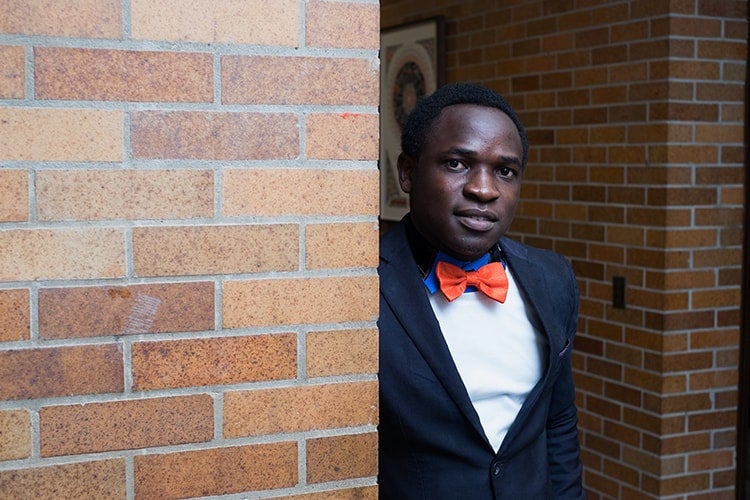 Michael Samakayi, a first-year student in Woodsworth College, is the first deaf MasterCard Foundation Scholar (photo by Geoffrey Vendeville)
"When I was offered the full scholarship, I thought I was dreaming or someone was playing a trick on me," said the Zambian student through an interpreter. 
"I'm concerned for the children in my country, not only the deaf children," he said. "My goal is to improve the conditions in my country, and I'm very determined, very focused on that goal."
Reeta Roy, president and CEO of the MasterCard Foundation, said that although there is unease in the world today, U of T's scholars are reasons for optimism.
"I was listening to each of you, coming into your first year, talk about your aspirations and your dreams, and I already know we should be very encouraged," she said.
UTC