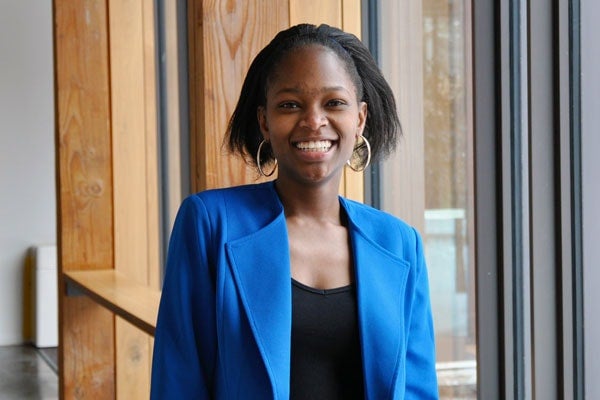 From rural Kenya to U of T: "I didn't expect such a magical and amazing school"
Meet Mastercard Foundation scholar Emmanuela Alimlim
It's a long way from rural northern Kenya to the University of Toronto campus, both in distance and in cultural experience, but Emmanuela Alimlim has successfully bridged the gap.
Well, almost. Alimlim, a second-year economics and finance student, is still not delighted by the cold weather, although she now takes it in stride.
"Last year, I would call my mother and tell her to come pick me up and take me home," Alimlim says with a laugh. "This year, I tell my friends in first year that it isn't so cold."
Alimlim, a Mastercard Foundation scholar, knew very little about Canada and even less about the University of Toronto when she applied for admission.
"Canada itself and U of T are not as well known as some American schools lower in the rankings," she says. "When I came here, I didn't expect such a magical and amazing school."
Being far from home was nothing new for Alimlim, since the high school she attended in Kenya was a boarding school. At U of T, she lives at New College and likes the sense of community there.
"You see the same people every day and get to know each other," she says. "It's a community of students, and in eight months together, you have to say 'hi' to someone, make jokes and talk about the day's weather."
Initially, she found the Canadian academic approach challenging.
"Here, they give you a whole pack of work to do at once," Alimlim says. "The professors are more committed to their work and are trying to give their best to the students. There are no shortcuts to a degree, so there's a lot of work to do."
The pace of learning was challenging, too, because she found that many of her classmates had more background in the coursework, based on their high school classes.
"I found I was behind and couldn't understand some things," Alimlim says. "I went later to see the professors, and I go to the writing centre or library to work on my assignments, because I'm not a good writer. During my first year, I had a private tutor for math class and that was very helpful.
"With time, I've adjusted to the expectations and the pace and realized that yes, I can do this. Now, I am at the same level as everybody else."
In addition to her coursework, Alimlim is working toward her dream of partnering with one of her high school friends to create and run the Impact Community Foundation, an organization that will improve educational opportunities for youth in Kenya. She has already begun the Penda Dada Initiative, a program that helps teenage mothers get a second chance to go to school.
"Next summer, we plan to roll out our program, so we'll need a lot of energy and financing," Alimlim says. "This year, I'm building a network of support and trying to apply for grants."
As eager as she is to return and give something back to her country, Alimlim is enjoying her U of T experience
"I'm very happy," she says. "U of T has been helping me to grow as a student and a global leader. I'm so glad I came here. There are so many opportunities to grow."
To other international students who are planning to attend U of T, Alimlim has this advice: "U of T is a home to you. Everyone looks out for you. When you feel lost, ask for help. It is always there for you; you just have to find the right place to ask for it."
Alimlim was recently awarded a UNESCO Clubs Youth Multimedia Competition award for her video about her Penda Dada Initiative. Watch the video: