Making space commonplace: U of T startup works with NASA on low-cost exoplanet research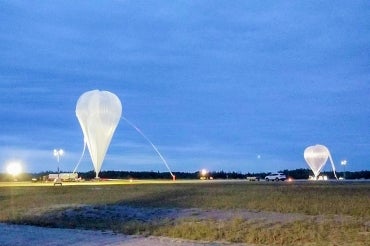 ​A giant telescope carried on a balloon the size of a football stadium will soon allow researchers to gaze at distant gas planets known as "hot Jupiters" – and a University of Toronto startup is playing a key role in the endeavour.
Growing out of research at U of T, StarSpec is contributing to the 2025 NASA project by providing the suborbital research vessel that houses and controls the mission's telescope, which will be deployed some 40 kilometres above the Earth's surface after the balloon is launched from a volcanic island in Antarctica.
It's hoped the NASA mission – one of several StarSpec is involved with – will both improve our understanding of exoplanets and put StarSpec one step closer to realizing its ultimate goal of helping small organizations, including researchers, access space by providing them with cheap, highly functional gear.
"There is a growing class of people who want access to space either for astronomy, Earth-observation or satellite-based Internet, but need it faster and at a lower cost than is typically afforded by what I would call 'the old space regime,'" says Javier Romualdez, StarSpec's CEO and a former PhD student at U of T.
"StarSpec is making space accessible through the availability of standardized sub-orbital technologies – satellites, hardware and software – that can allow researchers and technology developers to get access to space or near-space without the risk, cost and long development times associated with a typical space mission."
For the upcoming NASA mission, StarSpec's balloon-borne research gondola will be equipped with high-precision telescope and image stabilization systems, enabling the U.S. space agency's Exoplanet Climate Infrared Telescope (EXCITE) to make spectrographic measurements of planets with a high degree of accuracy – crucial for better understanding their atmospheres while shedding light on how solar systems and planets form.
StarSpec, which received assistance from U of T's UTEST entrepreneurship program, grew out of research at the Dunlap Institute for Astronomy & Astrophysics, department of physics in the Faculty of Arts & Science and the U of T Institute for Aerospace Studies (UTIAS) in the Faculty of Applied Science & Engineering. It's one of a growing number of space technology companies that has emerged from the university in recent years. Others include Kepler Communications, which builds, launches and operates low earth orbit satellites, and was founded by alumni from U of T'S Faculty of Applied Science and Engineering, and those working with the Creative Destruction Lab, a seed-stage accelerator based at U of T's Rotman School of Management that launched a dedicated stream for space ventures in 2018.
Yet, while launches have become less expensive and risky in recent years thanks to the growth of launch companies like Elon Musk's SpaceX, Romualdez says there remains a significant barrier to accessing space: supporting technology. That's why StarSpec is focusing on solutions such as its research gondolas, which are essentially space-proof carriages fitted with the technologies to house, support and control scientific instruments.
"Let's say you want to put a camera in space to take pictures of the Earth or build a new Google Maps. It's not like you can just take a camera, stick it into SpaceX's rocket and launch it into space," Romualdez says. "It's not going to work because you don't have the communications, the power, the ability to point and control the camera and the ability to downlink the data.
"That's what we're providing. We're basically filling the supply-chain gap in space technology."
StarSpec's gondolas use modularized "plug-and-play" systems with standardized hardware and software that can be used with existing launch vehicles, allowing for precise control of scientific instruments – all without exorbitant costs and lengthy development times.
"The traditional approach is to try and rebuild everything from scratch every single time an experiment has to go [to space]," says John Hartley, who holds a PhD in physics from U of T and serves as StarSpec's chief financial officer. "With our systems in place, the timeline can be cut in half, which also translates to being more cost-effective.
"That's a major advantage. If you can get up there sooner, you get your data and results sooner, and everybody's happy. That brings real benefits to both the academic and commercial worlds."
StarSpec's origins can be traced to U of T's Balloon Astrophysics Group, headed by Professor Barth Netterfield, a leading expert in balloon-borne and suborbital technology who now serves as the company's technical adviser. Romualdez and Hartley both completed their PhDs in Netterfield's lab, while chief technical officer Steven Li completed his master's degree in the lab before going on to pursue a PhD at Princeton University.
Romualdez says he was interested in working with Netterfield because he wanted to carry out an end-to-end project. "This lab stuck out to me because they said, 'OK, fine, your PhD will be designing, building, testing and launching a sub-orbital telescope – all in five years," Romualdez says.
In 2015, only three years after Romualdez began his doctoral work, the Balloon Astrophysics Group launched the Balloon-Borne Imaging Telescope (BIT) with the Canadian Space Agency in Timmins, Ont. The next launch took place from NASA's Columbia Scientific Balloon Facility in Texas, with two further launches confirming the balloon-borne telescope as an instrument with imaging resolution and stability performance that rivaled NASA's Hubble Space Telescope.
"BIT was basically a Steadicam with the same astronomical capabilities as the Hubble Space Telescope, but we were able to develop it in three years with a graduate research budget," Romualdez says.
Now, StarSpec is looking to bring similar capabilities to NASA's EXCITE project, which will measure the atmosphere content of exoplanets. "The overarching idea here is trying to answer the question: Are we alone in the universe?'" says Hartley. "We know Earth has an atmosphere and because of that, we can live on it. And there are exoplanets out there in the millions, so what do they look like? EXCITE is a step towards answering that question."
StarSpec has also been contracted to take part in several other NASA missions, including one project with the new Pioneers program that fosters astrophysics science ventures at lower cost, using smaller hardware.
Over the next few years, the company hopes to take part in suborbital projects all over the world.
"Two years from now, I believe we will have saturated and expanded as far as we can into the ballooning and suborbital space," says Romualdez.
What's next for Starspec? The company is working to repurpose its suborbital technologies for satellites that can access low-Earth orbit – the layer of space roughly between 200 and 1,600 kilometres above the Earth's surface. Among its projects is an experiment at U of T's Dunlap Institute that will utilize a space-borne telescope.
It's also developing a range of standardized, plug-and-play satellites.
"Five years from now, we want to have a standardized product stream for satellites," Romualdez says, adding there's growing interest in using space to support applications such as fintech and real-time Earth observation. "I see us having a major contribution on those fronts."
StarSpec's ambitious trajectory would not have been possible without the support of U of T and the UTEST program in particular, its founders say. The U of T early-stage entrepreneurship program's contributions included connecting the company to its current legal team as well as crucial intellectual property resources.
"When we were starting, we had a lot of technical knowhow but realized very early on that, from a business perspective, we were in over our heads," Hartley says. "UTEST was an easy and accessible platform for us to gain information on how to start and run a business; what sorts of things you need to think about; how do you position yourself in the market – things that we didn't understand and needed to figure out."
Adds Romualdez: "It's been only nine months since we were part of the UTEST program, and looking back, we've already come so far. UTEST was a great stepping-stone to speed us on our way."
Ultimately, StarSpec hopes to help create a world where space projects are no longer limited to governments, giant corporations or billionaires like Amazon's Jeff Bezos.
"Our long-term vision is that a small business, a city or a small research group at a university that has something that could really have an impact – a revolutionary communications or astronomical device – will be able to look in a catalogue, select a system and plan a launch," says Romualdez.
"We're envisioning a world where accessing space is not this extremely niche concept [with all sorts of highly technical] barriers. It's commonplace."
UTC