Joseph Wong named U of T's interim vice-president, international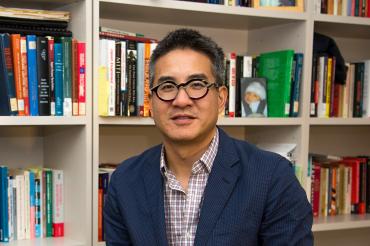 Professor Joseph Wong has been appointed the University of Toronto's interim vice-president, international, effective July 1. The appointment is for a one-year term or until a permanent appointment is made.  
As the university's first-ever associate vice-president and vice-provost, international student experience, Wong opened up new avenues to international learning opportunities for U of T students.
The number of undergraduate students who travelled abroad for their studies or research was on track to hit 26 per cent this year before COVID-19 struck – up from 14 per cent in 2016.
"If we have a quarter of our undergraduate students participating in international learning opportunities, that means it's becoming part of the core value proposition of being at the University of Toronto," said Wong, a professor in the department of political science in the Faculty of Arts & Science and the Ralph and Roz Halbert Professor of Innovation at the Munk School of Global Affairs & Public Policy.
"It's no longer a nice-to-have or luxury on the side; it's part of the expectation any incoming student would have of their experience. I think that's transformational."
As interim vice-president, international, Wong will be taking over from University Professor Ted Sargent, who was named U of T's new vice-president, research and innovation, and strategic initiatives.
President Meric Gertler announced Wong's appointment on Thursday following approval by U of T's Governing Council. He said Wong was highly regarded among those consulted on the potential appointment.
"His success in promoting the wider uptake of international experiences amongst our students, as well as the incorporation of internationalization more broadly within our undergraduate programs, were singled out as particularly noteworthy achievements," President Gertler said.
Wong told U of T News one of his priorities in his new role will be to grow students' opportunities for global engagement while the pandemic restrictions remain in place and to ensure that U of T is ready to hit the ground running as soon as international travel is once again safe.
"If COVID has taught us anything, it's that global engagement is more important than ever," said Wong. "Those institutions and countries that have become more inward looking are facing bigger challenges.
"When we emerge into the new normal, we want to be sure that U of T is in full stride and that we're not restarting our international engagement and internationalization strategy from a standstill."
In one of his own seminars, Wong is planning to set up an online dialogue between his students in the Munk One program and a class at the Monterrey Institute of Technology and Higher Education in Mexico. "It's an opportunity for our students to dig deep, work together, collaborate, discuss and debate with students in Mexico," around issues of poverty, inequality and trust in governance during the COVID-19 era," he said.
In addition to teaching, Wong is a faculty mentor and the founder of the Reach Project, a student-driven, multi-disciplinary research initiative that has taken students to all corners of the world for in-depth looks at innovative development programs that are reaching the world's most marginalized people. Over the last several years, Reach student researchers have gone to Ethiopia to study a program to alleviate food insecurity, Brazil to investigate a conditional cash transfer program and Mongolia to study access to solar energy.
Earlier this year, Reach received additional support from the Mastercard Impact Fund to form the Reach Alliance and expand to six other universities by 2022.
Wong also helped introduce new academic designations that encourage students to acquire the international experience necessary to tackle some of the world's greatest global challenges. Students can work toward a Global Scholar certification and designation on their transcript by taking a curated series of courses offered by their program or faculty. And they can obtain a Global Citizen designation on their co-curricular record through participating in programs and activities that foster a global outlook and engagement, or that celebrate inclusivity and equity and other core competencies.
Before taking on his current position, Wong was director of the Munk School's Asian Institute from 2005 to 2014. He's the author of several books and has worked with international organizations such as the World Bank and United Nations, and has advised governments on matters of public policy.
"I'm very excited about this [appointment], as I was about the assistant vice-president role, because internationalization is one of the core pillars of President Meric Gertler's own vision of the university – so it's a terrific opportunity to be working with and collaborating very closely not just with the president, but with partners across the university," Wong said.
UTC