U of T expands Reach Project, focused on international development, to other universities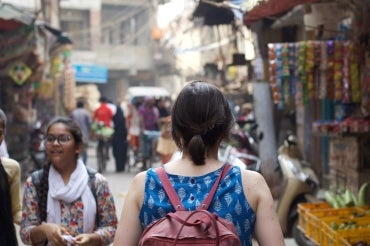 Over the past five years, students from the University of Toronto have criss-crossed the globe researching how governments and other organizations deliver social services to some of the world's most vulnerable people – building a valuable library of knowledge in the process. 
Now, U of T's Reach Project, a student-led initiative housed at the Munk School of Global Affairs & Public Policy, is about to extend its reach to other global universities through the Reach Alliance. The Mastercard Center for Inclusive Growth, which administers the Mastercard Impact Fund, is investing US$2 million over three years to create the partnership, while U of T is adding US$500,000.
Joseph Wong, the Ralph and Roz Halbert professor of innovation at the Munk School and U of T's vice-provost and associate vice-president, international student experience, said today that Reach plans to scale the project's methodology to six other universities by the spring of 2022.
"It aligns with these universities' goals in terms of [launching] an interdisciplinary initiative – one that puts students front and centre and empowers them," said Wong, who is also a professor of political science in the Faculty of Arts & Science. He added that other universities have been enthusiastic about adopting the Reach model.
U of T will act as a global headquarters for the academic partnership while continuing to run its own program. 
"The Reach Project not only asks the right questions for our time, but also follows the right approach: applying academic rigour and cultivating a culture of innovation to close an important knowledge gap in development," said Arturo Franco, vice-president of data and insights at the Mastercard Center for Inclusive Growth. 
"Given the early success we've seen at the University of Toronto, the Mastercard Center for Inclusive Growth is thrilled to support a new era of Reach, and to facilitate the training of purpose-driven leaders ready to tackle global priorities such as financial inclusion, sustainable development and technology for good."
As for how students and faculty from different universities will collaborate on Reach projects, Wong said "the possibilities are endless." The common denominators will be that the projects are interdisciplinary, student-driven and focused on questions about reaching the hardest to reach – although the projects at each university will be unique.
At U of T, the program has seen undergraduate and graduate students study a successful birth-registration drive in South Africa, the distribution of solar panels to nomadic herders in Mongolia and the delivery of life-saving medicine in Tanzania, among other topics. The case studies they've produced have been used by the likes of The Lancet Global Health, UNICEF and the World Bank, and have also been presented at conferences at the University of Oxford, Harvard University and the World Health Organization. 
Gustavo Merino, a professor at the School of Government and Public Transformation at Tecnológico de Monterrey, Mexico's largest private university, told U of T News that focusing on people who live on the margins can go a long way to addressing challenges in international development.
Often, social programs and even basic services fail because they don't reach their intended targets, according to Merino.
"By working on the challenge of reaching the hardest to reach, increasing awareness of this challenge and promoting collaboration on these issues with universities from several countries, this initiative can go a long way in improving developmental outcomes in many countries," he said.
Earlier this week, Wong and current and former students involved in Reach projects in Palestine, Tanzania and India held a meeting to prepare for this week's Reach symposium, which brought together 150 people across the private, public and non-profit sectors. Sampreeth Rao, a medical student, Skyped in from a Toronto hospital while Kyle Jacques teleconferenced from New York, where he works for the United Nations peace-building support office at UN headquarters.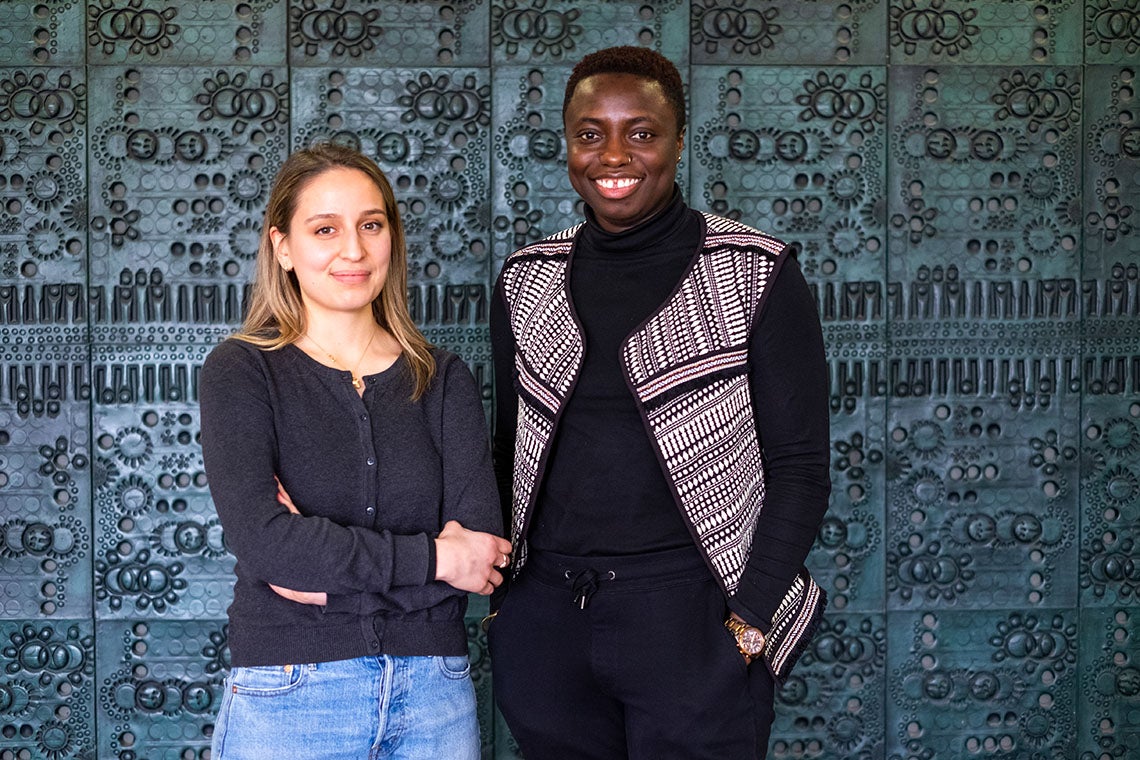 Joudy Sarraj (left) was part of the student-led research team that travelled to Palestine while Anowa Quarcoo (right) travelled to the Tanzanian capital of Dar es Salaam and the surrounding countryside (photo by Geoffrey Vendeville)
Joudy Sarraj, who graduated with a double major in international relations and ethics and now works at Grand Challenges Canada, was part of the student-led research team that went to Palestine for a close-up look at a cash transfer program mainly for low-income people. The case study helped fill a vacuum of information on the program, she said. "One of the big challenges Reach seeks to address is the absence of data and research," she added. "Our hope is that [the research] can be mobilized for advocacy or funding things that work." 
In Jordan, officials at the UN High Commissioner for Refugees (UNHCR) said the students' work was useful for technical discussions with donors and policy dialogues at global forums. "Their independent analysis provided valuable insights into the strengths, limitations and opportunities of this important cash transfer program," the local UNHCR office said. 
Anowa Quarcoo travelled to the Tanzanian capital of Dar es Salaam and the surrounding countryside to conduct on-the-ground research on Project Last Mile, an initiative leveraging Coca-Cola's expertise in logistics, distribution and marketing to improve delivery of life-saving medicine to isolated areas.
"I was really drawn to be able to do not just research but meaningful research – research that's new and adding something to the conversation," said Quarcoo, who's pursuing a double master's in global affairs and business administration after working in communications and civic entrepreneurship. 
Although she grew up in Kenya, just across the border from Tanzania, Quarcoo said the research opened her eyes to the difficulty of designing services and programs for people living on the fringes. 
"It really made me appreciate how challenging it is to do health delivery in an African context and being able to see that being done by an African government was really, really encouraging for me because it gave me hope that there's a place for folks to do work for themselves that really can help people on the ground," she said. 
Quarcoo added that the expansion of the Reach Project will help participating universities fulfil their duty to train "empathetic leaders" for the next generation. 
"I think that universities have a responsibility to raise up future leaders," she said. "If future leaders don't understand some of the challenges that exist, it's very hard for them to chart a new way forward for the world." 
UTC