James and Louise Temerty, who set a high-water mark for Canadian philanthropy, receive honorary degrees
Astute and successful entrepreneurs with an exceptional track record of giving back to their community, James and Louise Temerty set a new high-water mark for philanthropic giving in Canada when, in 2020, they committed $250 million to what is now known as the University of Toronto's Temerty Faculty of Medicine.
The gift was – and still is – the largest individual monetary donation in Canadian history. "We were motivated to help the University of Toronto do what it does best – elevate quality health care and ultimately help as many Canadians as possible," James Temerty told U of T News when the donation was announced.
Today, for their sustained, thoughtful and generous commitment to philanthropy and volunteerism, and for their outstanding service to U of T through their transformative support of the Temerty Faculty of Medicine and other initiatives, James (Jim) and Louise Temerty will receive honorary doctorates.
Born in the Donbas region of eastern Ukraine during the Second World War, James Temerty moved to Canada with his family in 1950. He enrolled in an arts program at Sir George Williams University (which became Concordia in 1974) but landed a sales job at IBM more than a year before graduating.
In an interview with the Ukrainian Canadian Students' Union (SUSK) in 2022, Temerty noted that IBM's policy at the time was to hire only university graduates. He credits his involvement with student groups for getting his foot in the door. "I can't recommend more highly that people should get involved in extracurricular activities," he said. "It will serve you well in life."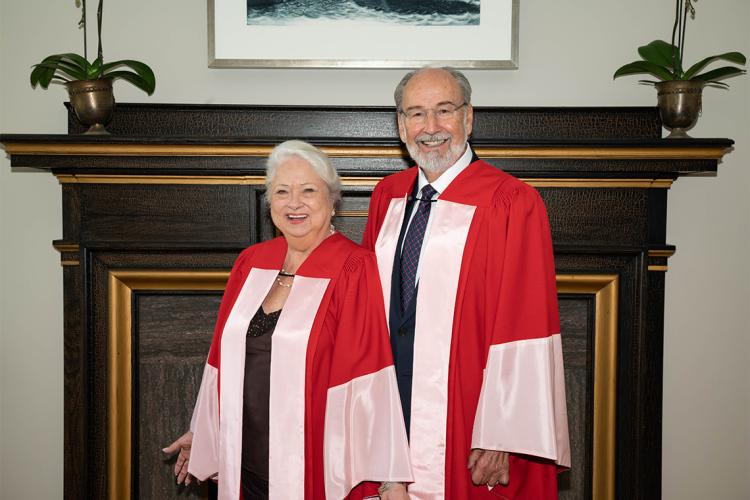 After 15 years with IBM, Temerty left to become an entrepreneur, partnering with Louise, who holds a business administration diploma from Montreal's College d'Outremont, to build a Computerland retail franchise in Canada. They secured their first site on Toronto's Yonge Street in the early 1980s. Together, they opened 30 stores, with James typically choosing the locations and Louise getting them up and running. When they sold the operation about six years later, it was Canada's largest network of computer retailers.
James notes that people close to him, including his father, strongly advised him against going into business on his own. But he learned early in his career to inform himself – and then trust his instincts. "Seek everyone's counsel, but follow your own," became his motto, he told SUSK.
At university, as a model UN delegate representing the Ukrainian SSR, he recalled giving a speech declaring that Ukraine would secede from the Soviet Union. Another time, at a Montreal cultural event with the Soviet ambassador to Canada present, he and a few university colleagues commandeered a piano and sang the Ukrainian national anthem.
"When you do things like that, it empowers you later in life," he told the students.
This assertiveness, and a willingness to take calculated risks, served James well as an entrepreneur. In 1987, he founded Northland Power – now a global leader in renewable energy, with offices in eight countries and more than $12 billion in energy-producing assets. Because of Northland's success, he was recognized in 2010 as Canada's Ernst & Young National Entrepreneur of the Year.
The Temertys have supported many Canadian arts, education and health-care institutions. In addition to their transformative gift to what is now the Temerty Faculty of Medicine at U of T, their contributions have established the Temerty Centre for Therapeutic Brain Intervention at the Centre for Addiction and Mental Health, the Louise Temerty Breast Cancer Centre at Sunnybrook Health Sciences Centre, and the world's first international tele-simulation centre in medical education at University Health Network. The Temertys are also donors to the Royal Ontario Museum, the Royal Conservatory of Music, the Canadian Museum for Human Rights and Help Us Help, among others.
Their giving has also benefited the Ukrainian community in both Canada and Ukraine. Since Russia's attack last year, the Temerty Foundation has contributed to many organizations addressing the humanitarian crisis in Ukraine. At the 2022 Canada's Walk of Fame celebrations, where James Temerty was named Canada's National Hero, Ukraine's ambassador to Canada read a letter from Ukraine President Volodymyr Zelenskyy, who heralded Temerty for his "commitment to freedom, independence and democracy" and "tireless effort to strengthen Ukraine's statehood, to drive positive changes in my country, and to support the people of Ukraine."
Within Canada, the foundation has funded a program at U of T to bring more than 200 students and five faculty members from the National University of Kyiv Mohyla Academy to Toronto to continue their academic pursuits. They have also supported U of T's Scholars-at-Risk program, which welcomes students and faculty who are asylum seekers or refugees.
In their convocation address, the Temertys will commend graduates of the Temerty Faculty of Medicine for their accomplishment and urge them to stay focused on the "call to heal" as they prepare for a future filled with change.
From James: "You made it to this stage today despite two very long years of masks, loneliness, hand sanitizers and Zoom classes. You are more determined and tougher than anyone can imagine."
And from Louise: "As you move forward, you will heal, discover and innovate. But you will be doing it in ways you may have never imagined … embrace what will come. But do it with consideration, empathy, patience and virtue."
Between them, Louise and James Temerty have five honorary doctorates; both are recipients of the Queen Elizabeth II Diamond Jubilee Medal for service to their community. James was appointed a member of the Order of Canada in 2008. And in 2015, he received Ukraine's Order of Yaroslav the Wise, the country's highest honour for an individual who has not been head of state.
UTC