'It feels real': Students return to U of T campuses ahead of fall term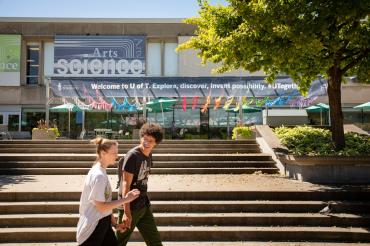 The University of Toronto is abuzz with a sense of discovery and new beginnings as more than 90,000 students from across Canada and around the world arrive on the university's three campuses ahead of the start of the 2022-2023 academic year.
With most courses to be delivered in-person and most campus activities making a comeback – in keeping with ongoing public health guidance – the fall 2022 semester promises to be among the most vibrant in recent memory, filled with opportunities for new experiences and connections.
It's not only incoming students who are setting foot on the St. George, U of T Mississauga and U of T Scarborough campuses for the first time. Many returning students who began their studies remotely due to the pandemic are also getting acquainted with campus life.
Yilin He, a second-year master of education student at the Ontario Institute for Studies in Education, has been catching up in-person with classmates she previously interacted with virtually.
"I could see [my classmates] in front of me instead of as a tiny avatar on my computer screen," says He, who completed the first year of her program from China. "I felt excited and happy because I missed face-to-face interaction.
"People who you knew before only on Zoom, you can actually meet in person and hang out and explore campus together and enjoy the campus atmosphere. It feels real."
While He says she is delighted to be able to experience U of T in-person, she's also grateful for the resources provided during her year of virtual study.
"U of T did a great job accommodating our needs, and they gave us a lot of useful resources," He says. "Although I had a 12-hour time difference with Toronto, my professors and other student services providers were generous and flexible … likewise, academic supports from U of T were catering to students' needs.
"Everyone was always very helpful to us."
He is one of dozens of students who took part in a recent tour of the St. George campus organized by U of T Student Life – one of many being organized across U of T's three campuses to welcome students and prepare them for a successful semester. The tour was part of the "Get Ready for Student Success" event, which included sessions on accessibility services, housing supports, academic resources and job search strategies, as well as games and an ice cream truck.
Dozens of students took part in a recent tour of the St. George campus that was organized by U of T Student Life (photo by Rahul Kalvapalle)
Among the most highly anticipated events on the calendar is the Tri-Campus Parade on Sept. 7, scheduled to return for the first time since 2019. The parade will be followed by the Clubs Fair, where students can learn about hundreds of student clubs catering to virtually every interest.
The St. George campus orientation calendar comprises dozens of events that cater to students of different backgrounds and with varied life experiences – including Indigenous Student Orientation at First Nations House on Sept. 14 and Queer Orientation for LGBTQ2S+ students from Sept. 19 to 23.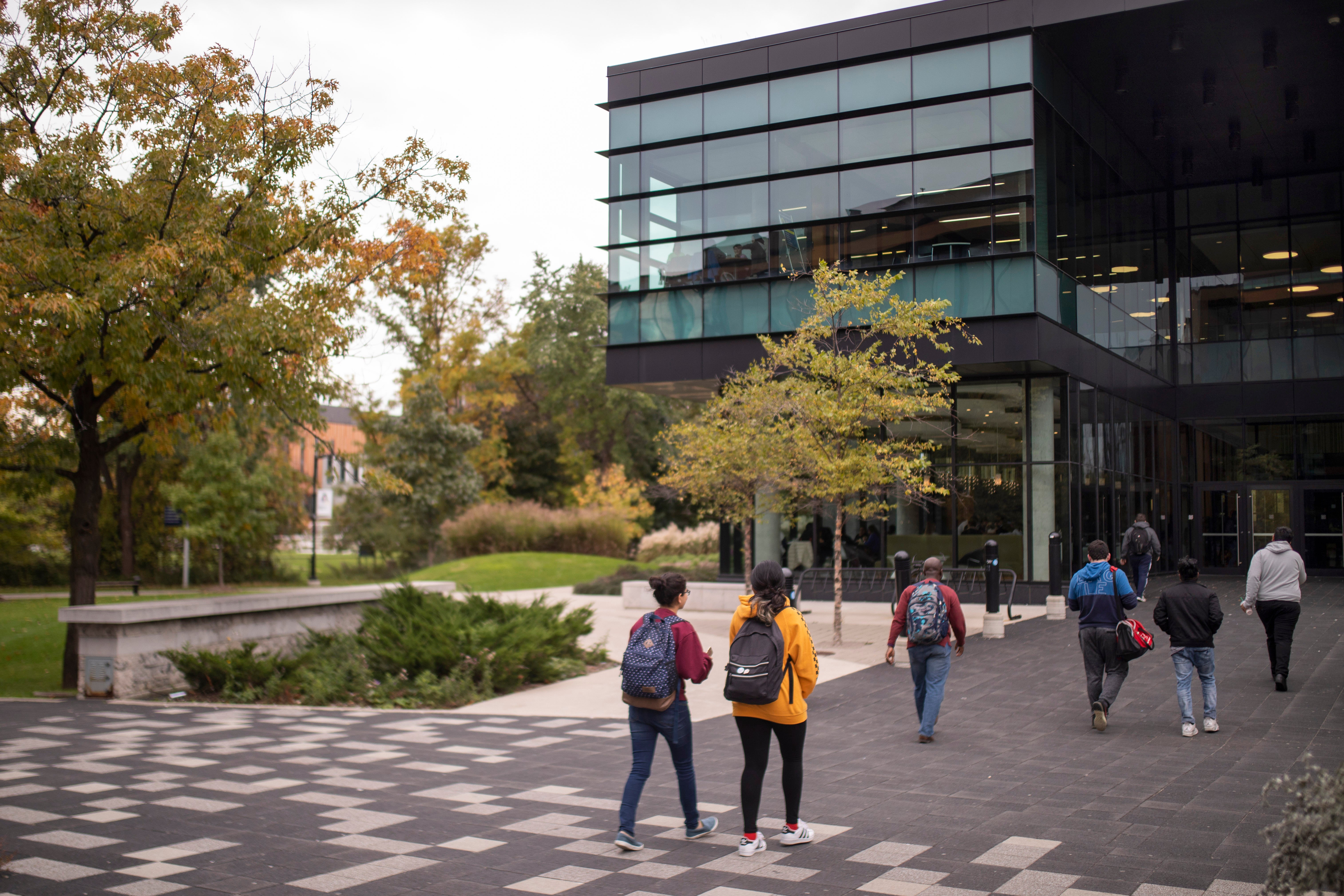 U of T Mississauga offers a diverse roster of orientation events to welcome students to campus, including Eagle Orientation on Sept. 6 to 8 (photo by Nick Iwanyshyn)
Students can also learn about programs and resources available to them by approaching one of the ASKme Anything pop-up booths around the St. George campus every day until Sept. 16.
For international students, getting oriented to U of T begins upon arrival at Toronto Pearson International Airport, where friendly student staff are available to answer questions and provide advice at U of T welcome booths in Terminal 1 and Terminal 3. Once on campus, international students can attend a range of orientation sessions covering everything from coping with homesickness and cultural adjustment to how to work in Canada with a student permit or work permit.
U of T Mississauga, too, offers a diverse roster of orientation events to welcome students. Highlights include Eagle Orientation on Sept. 6 to 8, which includes campus tours and a BBQ; and the UTM Student Union frosh week, which runs from Sept. 4 to 9 and includes a boat cruise, formal and opportunities to learn about services, clubs and academic societies. Staff wearing AskMe pins will be available to ask queries and provide direction at events until Sept. 23.
At U of T Scarborough, the UTSC Welcome Day on Sept. 6 offers an opportunity to explore resources, connect with student services and learn about clubs. It's one of several events designed to orient new and returning students to campus life and resources. Others include Residence Orientation from Sept. 3 to 5 and the Athletics & Recreation Open House on Sept. 8. The campus will also host an AskMe booth and staff wearing AskMe buttons will be on hand to answer questions at events.
As it plans for a comprehensive slate of in-person activities this fall, U of T continues to monitor public health guidelines around COVID-19 and provide ongoing updates on its policies on its UTogether site – the university's central resource for information and updates about the university community. The university is strongly encouraging everyone to stay up to date on vaccines and wear a mask in indoor spaces where physical distancing is not possible. Students living in U of T residences are required to be vaccinated against COVID-19 by completing their primary series and at least one booster dose.
U of T Libraries are also taking steps to introduce students to the spaces and services available to them.
"We encourage students to check out our course reserves and tech lending collection, find a new favourite quiet study seat, book a study room to work with a friend, check out new technologies in the Makerspace, and have a peak into The BRIDGE library space on the north campus," says Chief Librarian Angela Hamilton. "All questions are welcome at our Library Information & Reference Desk, and if we don't know the answers, we will find someone who does." 
Hamilton noted that most students will be introduced to a personal liaison librarian through their courses. She added that they can also book one-on-one research consultants with their liaison librarian.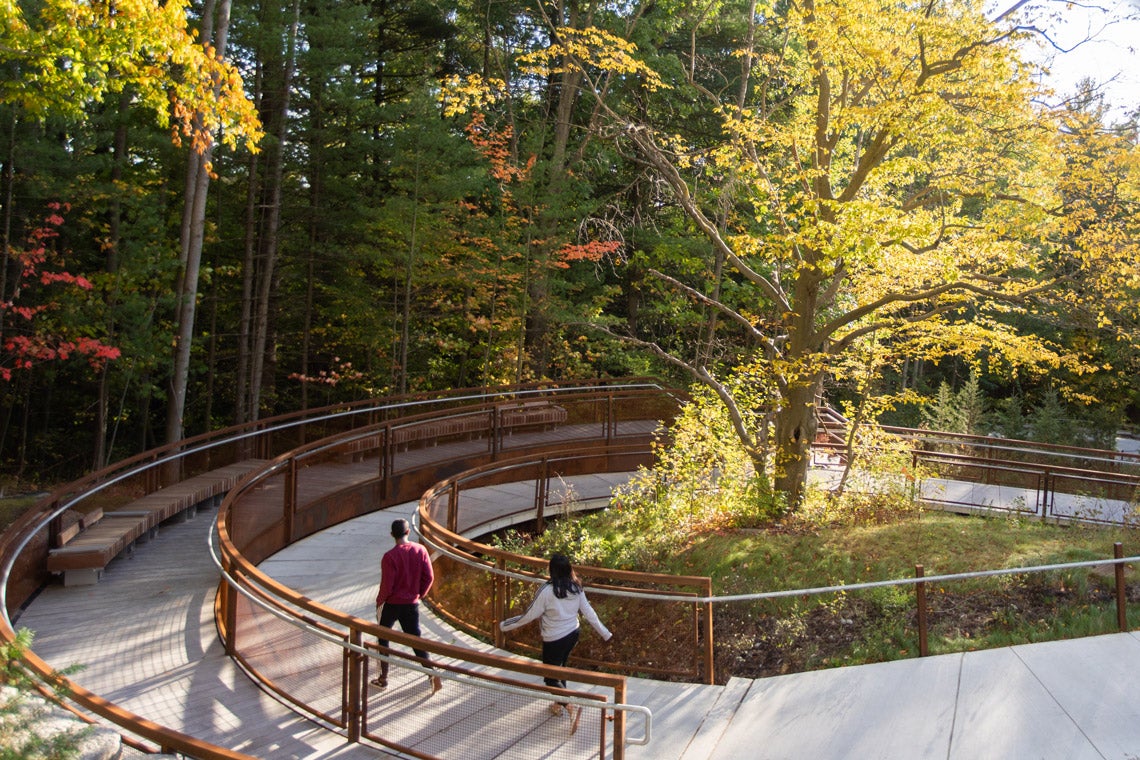 U of T Scarborough's Welcome Day on Sept. 6 offers students an opportunity to explore resources, connect with student services and learn about clubs (photo by Nick Iwanyshyn)
The library's fall semester programming will include initiatives aimed at boosting research and connections to Indigenous resources, including the U of T Indigenous Book Club on Sept. 28, and a regularly updated list of books and resources celebrating Indigenous voices and educating on Indigenous history in Canada.
For first-year University College student Roxy Nazar, attending U of T this fall is an opportunity to make up for a pandemic-influenced high school experience.
"I sometimes feel like I'm still stuck as a 16-year-old because I never really had my path in high school," says Nazar, who hopes to double-major in human biology and either bioethics or nutritional sciences. "So, you kind of have to [play] catch up as an adult who's already 18.
"Hopefully [being at U of T] allows me to have the experiences I need to grow as a person and just enjoy the school."
Nazar adds that it's "nerve-wracking but also exciting" to swap her Etobicoke high school for U of T's St. George campus.
"Going from a school that had 500 kids to a school that has tens of thousands is just insane," she says.
For many, attending university also means moving into a new home.
Sirvan Saee, a New College student, says he's looking forward to residence life.
"One of the reasons I chose to live in residence was specifically being able to interact with a large group of students," Saee says. "I'm in Rotman Commerce and, especially in business, I feel like networking is a big part [of my education] – and the best networking is done in-person.
"When you make good friends, you can study with them, learn about other things – and it generally has a good impact on developing yourself as a person and getting ready for your next stages in life.
"I'm really happy to be here and get the chance to meet a lot of people in person."
Saee and other students who are living in residences on the St. George campus will move in Sept. 3 to 5. Residence move-ins take place Sept. 2 to 3 for U of T Scarborough and on Sept. 3 for U of T Mississauga undergraduate students. As they settle in, students living in residence can join other U of T community members in using U of T's new campus map feature to navigate the three campuses.
The first day of class will be on Sept. 6 for U of T Scarborough and on Sept. 8 for the Faculty of Arts & Science and the Faculty of Applied Science & Engineering on the St. George campus, as well as at U of T Mississauga.
Jordana Garbati, an assistant professor, teaching stream, at the Institute for the Study of University Pedagogy (ISUP) at U of T Mississauga, says she's excited about seeing students in-person.
Back on campus regularly since February, Garbati says in-person classes have enabled the kinds of spontaneous before- and after-class interactions that didn't occur when she was teaching on Zoom.
"These conversations have related to our course work, of course, but they've given me a chance to check in with my students about other concerns and questions related to campus life," says Garbati. "For example, [where's the] best food on campus, what's going on at the Athletic Centre, what people have been buying at the bookstore?
"I hope my students recognize that I'm an approachable professor regardless of mode of instruction."
UTC