Investment in at-risk communities needed to reduce gun violence, U of T's Jooyoung Lee tells TVO's The Agenda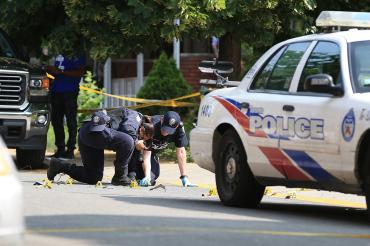 Following an unusual spate of gun violence, University of Toronto sociologist Jooyoung Lee spoke to TVO's The Agenda about the need for investment in at-risk communities to reduce gun crimes. 
Lee's appearance on the program come after 14 separate gun-related incidents in the Greater Toronto Area over the August long weekend. The municipal, provincial and federal governments have responded by announcing $4.5 million in additional funding for Toronto police to tackle gun violence. 
The recent spike in gun violence was not a "one-off," Lee said on The Agenda, pointing to police statistics that show the number of shooting-related injuries in Toronto more than doubling between 2014 and this year. 
Lee, who appeared on the show along with community activist Louis March, called for a greater emphasis on prevention through community investment. 
"Why not create a society where the most at risk are not likely to get involved in situations, where they could become a victim or an offender?" Lee said. "Why not create a society full of safety nets that deflects and funnels at-risk youth into other activities that could help them avoid these situations?"
UTC