Did you know that the Sphynx cat breed was invented by a U of T almunus? (photo by Anders Lejczak via Flickr)
'Ingenious' is written by Governor General David Johnston and alumnus Tom Jenkins
From John Tuzo Wilson originating the concept of plate tectonics to Frederick Banting and Charles Best's discovery of insulin, the University of Toronto has always been at the forefront of innovation.
Now, some of U of T's great – and quirky – feats are being featured in a new book, Ingenious, written by Governor General David Johnston and alumnus Tom Jenkins, the chair and former CEO of OpenText.
"We're all really fortunate that two of the great innovation pioneers of Canada have decided to collect all these stories for Canada 150," said Ilse Treurnicht, CEO of MaRS, speaking at the Ingenious book launch. "They know, probably better than most of us, what becomes possible – if we can draw from those stories and create the future that future generations deserve."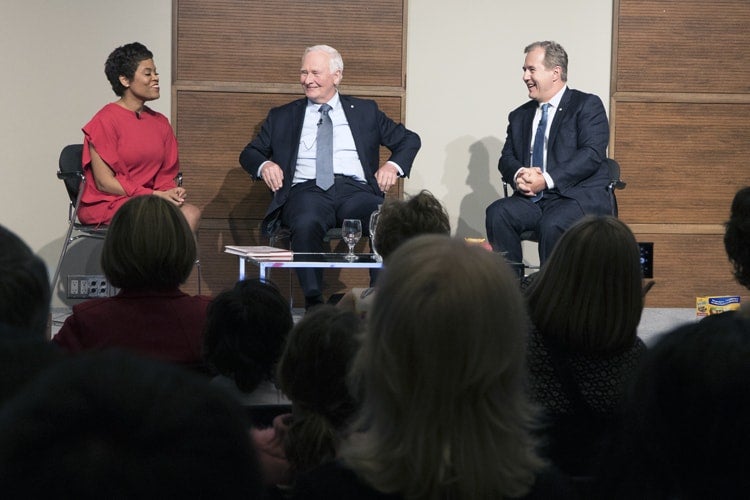 Governor General David Johnston (middle) and Tom Jenkins (right) speak with CTV news personality Marci Ien at the book launch of Ingenious (photo by Romi Levine)
The book explores the many inventions and discoveries that have come out of Canada and gone on to improve lives around the world. It also profiles the people behind the ideas, such as U of T's Elsie MacGill, the barrier-busting engineer and aircraft designer – and famed media theorist Marshall McLuhan whose writings on technology and culture are still relevant today. 
"We do not have a national database of innovation," said Jenkins. "This is to our knowledge the first time Canadians have come together and written down what we've actually done."
Ingenious gives mention to a number of offbeat discoveries that few people know originated at U of T – like the Sphynx cat. The hairless breed, which caters to cat-lovers with allergies, was conceived by then-student Riyadh Bawa in 1966 by targeting a recessive gene.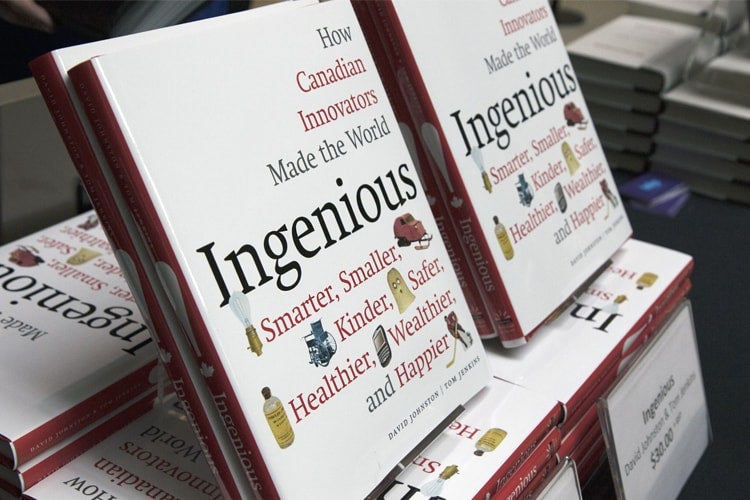 Ingenious can be used as an education tool, the authors say (photo by Romi Levine)
The book's launch took place during Entrepreneurship@UofT Week – an opportunity to celebrate the university's current and past innovators – and Johnston stressed the importance of higher education in making ground-breaking innovations happen.
"Impose great expectations," Johnston said. "Set the bar high and aspire. Recognize the strong features we have."
Johnston put great emphasis on the need to take risks in order to innovate.
"For me, the biggest danger of all is complacency, and that is largely the lack of curiosity," he said.
Proceeds from the book will go to the Rideau Hall Foundation, which promotes innovation initiatives across the country.