U of T Faculty of Law launches Black Future Lawyers program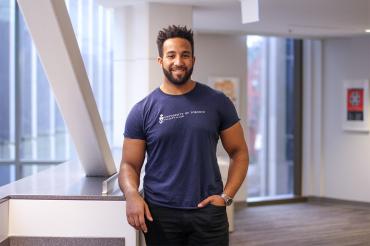 Joshua Lokko knew from a very early age that he wanted to study the law.
"I liked to read – and my mom said I liked to argue," he says.
Lokko is the first in his family to attend law school. When he arrived in Toronto from London, Ont. to study law and business administration at the University of Toronto's Faculty of Law and Rotman School of Management, he soon learned he was one of only six Black-identified students in his law class of nearly 200.
"Over the course of the last couple of years, we got involved in the [law] school and the school reached out to us. Together we collaborated to figure out how we could solve this problem of low Black representation," says Lokko, who serves as the president of the national Black Law Students' Association of Canada.
Those discussions ultimately led to the creation of the new Black Future Lawyers (BFL) program, which will engage and support Black-identified undergraduate students interested in studying law, as well as current Black law students. BFL will offer opportunities to participate in special events, conferences and lectures, as well as mentorship and job shadowing. The initiative was inspired by the U of T Faculty of Medicine's Black Student Application Program.
U of T Law will celebrate the launch of the program, leaders and volunteers on Jan. 15.
"Black Future Lawyers evolved from taking Medicine's model and thinking about how it could be applied to law school," says Lokko, adding the program is a collaboration between the U of T Black Law Students' Association, Black law alumni and U of T Law.
BFL aims to engage Black-identified undergraduate students, helping demystify the pathways to law while also helping students see themselves and be successful in the profession, Lokko says. 
Next year, U of T Law will open its Black student application stream. Applicants must meet the standard academic requirements for admission, but they will also be offered the opportunity to provide an additional personal statement and at least three reviewers from the Black community will read their application.
"Black students often under-emphasize, or don't include, Black-related extra-curricular participation in fear of reviewers discounting their experience," Lokko says. "The new option will help applicants feel confident that those who are reading their applications are equipped to understand their experiences."
The new program builds on earlier efforts by the law school to increase representation. In 2005, the Faculty of Law created one of the largest law-related youth outreach programs in North America. Law in Action Within Schools (LAWS) has since had a transformative impact on high school students facing personal or systemic barriers to success. The award-winning access program is designed to support and motivate students by exposing them to law and justice through workshops, mentorship and employment programs. Many graduates have continued on to post-secondary education and second-entry programs, including law.
Lokko, who plans to practise corporate law when he graduates this spring, says his long-term goals for BFL extend well beyond U of T's campus.
"We hope to establish BFL chapters at every major university in Canada, building a community for Black students no matter where they are," he says. "It's a great step towards ensuring that future generations of Black law students see law school as a place where they belong and can be successful."  
Law