Innovation minister visits StatsCan facility at U of T, emphasizes importance of data-driven research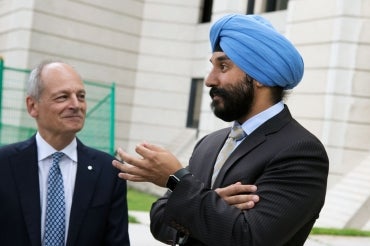 Canada wants to go big on Big Data to boost innovation and inform policy-making – and researchers from post-secondary institutions like the University of Toronto will play a key role.
Navdeep Bains, the federal minister of innovation, science and economic development, delivered that message at a roundtable discussion Friday with U of T President Meric Gertler and researchers from U of T and McMaster University.
Bains and Anil Arora, the chief statistician at Statistics Canada, arrived at U of T shortly after Bains delivered a speech at Environics Analytics, a marketing analytics firm, in which he outlined plans to modernize Statistics Canada by finding new ways of collecting and integrating data, as well as sharing it with people and businesses.
The federal government hopes researchers at Canadian universities can use the data to better inform everything from health care to economic policy.
"We see this in the broader context of Big Data and open data," said Bains. "It's really about how we can solve problems when we're around the cabinet table and we have substantive questions on housing, clean-tech, tourism or Indigenous people, income inequality or health care."
He added that data-driven decision-making will be critical to transform Canada's current resource-based economy into a knowledge-based one.
The discussion was held inside U of T's Research Data Centre, a StatsCan-operated facility on the seventh floor of Robarts Library. The secure facility – users must receive special security clearance, no cellphones or cameras are permitted – makes detailed microdata available to U of T and other researchers on subjects ranging from Canadians' health to their employment status. It's part of the Canadian Research Data Centres Network (CRDCN), a network of 16 research data centre clusters located on university campuses across the country.
Also present was Martin Taylor, the executive director of CRDCN. 
Among the issues discussed by the roundtable was how to incorporate more data into the CRDCN beyond the typical survey data collected by Statistics Canada, while also being mindful of privacy issues. That includes so-called administrative data from hospitals and licensing bodies, as well as data pertaining to Canadian businesses.
"It's very exciting to think about how the integration of administrative data, which complements the survey and census data that Statistics Canada produces, will allow us to do amazing things," said President Gertler. 
"Anything we can do to foster that access and lower the barriers to firm-level data is going to be in Canada's best interest."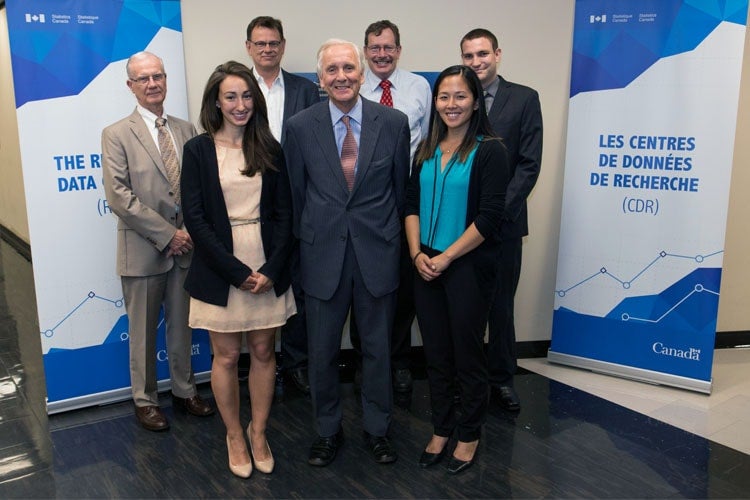 Researchers from U of T and McMaster University meet with CRDCN officials, including (at centre) Executive Director Martin Taylor (photo by Geoffrey Vendeville)
Michael Baker is the academic director of the Toronto Research Data Centre and a professor in U of T's department of economics. He said other countries are already moving in this direction.
"There's a recognition Canada needs to step up its game in this area," said Baker in an interview before the roundtable kicked off. "If the data researchers are using for their research doesn't exist here, they will go elsewhere.
"They will effectively work on [solving] other countries' problems."
Alice Hoe, a candidate for a PhD in sociology at U of T, knows how access to the right data can shed light on important social and economic issues. She estimates she spent more than 1,000 hours in the U of T data centre studying labour and income data. Her research is focused on understanding how new immigrants to Canada fare in the job market – a subject she was drawn to after watching her university-educated parents struggle upon arriving in Canada from Taiwan.
"Basically what I've found is immigrants are more likely to be in bad jobs, and once they're in these bad jobs, they're more likely to stay in them than Canadians who are born here," Hoe said in an interview earlier this week. "They are also more likely to fall out of employment."
Economic underperformance among new Canadians is not a new phenomenon. But the situation appears to be getting worse, according to Hoe. She said the problem is tied to a shift in immigration patterns away from Europe toward Asia, Africa and Latin America, suggesting language issues, racial discrimination and challenges associated with the recognition of foreign education and professional credentials are all playing a role. 
However, Hoe said it's become increasingly difficult to get an accurate picture of how new Canadians are faring in the workplace because the survey she relied upon to do her research – the Survey of Labour and Income Dynamics – was scrapped in 2011 and replaced with one that focuses on income.
"You wouldn't know whether they have access to health and pension benefits, whether they're unionized with collective bargaining," said Hoe. 
Alice Hoe is a PhD candidate in sociology at U of T. She's spent over 1,000 hours in U of T's research data centre to determine how new immigrants are faring in the Canadian economy (photo by Chris Sorensen)
Maripier Isabelle is a PhD candidate in U of T's economics department, a fellow at the Canadian Centre for Health Economics and a junior fellow at Massey College. Her research focuses on the long-term impacts of C-section births on children's health outcomes, and whether it adds to the costs associated with rising C-section rates in Canada. Her preliminary results suggest there may be a link between C-section births and certain health outcomes, including with children who must regularly take prescription medication for conditions like asthma. 
"What I really wanted to accomplish with my research is to inform Canadian public policy," Isabelle told the roundtable.
Isabelle added that her research would benefit greatly from the addition of administrative health data, which documents a wider variety of health outcomes and doesn't suffer from the imprecision associated with self-reported survey data. 
Hoe and Isabelle were joined by Grant Gibson, a PhD student at McMaster University whose research tries to measure inequality in Canada and whether the methods used to remedy it are working. 
The roots of Canada's network of research data centres can be traced to 1998, when a federal task force recommended university researchers be given access to Statistics Canada's more detailed microdata files. 
The CRDCN receives funding from the Social Sciences and Humanities Research Council, the Canada Foundation for Innovation and the Canadian Institutes of Health Research.
UTC