U of T shares its 2017-2018 budget plans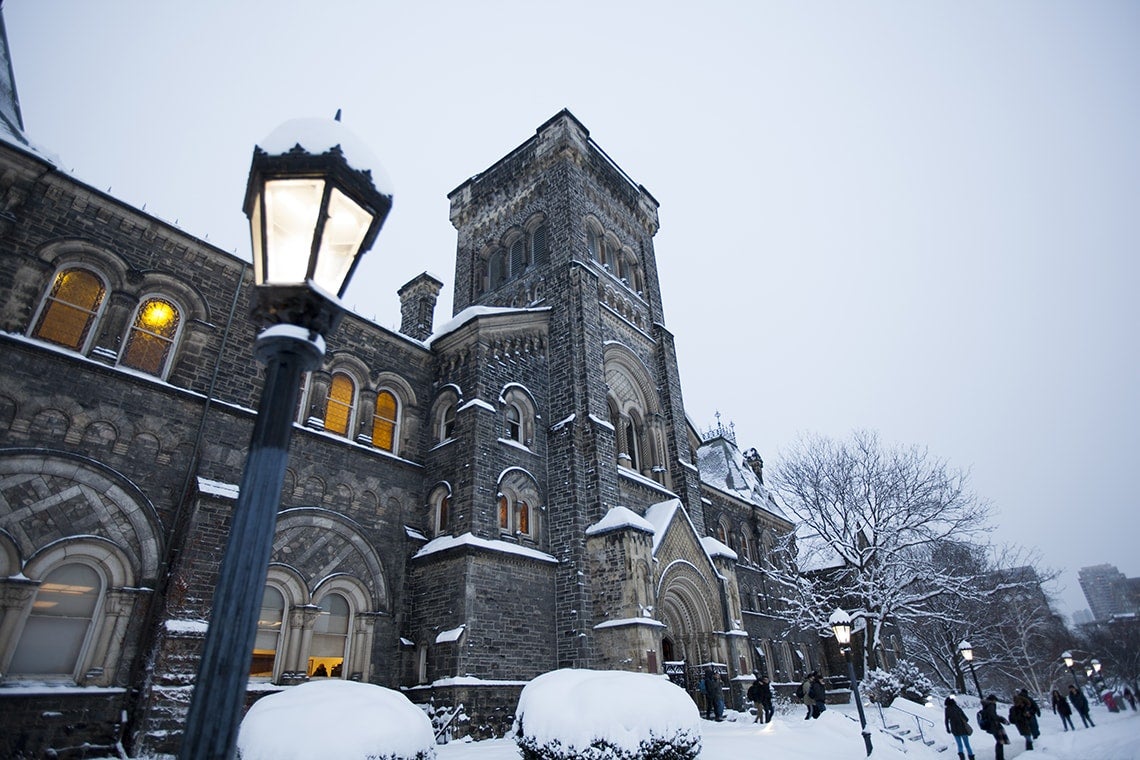 Improving the undergraduate experience, encouraging more students to study abroad, increasing diversity, and outreach to Indigenous communities – those are some of the key priorities outlined in U of T's spending plans for the coming academic year.
The proposed operating budget for the 2017-18 fiscal year is in its final stages, with a Governing Council vote set for early April.  The $2.47-billion spending plan is the result of several months of consultations and reflects the decisions of many academic divisions and departments, as well as university-wide services and needs.   
"Budget planning at the University of Toronto is a highly collaborative process aimed at supporting local aspirations as well as important university-wide priorities, while considering the many external and internal factors that influence the resources we have available," said U of T Provost and Vice-President Cheryl Regehr, who meets with leaders of each academic division every fall to discuss multi-year spending plans.  
Regehr described this year's budget as a hold-steady plan, reflecting the fact that negotiations continue with the province on new Strategic Mandate Agreements with all Ontario universities.  The province also has extended the existing tuition framework for two more years.  
Tuition and grant revenue for next year, expected to be $2.165 billion, and total operating revenue of $2.47 billion are both within 1 per cent of the previous year's projection for 2017-18.
President Meric Gertler held similar meetings with vice-presidents to discuss central university-wide costs such as enrolment services, research services, and alumni relations.
Scott Mabury, U of T's vice-president of operations, stressed that the university has worked to reduce the percentage of the budget used for university-wide costs and non-discretionary expenses.  "We are working to allocate additional revenue into the academy and into the classroom," he said.
Efforts to reduce the space costs of individual departments and divisions and money-saving green initiatives, for example, have freed up funds for teaching and for the indirect costs of research, he said.
Next year, university-wide costs, which include services provided by the vice-presidential portfolios and the library, will account for 22.3 per cent of revenue, down from 25.4 per cent in 2013. 
The majority of the university's revenue – 61 per cent – comes from student fees, with operating grants making up 27 per cent and 12 per cent coming from other sources. On the spending side, 62 per cent goes to compensation, with 8 per cent to student aid, 7 per cent each to capital equipment and occupancy costs and 16 per cent to other expenses.
For the first time next year, the total amount of financial aid available to U of T students will hit $200-million, up from just $7.7-million in 1992.  "This is a milestone we should celebrate," Regehr said.
Under Ontario's tuition framework, tuition for students in Arts and Science and selected other undergraduate programs may increase by 3 per cent and tuition for professional and graduate students may increase by 5 per cent. The average tuition increase for all domestic students may not exceed 3 per cent. To meet this cap, tuition for doctoral students will fall by $70 next year.   
Undergraduate enrolment is expected to inch up over the next five years across the university, with a slight decline at the St. George campus.   
Attracting high-calibre international students is also a priority. Tuition fees for international students are set at a level that takes into consideration both the fee levels at peer Canadian and US universities and also the full cost to the University of providing a program.  The average tuition increase for international students for the coming year is 5.9 per cent. In 2015-16 the university provided $10.3-million in merit and need-based grants to 2,075 undergraduate and graduate international students in addition to graduate fellowships. 
U of T's budget is built from the bottom up for the most part, but a central account called the University Fund is used to provide financial support to new initiatives and institutional priorities in academic divisions.
A total of $18-million is available for distribution from the fund next year and it will be used to support work in three priority areas: undergraduate and international experience, diversity and actions responding to U of T's Truth and Reconciliation Commission Steering Committee, and cities initiatives. In addition, the fund will support academic divisions facing budget challenges, contribute to a province-wide high-performance computing network and provide matching funds for capital projects.
Details of that spending include:
$1.3-million to increase the number of wellness counsellors and to help staff the Sexual Violence Prevention and Support Centre on all three campuses.
$1.5-million to enhance study abroad and exchange opportunities and international student recruitment.
$1-million to initiatives that enhance undergraduate research and career development, including experiential learning.
$2.5-million for faculty and staff positions to respond to the actions recommended by the Final Report of the Steering Committee for the U of T  Response to the Truth and Reconciliation Commission of Canada.
$1.5-million to be used as matching funds for the conversion of existing space to space welcoming to members of our Indigenous community
$750,000 to build on an initiative started last year to increase diversity among faculty on all three campuses.
$1.5-million for initiatives in the area of cities research, including exploring opportunities for a new School of Cities.
Other budget priorities over the next few years include continuing improvements to the student information system, funding to sustain the services and collections of the library system, a multi-year project to upgrade classrooms on the St. George campus, and continuation of the Boundless fundraising campaign.
The operating budget is one of four funds included in the university's financial statements, although it accounts for three-quarters of all spending. The three others are the restricted fund, the capital fund and the ancillary operations fund.
Governing Council is expected to vote on the proposed budget on April 4.  
UTC