Inaugural Pearson Scholars receive warm welcome on campus
First group of international students who won prestigious scholarship mark beginning of semester
The
35 Pearson Scholars
come from all over the map – Brazil, India and Singapore, to name a few places – with a wealth of ambitions. Some aspire to be computer scientists; others, doctors, forensic pathologists and economists. 
U of T President Meric Gertler, Vice-Provost, Students Sandy Welsh and Vice-Provost, International Student Experience Joseph Wong welcomed the students at Hart House, providing advice and encouragement for the road ahead. 
President Gertler told the students they should expect to feel right at home at U of T, where "more than 20 per cent" of undergraduates are international students, coming from 168 different countries. "Diversity of experiences and perspectives is a huge asset in helping our scholars find answers to the great, global questions of our time," he said.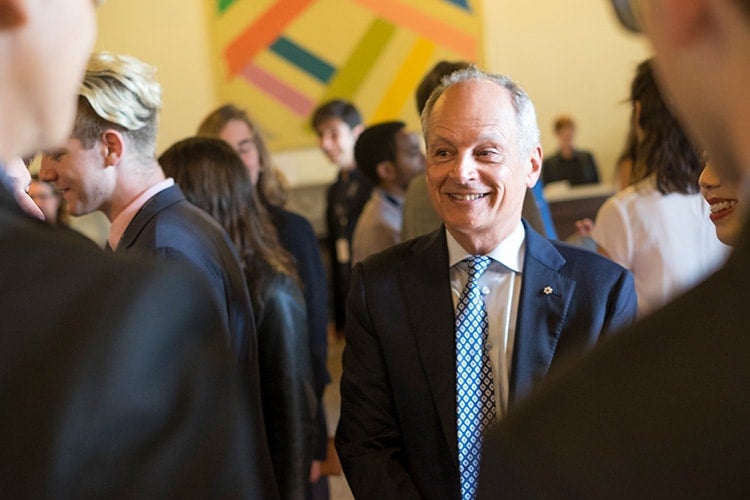 "U of T's internationalism is not an accident of our excellence; it is absolutely fundamental to it," U of T President Meric Gertler told the winners of Pearson Scholarships for outstanding international students (photo by Geoffrey Vendeville) 
Welsh told the scholarship winners that while they navigate the transtion to university life in a new city, they can always count on the university's support. "As you get settled into your new normal and start to become familiar with new routines and places," she said, "we want to assure you that there are many people and resources [at the university] to help make sure that you have a fulfilling undergraduate experience with us."
Wong told the scholars that the university's goal isn't just to prepare its students for life after U of T, "but for the world after U of T." A U of T education is meant to help students develop global fluencies that will help them thrive and contribute to their communities, he said. The scholars seem to be off to a  flying start: There are four in Wong's first-year seminar, and one has emailed him saying she is experiencing an "existential crisis" after already completing all the required readings. 
Later in the evening, one scholarship winner offered the others some advice. Mubarak Abdela, an electrical engineering student, came to the university from Ethiopia in 2013 as one of the first MasterCard Foundation Scholars from Sub-Saharan Africa.  At first he struggled to learn English and adapt to Canadian culture, but with the support of his peers and the university, he earned his degree and is now working toward a master's at U of T.
"U of T helped me understand myself," he said, urging students to explore Toronto and engage in activities beyond class. Most importantly: "Work hard and study smart – because that's the reason you are here."
David Tobechukwu Halim, originally from Nigeria, and Francisco Salvador Sandoval Macias, who moved to Canada from Spain, pose outside Hart House (photo by Geoffrey Vendeville)
Pearson Scholar Tajharae Jarrett came to U of T Mississauga with a plan: to study forensic sciences and use that expertise to "reform the judicial system" in her home country. Since her arrival, she hasn't felt like an outsider, she told her peers. "You find a community instantly [here] that you feel a part of, where you feel accepted."
Ksenia Meteleva agreed. Originally from Moscow, the molecular biology and biotechnology student says she already feels as though she fits in at U of T Scarborough. One pleasant surprise was meeting so many students from abroad – proof that U of T lives up to its reputation as a global institution, she said.
The scholarship winners were picked from 500 applications worldwide, one nominee per school.
"I think it's such a privilege," Meteleva said, "There's a certain respect and responsibility to keep up the [Pearson] name."
Pearson's ties to the University of Toronto ran deep. Canada's 14th prime minister earned his B.A. at U of T and excelled in sports. After receiving a master's at Oxford University, he returned as a lecturer in the history department before joining the foreign service. One of the leading diplomats of his time, he received a Nobel Peace Prize for his response to the Suez Crisis and presided over what is sometimes described as the "golden age" of Canadian diplomacy.
UTC