U of T welcomes inaugural Pearson Scholars from around the globe
Leading students from everywhere from Azerbaijan to Sri Lanka are coming to U of T on a new international scholarship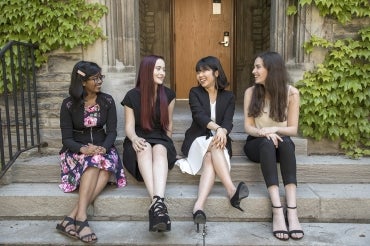 Deborah Emilia Solomon came home one day to the good news that she had received one of the inaugural Pearson Scholarships, a new prestigious and competitive U of T award for undergraduate international students.
"I was overjoyed. I just started crying," she said, "I was going through so many emotions at that moment because I struggled so much wondering where I would go next."
This fall, Solomon will join 36 other recipients of the Lester B. Pearson International Scholarships from Azerbaijan, El Salvador, Nigeria and many other countries. Named after Canada's 14th prime minister, Nobel Peace Prize laureate and U of T graduate Lester Bowles Pearson, the scholarship recognizes exceptional academic achievement, creativity, leadership potential and community involvement. It covers tuition, books, incidental fees and residence costs for four years.
Tuesday morning, U of T President Meric Gertler, members of the Pearson family, Vice-President and Provost Cheryl Regehr and consular officials welcomed four of the Pearson Scholars in a special announcement at the Lester B. Pearson Garden for Peace and Understanding at Victoria University in the University of Toronto.
"In the decade or so leading to the Centennial of Canada's Confederation, Lester Pearson raised this country's profile in the international community. Now, as we mark Canada's sesquicentennial, the scholarships that bear his name will heighten this university's global reputation as a force for good in every field of human endeavour," President Gertler said.
"In an increasingly polarized world, in which many countries are turning inward, Canada has renewed its commitment to openness and multilateralism in service of the common good – and Canada's leading university is committed to doing the same," he said. "The Lester B. Pearson International Scholarships will stand as a testament to that commitment."
John Hannah, a U of T alumnus and grandson of Lester Pearson, said the new Pearson Scholars would bring unique perspectives to campus.
"I share my grandfather's conviction that education is a powerful instrument for generating peace and understanding in the world," Hannah said.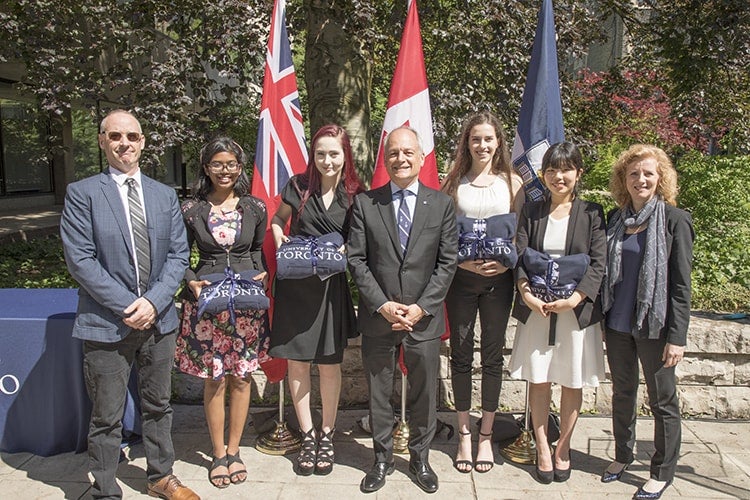 John Hannah, Deborah Emilia Solomon, Celine Simone, U of T President Meric Gertler, Zoe Thompson, Suehyun Cho and Vice-President and Provost Cheryl Regehr at a special announcement for the Pearson scholarships (photo by Johnny Guatto)
The first group of Pearson Scholars includes aspiring computer scientists, molecular biologists and engineers – many of whom say they want to build a better world. Solomon, an Indian student, was one of four Pearson Scholars who spoke at the event on Tuesday.
Suehyun Cho, from South Korea, said she was excited to study immunology and cell and systems biology "in one of the world's most diverse and open cities." Celine Simone, who grew up in Silicon Valley, said she came to U of T to study architecture because the university has a reputation for encouraging innovative thinking. And Zoe Thompson, from Sydney, said she was drawn to U of T's college system and the prospect of studying in the heart of a big city. 
Although they're just beginning their first year of university in September, some Pearson Scholars already have an idea of what they want to do next. Tajharae Jarrett, from Jamaica, said she plans to study forensic sciences to contribute to judicial reform in her home country.
Eiza Naveed, from Pakistan, wants to work on development projects "catering especially to females and children in LEDCs (less economically developed countries), so as to create for more inclusive societies around the world."
And Alexander Odartey-Wellington is coming to U of T from Ghana aiming to become an economist.
"My dream is to one day design an economic model to accelerate the development of African countries, especially Ghana," he said.
UTC