'I didn't have time to be anxious': Varsity Blues player Jett Alexander on playing with the Maple Leafs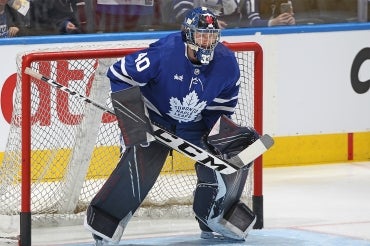 Jett Alexander planned to spend last Saturday studying, running errands and watching the Toronto Maple Leafs take on the Montreal Canadiens on TV.
Instead, the Varsity Blues goalie – and third-year University of Toronto student in the Faculty of Arts & Science – found himself sitting on the Leafs' bench when the puck dropped, having been called on as a back-up goaltender for the NHL team. He had signed a one-day amateur tryout contract with the Maple Leafs a few hours earlier.
"It's pretty crazy – you watch these guys on television and then you're sitting next to them in the change room," he says, noting that his family was watching from inside a packed Scotiabank Arena. 
Alexander, who previously served as a back-up goalie for the Colorado Avalanche, says he was not expecting to be called on to play in the final 70 seconds of the game.
"I didn't really have too much time to be anxious because it all happened so quickly."
U of T News spoke to Alexander about his NHL ice time, his pre-game ritual and what he's learned from being a Varsity Blues player.
---
Walk me through what happened on Saturday. How did that moment on the ice feel?
It was a normal Saturday when I woke up. I was going to study, run some errands and watch the game at home or with my buddies. Suddenly, I got a phone call from [Maple Leafs] management and they told me to grab my equipment and head to the rink. It all happened really quickly. Luckily, there was just enough time to get my parents and girlfriend there.  
I was getting ready in the same locker room as the rest of the team. It's pretty crazy – you watch these guys on television and then you're sitting next to them in the change room.
Being in a locker room around teammates and friends my entire life, you get comfortable with that camaraderie, the jokes and the goofiness. Then you see it at an NHL level and realize it's the same. They like to have fun, but they also take it very seriously and they're very professional.
Sitting on the bench was so special. The players use iPads on the bench to watch their shift so they can make quick adjustments to their play. At the Varsity games, our coaching staff usually watch video in between periods or after the game.    
[Maple Leafs Head Coach] Sheldon Keefe comes down the bench and he's like, "Get in there, Jett." I hop over the boards, get my helmet on and get in the net. I didn't really have too much time to be anxious because it all happened so quickly. I tried to soak it all in after the game.
What is your pre-game ritual?
I wasn't starting, so when I'm starting it's a bit different and more detailed. I get to the rink early, get a good amount of stretching in, listen to music and get ready for about 20 minutes before I go on the ice for warmup.
I didn't want to get in anyone's way or mess up their pre-game routine, so I was trying to find that balance on Saturday.
How did your family react to the news?
They were just like, "No way – you're kidding, right?"
Since I was able to get out there for the last minute, I just feel really lucky and grateful that I got to enjoy that with them there. It means way more that I had my family there.
My dad is a Habs fan, but I'm sure he was a Leafs fan for the night. A Montreal versus Toronto game on a Saturday – it doesn't get any bigger than that. That rivalry has been around for decades and it's pretty cool that's the game I got to be a part of.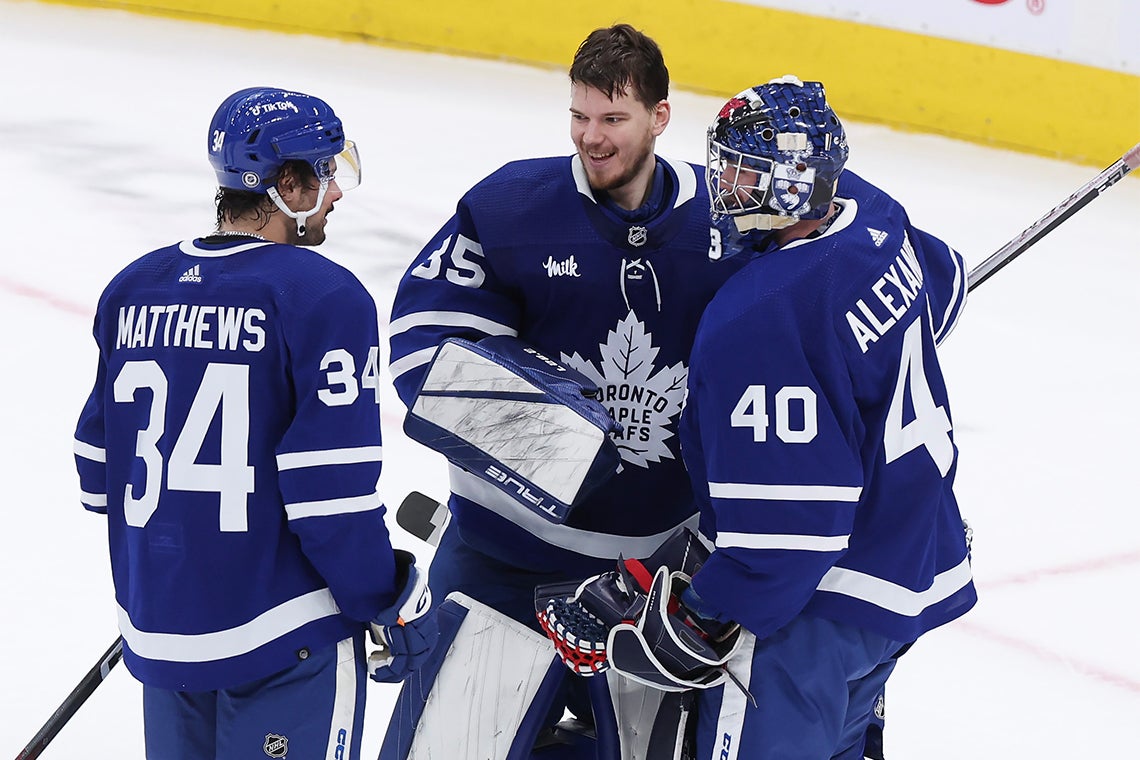 How did being on the Varsity Blues team prepare you for this opportunity? What has sports taught you?
At this point, I can't imagine my life without sports. Being on the Varsity team has kept me motivated and wanting more from hockey. It's taught me organizational skills and time management – just striving to be the best you can be in the classroom and on the ice. 
Getting the opportunity to come to U of T is a privilege. It's given me this connection to the Leafs. Being part of the emergency goalie rotation, much like my old [Varsity Blues] goalie partner, Alex Bishop, is pretty great. He's one of my best buddies, so it's cool getting to share that experience with him.
You have to make your schedule at the beginning of the year for both semesters around what your practice times will be. Our games are typically on Friday and Saturday and they're usually around 7 p.m. You have to plan your days and your weekends accordingly. You're a student first, so getting good grades is important. After class, I'm usually on the rink or in the gym. It makes for a busy time throughout the hockey season, which is from September until early March.
It also teaches you how to be a good teammate and how to work well with each other. I think something that hockey players typically have is an abundance of that team-first mentality. It gives you an appreciation for the work that other people put into it as well. It takes everyone involved to make the ship run.
It's taught me my biggest life lessons and it's a huge privilege to be where I am.
UTC