Varsity Blues goalie serves as Colorado Avalanche's emergency back-up: Hockey News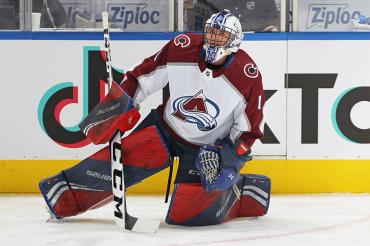 The University of Toronto's Jett Alexander marked an exciting milestone this week.
The Varsity Blues goaltender and second-year student in the Faculty of Arts & Science served as the emergency backup goalie to the Colorado Avalanche's Jonas Johansson – the second time in two months a Varsity Blues goalie has been called on by the NHL.
The 22-year-old was added to the lineup last minute after an upper-body injury sidelined goalie Darcy Kuemper. In a game against the Toronto Maple Leafs at Scotiabank Arena, Johansson was called on to start with Alexander as his emergency backup goalie.
Alexander joined U of T last season and shares the net with Varsity Blues goalie Alex Bishop, who practised and served as the Leafs' backup goalie in October.
UTC