How U of T students helped build a peer support program at the university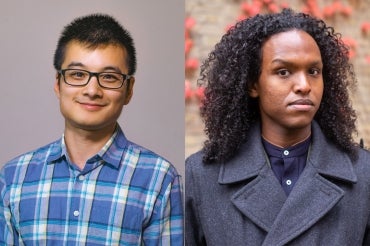 As co-presidents of the Factor-Inwentash Faculty of Social Work's Graduate Student Association, Simon Lam and Egag Egag were quick to spot an opportunity to create an easy, trusted way for University Toronto students to seek counselling and other support from their counterparts.
The result: the Health & Wellness Peer Support service, which launched last year.
The service allows students to seek support from a fellow student who is familiar with the numerous services and resources available across campus. Through one-on-one confidential online chats, the students involved with Health & Wellness Peer Support are in a position to share personal experiences and apply their training as second-year or advanced-standing students at U of T's Factor-Inwentash Faculty of Social Work.
"U of T has the top social work program in Canada, where graduate students are putting research and theory into practice with practicums in hospitals and agencies across the GTA," says Egag, adding that first-year students develop competencies in clinical social work through the faculty's simulation program, where students are given the opportunity to practice their clinical skills with trained actors who play the role of clients.
"Why not use the students' skills to help their peers?"
Egag, who is a member of U of T's Presidential & Provostial Task Force on Student Mental Health, says he first discussed the idea for a peer support service with Janine Robb, U of T's executive director of Health & Wellness, after he found himself sitting beside her during one of the task force's many meetings. They exchanged contact information and made plans to talk more.
"A peer support service was long overdue on campus, and the need for one came up again through the mental health task force consultations," says Robb. "Time and again, we've heard that students wanted a quick and easy way to get connected to someone they can trust, someone who understands them – the peer supporters are just that.
"Now, with the click of a button, students can get the drop-in support they need."
Determined get a pilot program up and running by fall 2020, the social work students, with the support of Health & Wellness, convened a discussion with academic and administrative leaders from the faculty, including Dean Dexter Voisin, Associate Dean, Academic David Burnes, Assistant Dean, Field Education Eileen McKee and Registrar Sharon Bewell. Sandy Welsh, vice-provost, students, also provided guidance to get the pilot off the ground.
"Our social work students are taught not only excellent clinical skills but also how to effectively build partnerships and connect communities," says Voisin. "This university collaboration illustrates the power of social workers to multiply the impact that can be achieved by any one stakeholder by engaging others."
Mariana Paz-Soldan, a master of social work student, was tapped to help develop the program with Pratik Nair, a health promotions specialist at U of T, as part of her practicum placement. The students who now provide peer support went through an additional 60 hours of training over the summer before the program officially launched.
Egag's involvement in helping to realize the peer support program was inspired by his own experience seeking mental health support. Before pursuing his master's degree in social work, he worked at the Centre for Addiction and Mental Health (CAMH). Now a U of T alumnus, he says he is passionate about promoting accessibility to mental health services and, ultimately, helping to destigmatize mental health.
As for Lam, he volunteered at a crisis line in British Columbia for over two years before starting his master's degree at U of T – an experience that strengthened his understanding of the importance of having someone to talk to, even if they are a stranger.
"Crisis service providers provide support by helping people offload their anxieties and letting them know they aren't alone," he says. "They can also help people find ways to create a safety plan or direct them to immediate services."
Having pursued the human services management and leadership field of study as part of his degree, Lam advocated for social work students to not only provide peer support, but to also be involved in the program's evaluation, organizational leadership and outreach.
"One thing we are really interested in is how we can measure the impact of this program," he says.
Nair, who is a graduate of U of T's master of public health program, now oversees the peer support service for Health & Wellness.
"Ultimately, mental health is about options. Finding a resource that works will depend on who a student is, and where they are in their mental health journey. Something that works for one student may not work for another, which is why understanding the different options available at U of T can help," he says.
"This is where the peer support service comes in. Students can bring in any concern – difficulty with an assignment, a tricky social situation, or confusion about how to access clinical support – and speak with a trained peer supporter to find help that works for them."
Social Work