How U of T grad Chelsea Chioma Anthony changed plans, found her passion and got involved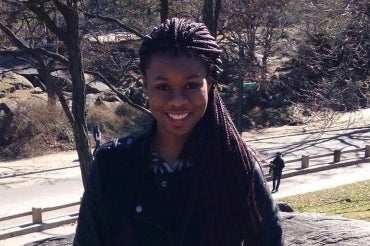 When Chelsea Chioma Anthony began her studies at the University of Toronto as a member of Victoria College, she planned to major in neuroscience and biochemistry. But after taking a few arts courses, she discovered a passion for health inequity research and decided to pursue a double major in neuroscience and political science instead.
Her academic excellence in two different fields was one reason she received the Ellis M. Ostovich Scholarship last fall. The other reason was her extensive extracurricular work, including serving as president of the Nigerian Students' Association, president of Black Doctors of Tomorrow, transition mentor at Victoria College and volunteer at Toronto Western Hospital.
Sarah MacFarlane of the Faculty of Arts & Science caught up with Anthony as she looked forward to spring convocation and the "year of discovery" ahead. 
---
What drew you to U of T for your undergrad?
It was definitely Toronto. It's such a diverse city. In addition to education, there's such life and culture here. There's a place for everybody to find their people. You get to meet different people from different places, even my home country, which is nice. There are so many Nigerians in Toronto, so it feels more like home. 
What inspired you to study neuroscience and political science?
Initially, I was going to do biochemistry and neuroscience, but as part of the breadth requirement, I took a sociology class and a political science class. I really enjoyed the arts courses that talked about issues going on today. For better or worse, science classes can sometimes feel abstract and removed from the "real world." As such, combining neuroscience and political science let me keep the part of science I like the best, which is the brain, while looking into other areas of interest, i.e., health inequity, which desperately requires more focus and attention from the medical and scientific community. All in all, it was nice to have these two different degrees and have the chance to study the intersection between them.
What was your most memorable experience at U of T?
In my first year, I joined the Nigerian Students' Association. We put on a play every year called Terracotta, and my first year, I was helping backstage. It was a disaster because someone forgot to tell us there were no lights backstage, so when the curtains went down, we couldn't see a thing. It turned out to be a great play, but I just remember it was the first time I was so happy and so confused in Toronto. I think that sums up the majority of my University of Toronto experience – I don't know what I'm doing, and I'm stumbling around in the dark, but I'm having fun.
Why was volunteering and giving back such an important priority for you during your undergrad?
In my head, I'm doing things that are selfish because I'm basically just looking for things that centre me and make me feel good. With the Nigerian Students' Association, because I'm Nigerian, obviously I want to be a part of a community. With Black Doctors of Tomorrow, I want a community of Black doctors around me. I just want to be part of my people so that I don't feel so alone. And I think once you get into that, you want to help other people going into first and second year. It's just my way of trying to find a community in Toronto. I tried to find my place in the University, and by doing that, I just wanted to share it with other people.
What advice would you give to students considering U of T?
My advice would be to take advantage of the city. Looking back at my first year, it was my first time in Toronto, and I think I was afraid to go anywhere. Take advantage of the city life. Discover your new favourite restaurants, try new cuisines and branch out.
What are your plans after undergrad?
This summer, I'm doing a couple of research programs to see whether I'm more inclined toward medicine or law. Going into university, I thought I would end up in med school. U of T opened me up to different options, and I realized how passionate I am about health inequity. So next year will be a year of discovery.
FAS