Cities in Canada, Australia and the U.K. are all trying to find ways to cool hot housing markets (photo by Sean_Marshall via Flickr)
The world's hottest housing markets – London, Sydney, Toronto and Vancouver – require a new approach to create affordability, experts say – and governments need to step up their game.
"We won't address housing through policies that already exist," said Duncan Maclennan, professor of urban economics at University of St Andrews and University of Glasgow.
He made the comments before an audience of academics, policymakers and activists who gathered at the University of Toronto last week for the symposium, Shaping Futures: Housing Policies for the 21st Century.
"Whatever the nation is, there's some form of pretty serious housing problems," said David Hulchanski, principal investigator of the Neighbourhood Change Research Partnership and a professor at U of T's Factor-Inwentash Faculty of Social Work.
"Here we are in 2017, and we haven't figured it out. In Canada, in our health-care system, we at least figured out health-care insurance. But in housing, we've done virtually nothing except hope that the market works and hope people have enough money to be homeowners or to pay rent."
The symposium was part of a larger initiative – Shaping Futures – by Canada, Australia and the United Kingdom to create a dialogue around housing policy. 
The goal was "to try to learn from each other and think bigger on how to fix things," Hulchanski said.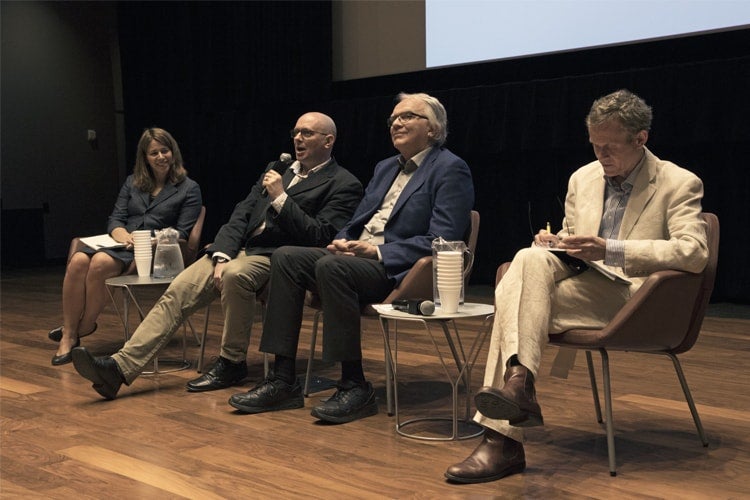 Shauna Brail, U of T's presidential adviser on urban engagement and director of the urban studies program, moderated a panel that included Ken Gibb, professor at the University of Glasgow, David Hulchanski, professor at U of T's Factor-Inwentash Faculty of Social Work, and Hal Pawson, professor at the University of New South Wales (photo by Romi Levine)
"The challenge we face is really what's happening in pressure places, what's happening to house prices, and what isn't happening in terms of affordable housing for people," said Sharon Chisholm, who is affiliated with Policy Scotland and is now director of Shaping Futures.
Rising to the challenge requires the expertise of leaders in the realm of housing policy from U of T, University of Glasgow and the University of New South Wales, said Chisholm.
Experts at the symposium discussed how their countries are currently tackling housing policy, the economic forces behind the housing market and, most importantly, the issue of affordability in cities like Toronto where home ownership is out of reach for many residents and high-rent prices are pushing out low-income families.
"The issue of affordability and the economic impact of affordability should absolutely be at the core of what we're talking about," said Hal Pawson, professor at University of New South Wales' City Futures Research Centre.
Shaping Futures is just the start of the conversation, Chisholm said.
"We want to find modern ways that are reflective of the reality of how housing works now and make the changes that need to be made in order to create places of equality and opportunity."