From healthy babies to green energy storage: U of T researchers share $9 million in new funding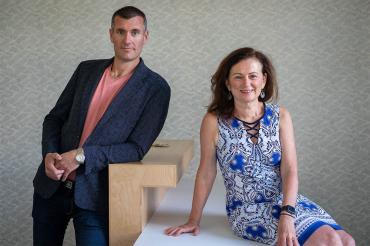 Babies born very prematurely face a serious nutritional challenge since their mothers are often unable to produce sufficient breast milk, a problem the University of Toronto's Deborah O'Connor is looking to tackle by testing cutting-edge technologies for processing pasteurized donor milk. 
O'Connor, a professor and interim chair of the department of nutritional sciences in the Faculty of Medicine, is one of 32 U of T faculty members who are sharing $9.1 million in federal funding via the Canada Foundation for Innovation's John R. Evans Leaders Fund.
The fund, named for U of T President Emeritus John R. Evans, aims to support researchers' infrastructure and equipment needs.
"Donor milk really helps with babies' early hospital course, but the technology used to process this milk is very old," said O'Connor. "This award will help us replace that technology with new equipment so we can evaluate its impact on retaining important nutrients and bioactive components in human milk."
O'Connor's research, carried out in collaboration with Professor Harvey Anderson and Associate Professor Richard Bazinet, both from the department of nutritional sciences, also explores the impact of sugar-sweetened beverages, plant-based beverages and cow's milk on children's appetite regulation and body composition as part of a broader investigation into how milk can be leveraged to improve the health of Canadians.
Vivek Goel, vice-president, research and innovation, and strategic initiatives, emphasized the impact the funding could have on projects like O'Connor's, and on the university as a whole.
"We are incredibly proud that U of T had so many important research projects funded by the John R. Evans Leaders Fund," Goel said. "The support from the federal government will ensure that our researchers have access to research facilities that enable them to continue tackling the most pressing challenges of the day, and support us to attract diverse scholars from around the world."
"Researchers in Canada know that cutting-edge tools and labs are necessary to make discoveries and innovate," said federal Minister of Science and Sport Kirsty Duncan. "That is why our government is announcing funding for the infrastructure needs of Canadian researchers.
"Their groundbreaking contributions to science and research have an enormous impact on the breakthroughs that help make our visions for a better future a reality."
For Linda Trinh, that means exploring how exercise can manage the cognitive health of cancer survivors, who often experience impairments in memory, information processing and executive functioning long after their treatment has ended.
"There has been research, especially in aging literature with healthy adults, which shows positive effects of exercise for increasing cognitive function," says Trinh, an assistant professor of exercise and cancer survivorship at the Faculty of Kinesiology & Physical Education.
"We're hoping this might apply to cancer survivors and patients as well, given that cognitive impairment is largely underdiagnosed and there are no proven treatments beyond symptom management."
The award will enable Trinh's Exercise Oncology Lab to expand its work on exercise-based strategies to support the long-term health and well-being of cancer survivors.
At U of T Scarborough, Oleksandr Voznyy is focusing his efforts on developing next-generation technologies for low-cost, large-scale storage of renewable energy.
Voznyy's funding will support his Clean Energy Lab's high-throughput design, synthesis and testing of novel materials that could facilitate an affordable transition towards cleaner energy.
"It was recently calculated that the cost of energy storage needs to go down by 10 times in order for us to be able to completely switch to renewable energy," says Voznyy, an assistant professor of chemistry in the department of physical and environmental sciences.
His lab incorporates machine learning to optimize experimental design, allowing for on-the-fly learning with fewer experiments.
"Machine learning is making the high-throughput smarter, and not just by brute-forcing it," says Voznyy.
"Really, it's like high-throughput on steroids."
Laura Niemi's CFI award will go towards studying how morality unfolds in language and thought, and how this connects to behaviour on the global stage.
"I believe that research that investigates the psychology behind social conflict and diverse moral values can help us figure out practical solutions to conflict," says Niemi, an assistant professor at the Trudeau Centre for Peace, Conflict and Justice at the Munk School of Global Affairs & Public Policy.
Niemi's Applied Moral Psychology Lab maintains a dual focus, investigating an array of basic concepts in moral and social psychology while exploring how these topics manifest in the real world.
"On one level, we want to understand the basic science of moral psychology … that's the part that deals with detailing patterns in language and cognition, and how they relate to people having these diverse moral values," says Niemi.
"The other leg of the lab is focused on how we can apply these findings to things people care about such as pro-sociality, charitable giving and violence."
---
Here's the full list of 32 U of T experts who have received funding from the Canada Foundation of Innovation's John R. Evans Leaders Fund:
Andrew Advani, department of medicine and St. Michael's Hospital: Exploration of pathophysiological mechanisms underlying diabetes and its related complications
Joyce Chen, Faculty of Kinesiology & Physical Education and Sunnybrook Hospital: Optimizing motor learning through music-based behavioural interventions
Sarah Crome, department of immunology and Toronto General Hospital: Harnessing regulatory immune cells to promote transplantation tolerance
Carolyn Cummins, Leslie Dan Faculty of Pharmacy: Regulation of whole-body metabolism by nuclear hormone receptors
Michael Garton, Institute of Biomaterials and Biomedical Engineering: Expanding cell capabilities to sense their environment for therapeutic applications
Sergio Grinstein, department of biochemistry and the Hospital for Sick Children: Investigation of organelle dynamics and remodeling using lattice light-sheet microscopy
Frank Gu, department of chemical engineering and applied chemistry: Automation and intelligent design of nanostructured materials
Shane Harding, department of medical biophysics and Princess Margaret Cancer Centre: DNA damage and cellular physiology: rewiring for a cure
Tony Harris, department of cell and systems biology: Spinning disk confocal microscope to probe molecular networks of cell and tissue morphogenesis
Boris Hinz, Faculty of Dentistry: Slide scanner system to study and develop novel diagnostic tools for oral fibrosis and cancer
Rama Khokha, department of medical biophysics and Princess Margaret Cancer Centre: Developing new interventions for breast and lung cancer
Patrick Lee, department of mechanical and industrial engineering: Multi-material characterization system for developing and testing micro-/nano-layered composites and foams
Fa-Hsuan Lin, department of medical biophysics and Sunnybrook Hospital: Multi-modal functional brain technology
Xinyu Liu, department of mechanical and industrial engineering: Infrastructure for advanced microfluidic nanobiosensing
Philipp Maass, department of molecular genetics and the Hospital for Sick Children: Live-cell imaging of inter-chromosomal contacts by confocal super-resolution microscopy
Andreas Mandelis, department of mechanical and industrial engineering: Facility for advanced non-destructive testing/imaging instrumentation development
Rebecca Neel, department of psychology: A functional approach to stigmatization, motivation, and social judgment
Peter Newman, Factor-Inwentash Faculty of Social Work: MFARR-Asia computer-assisted survey interview and participatory video production lab
Laura Niemi, Munk School of Global Affairs & Public Policy: Moral psychology and global affairs
Justin Nodwell, department of biochemistry: Platform for antibiotic discovery and investigation
Deborah O'Connor, department of nutritional sciences and the Hospital for Sick Children: Maximizing milk in a changing food environment
Alison Olechowski, department of mechanical and industrial engineering: Design Observation Studio
Stephanie Protze, department of molecular genetics and McEwen Stem Cell Institute: Generation of stem cell-derived pacemaker cells for biological pacemaker applications
Amy Ramsey, department of pharmacology and toxicology: Study of disease-causing mutations in NMDA receptor genes
Jessica Sommerville, department of psychology: The origins of social learning and behaviour
Yu Sun, department of mechanical and industrial engineering: Infrastructure for image-guided magnetic micromanipulation of cells and tissues
Margot Taylor, departments of medical imaging, paediatrics, psychology and the Hospital for Sick Children: It's all about time: Optimising infrastructure for functional brain imaging in children
Linda Trinh, Faculty of Kinesiology & Physical Education: Exercise Oncology and Cognition Lab
Neil Vasdev, department of psychiatry and Centre for Addiction and Mental Health: Automated apparatus for PET radiopharmaceuticals to image the living human brain 
Oleksandr Voznyy, department of physical and environmental sciences, U of T Scarborough: High-throughput facility for design, synthesis and characterization of novel materials for large-scale energy storage
Kaley Walker, department of physics: Measurements of atmospheric gases using a deployable infrared interferometer
Scott Yuzwa, department of laboratory medicine and pathobiology: Extrinsic control of neural precursor cells: molecular mechanisms of brain development and repair
UTC