As head of U of T's EDI efforts, Jodie Glean aims to foster environments where everyone can 'live a life fully'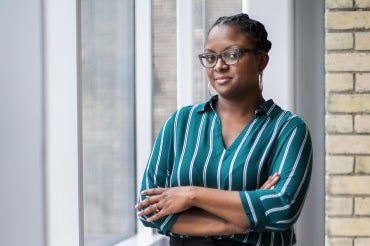 Jodie Glean took over the role of executive director, equity, diversity and inclusion (EDI) on May 1 – and one of her first priorities is to support the university in collectively defining its EDI and anti-racism commitments through community consultations.
Her work will involve aligning common themes of action identified in existing institutional reports such as Answering the Call: Wecheehetowin (created in response to the Truth and Reconciliation Commission of Canada) and the final reports of the Anti-Black Racism Task Force and Antisemitism Working Group.
In the future, Glean – the former director of the Anti-Racism & Cultural Diversity Office (ARCDO) – will help U of T incorporate the recommendations of the newly launched Anti-Asian Racism Working Group, among others.
Kelly Hannah-Moffat, U of T's vice-president, people strategy, equity and culture, describes Glean as a "positive agent of change for this institution," praising her commitment to collaboration across U of T's broad community of students, staff, faculty and librarians.
"Without question, Jodie brings to this role a deep understanding of equity work and policy," says Hannah-Moffat, who led an extensive tri-campus consultation to fill the position. "She also brings a tremendous passion – and talent – for building relationships, meeting people where they currently are, and listening closely to truly understand the needs of our community."
Glean recently spoke with U of T News about the importance of equity and anti-racism work at the university, and what she hopes to accomplish.
---
If you had to describe your new role to someone outside the university, what would you say?

There are three key components to this role. The first is providing collaborative leadership to support institutional EDI and anti-racism visioning.
The second is to be a lifelong learner who can bring that learning to U of T to benefit our community. This work is evolving, and it requires not only academic rigour, but also engagement with community members and with oneself. It is important to engage in "self-work" to mitigate your own biases, to hold yourself accountable and to keep finding ways to make the work impactful.
The final component of this role is supporting members of the university community with care and compassion in all their experiences and identities. We are all working towards the same goal, which is to live a life fully.
What is your strategic vision?

To define what we are working towards at this institution in EDI and anti-racism work, and to develop a pathway collaboratively, where everyone in all operations and functions at U of T can understand their role in realizing the university's goals and commitments to create a culture of belonging. EDI and anti-racism priorities are interconnected with all our work. This is what makes these commitments a collective responsibility.
You have been doing this job in an interim capacity since December. What have you learned during the transition from your previous role as director of ARCDO?

I've learned that there is so much commitment and will at U of T to see EDI and anti-racism work advance at this institution. I hope to contribute to that passion and to support the many efforts occurring across multiple levels of the university, including the implementation of the Scarborough Charter and the recommendations of institutional reports, including those by the Antisemitism Working Group, Anti-Black Racism Task Force and U of T TRC Steering Committee. 
What opportunities exist when it comes to leading equity work at U of T?

The opportunities are endless when you are surrounded by the brilliance of the students, staff, faculty, and librarians here at the university. We are all afforded multiple opportunities to deepen our learning and be intentional in our actions to create change.
As an institution, we have been demonstrating our responsibility to advance EDI and anti-racism through change across the three campuses. We know that systemic and individual intersecting forms of racism, Islamophobia, antisemitism, homophobia, transphobia, ableism, ageism and sexism continue to impact our lives and livelihoods.
As executive director, equity, diversity and inclusion, I hope to lead in a way that strengthens our efforts across the diversity of communities so that we honour everyone's unique voice and contributions while working collectively and creatively for change.
Before coming to U of T in 2019, you worked at Humber College and York University for about a decade, focusing on equity and anti-racism. What draws you to this kind of work?
I grew up in the Caribbean (Grenada) and completed my first degree in Canada in 2008. In my final year, I took the course "Politics of Race," for which I had my first Black professor, Dr. Annette Isaac. The opportunity to engage with this professor and this course changed my life and inspired my journey into equity and anti-racism work. What draws me to this work is its impact on the daily lives of students, staff, faculty and librarians, and knowing that one course, training or policy can make all the difference in someone's life.
PSEC