With Google's backing, U of T startup BenchSci uses AI to create 'super scientists'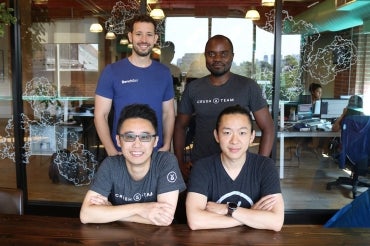 In less than three years, biomedical firm BenchSci has gone from four people sitting around a table to a 50-strong operation that's backed by Google and counts some of the world's top pharmaceutical companies among its clients.
It's been a heady rise for the University of Toronto startup, which uses machine learning to help scientists scour, select and purchase antibodies for their experiments, saving time and money. To date, BenchSci has raised over $27 million from investors. That includes Google's Gradient Ventures, which last year made BenchSci its first investment outside the United States before topping up its investment this past June.
The idea behind BenchSci was birthed from frustrations experienced by chief scientific officer Tom Leung back when he was working on his PhD in epigenetics at U of T. Like many other researchers in the life sciences, Leung saw experiments fail because his antibodies were unable to detect levels of target proteins.
"It becomes frustrating because, after weeks of preparing and growing cells and collecting samples, the experiment would fail – not because I did something wrong in the procedure, but because the antibody wasn't good at detecting the protein I was looking for," Leung says.
"That really prompted me to think that there has to be a better way for scientists to assess the quality of an antibody product before buying it."
In search of people to collaborate on the idea, Leung sent a LinkedIn message to David Chen, whose doctoral research in neuroscience incorporated elements of machine learning. He also connected with Elvis Wianda, who was doing his PhD in the department of medical biophysics, via U of T's Life Sciences Career Development Society.
The trio got to work on a project exploring the use of machine learning to analyze scientific papers and assess antibodies with a degree of precision that wasn't possible with existing antibody search engines and review websites.
"Most websites and other curation efforts look at how many times an antibody has been used, and give you a raw number – such as this antibody product was used 100 times or 200 times," says Leung. "For a scientist, that's not informative enough because those 200 times might have been in completely different experimental settings to what I'm planning."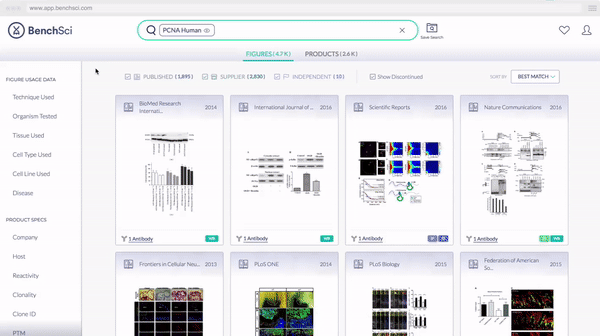 BenchSci's platform allows scientists to identify the best antibodies for their experiments (image courtesy of BenchSci)
Determined to use cutting-edge technology to improve success rates, Leung, Chen and Wianda got involved with U of T's network of accelerators, working with the Entrepreneurship Hatchery and the Health Innovation Hub (H2i) to get BenchSci off the ground.
In 2016, the startup was urged to apply to the Creative Destruction Lab (CDL) by Liran Belenzon, then an MBA candidate at the Rotman School of Management who was working a summer job recruiting startups for the lab. CDL, which is affiliated with Rotman, is among the world's leading seed-stage accelerators for companies in technology and the sciences.
Belenzon, who had prior experience as an entrepreneur in his native Israel, later took Rotman's CDL course, which gives business students hands-on experience in building early-stage tech companies. That gave him the opportunity to work directly with BenchSci. He eventually joined the company full-time as CEO.
With Belenzon's arrival, the trio of scientists behind BenchSci – Leung, Chen and Wianda – could now count on an experienced entrepreneurial mind to helm the business.
The company set about raising money, securing $250,000 in pre-seed funding in 2016 before landing investments from the likes of Google's Gradient Ventures and Toronto-based Inovia Capital.
Many of the world's top pharmaceutical companies now use BenchSci's customizable platform, which uses machine learning algorithms to collect antibody data while taking into account the context of specific experiments.
The platform's search results come with supporting figures from scientific literature, and include links to approved antibody vendors.
"We're helping pharmaceutical companies go through drug discovery projects faster, saving them months of research time and millions of dollars per year," Belenzon says.
BenchSci also offers a free version of its platform to academics. It's used by more than 30,000 scientists at 3,600 institutes.
"We want to empower scientists and that's why we offer a version that's free for academics. There are different features in place as their work is different to that of pharmaceutical companies," Belenzon says.
BenchSci's co-founders are quick to credit U of T and its network of startup accelerators for bringing them together and connecting them with the people and resources needed to create a successful startup that's positioned for rapid growth. 
"U of T provides a lot of support for people who have ideas but might not have experience or prior knowledge on how to bring their idea to market," Leung says. "Everyone has an idea in their head, but executing it and bringing it to market is a completely different ball game."
Belenzon credits CDL in particular for giving BenchSci a place "to connect business and technology and form a company around that." He still maintains ties to CDL, returning every few months to give workshops on fundraising and business storytelling.
He says BenchSci's priority for the near term will be to hire more engineers – the company expects to have more than 100 employees by early 2020 – as it looks to expand from antibodies to reagents and, eventually, building an AI-assisted experimental design platform to help scientists generate hypotheses.
"I see us solving more and more problems around drug discovery and playing a crucial role in transforming scientists into 'super-scientists' and helping them get cures to patients faster," Belenzon says.
"To do that, we need more talented people. We're hiring a lot from U of T… anyone who wants to do more, have an impact and is passionate about this space – we want to talk to."
UTC