'Going back to my centre': How Suleyman Demi used PhD research at U of T to improve lives in Ghana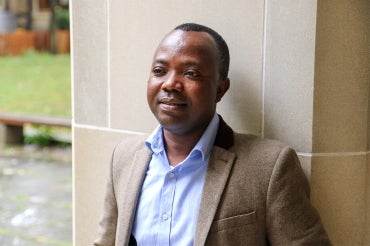 When he crosses the stage at Convocation Hall on Nov. 7, the University of Toronto's Suleyman Demi will know he got there by keeping Ghana in his mind – and close to his heart.
Demi, who will receive a PhD in social justice education from the Ontario Institute for Studies in Education (OISE), made his home country the core of his research, studying everything from how the country feeds itself to the role communities and local farming play in the future of food and the environment.
Convocation marks the end of a chapter for Demi – and he has mixed feelings about it.
"I'm able to say that I've graduated, happy to finish my program. At the same time, I miss the kind of support I received from this community," said Demi, who is currently a teaching assistant for a health studies course at U of T Scarborough.
At the same time, Demi is excited for what's to come.
"Even though the title of 'doctor' puts a lot of responsibility on me … that's life," said Demi, who first arrived at OISE to pursue a master's degree in humanities, social science education, and environment and health in 2013. "You move from one state to another and you should be prepared for it. It's a transition and I'm trying to tune my mind [to the next challenge]."
In his years at U of T, Demi challenged himself to expand on a previous master's degree in agricultural administration that he earned from the University of Ghana. Growing up in the West African country, Demi was interested in science and economics. He eventually studied agriculture as part of his undergraduate studies at the University of Cape Coast. He graduated in 2003 and worked in agriculture during his year of national service, a graduation requirement for all undergraduates in Ghana.
After working as a high school teacher and electoral officer in Ghana's capital Accra, he wanted to build his career but also help his homeland. The focus of his master's degree at OISE compared the lives of Indigenous farmers in forested areas and urban farmers on the Ghanaian coast. He found that farmers were the most food insecure population among all the economic categories and suffer through famine, but that farmers in forested regions, which consisted largely of Ghana's Indigenous tribes, produced certain foods in abundance.
"If they are the ones producing, why would they be food insecure?" Demi asked himself at the outset.
The key to addressing food insecurity, it turned out, lay in building and creating access to Indigenous food systems, which can produce food that is more nutritionally dense than Ghana's coastal foods, more tied to local culture and more resilient to a changing climate.
For Demi, studying at OISE was a chance to conduct participatory and team-based research by assembling teams of experts on topics like the environment and food systems.
"It's an educational institution, but the education is broadly defined," Demi said. "At OISE, you see a variety of areas – people from law, engineering, medical sciences – that put a critical lens to what you study and to question the assumptions, to dig deep."
He came to Toronto "prepared to un-learn" what he knew, learn new things and replicate his findings in Ghana. But his studies also stirred something deep inside.
"When we talk about the word Indigenous [here], I really heard it," said Demi. "When I came to Toronto, I had what I call 'Going back to my centre,' to search within the culture. When you are in your country, you don't value your culture until you go [abroad] and see how things are different, and how you're not grounded in it. That's what prompted me to go back and explore these areas I took for granted."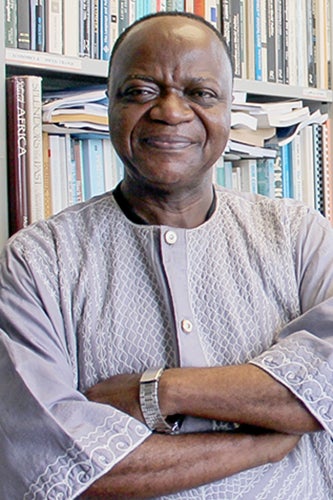 George Dei (left), a professor in OISE's department of social justice, was Demi's PhD supervisor. He said Demi took an anti-colonial lens to his work, and actively took part in environmental, climate change and food security research at other departments, faculties and colleges.
Demi was eventually named a doctoral fellow at New College in 2018, where he contributed to work in the African studies program. He took his environmental research further as a PhD student, focusing on chronic illness and climate change mitigation.
Dei praised Demi's unique research focus. "I think it shows his interdisciplinary strength," he said. "Here he is in the education department, but he also brings his background in environment and science into the discussions."
Since meeting in the late 2000s, Demi and Dei have grown close, working together on papers, a book and volunteering at the Centre for Integrative Anti-Racism Studies. Dei saw Demi as the "ideal student" – someone who was serious about his work, but approached it with humility and with his community in mind.
"Coming here – interacting with students and faculty, highlighted not just his academic work – but his sense of being, his sense of humanity," said Dei. "He's been very supportive of my own academic work and professional development."
Demi has gathered his share of accolades. He won a Gordon Cressy Student Leadership award last spring and an award for excellence in research at the student-run Black Graduation event held at U of T Mississauga in June. At this fall's African Scholars Awards ceremony, organized by U of T's African Alumni Association, he won an emerging academic award.
He hopes his research is more widely applied in his homeland. To that end, he has formed relationships with academics and farmers' organizations in Ghana, and is currently working on ways to educate families across the country.
He hopes he can continue to do his work as part of U of T, creating and building a community.
"Education is not only about getting a job," he said. "When I talk about education, I talk about not only going to classrooms, but how you can build a community. The people you encounter in daily life – they all teach you something."
UTC