Awards ceremony celebrates U of T's African scholars, community leaders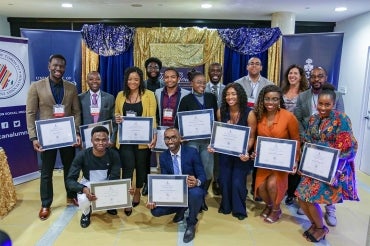 Twenty-five students, faculty, staff and alumni were celebrated for their achievements and leadership recently at the third annual African Scholars Awards ceremony.
The awards, created by the University of Toronto's African Alumni Association, recognized the largest group of winners yet – across seven categories and in fields ranging from social entrepreneurship and theatre to medicine and law. The event was held at the William Waters Lounge in Woodsworth College.
The winners were recognized for their commitment to building and strengthening communities inside and outside U of T in ways that promote diversity, inclusivity and innovation. Created by a group led by Henry Ssali, the founder and executive director of the African Alumni Association who works in the office of U of T President Meric Gertler, the ceremony is meant to encourage a culture of African excellence at U of T while also giving members a chance to share their experiences with current students and alumni.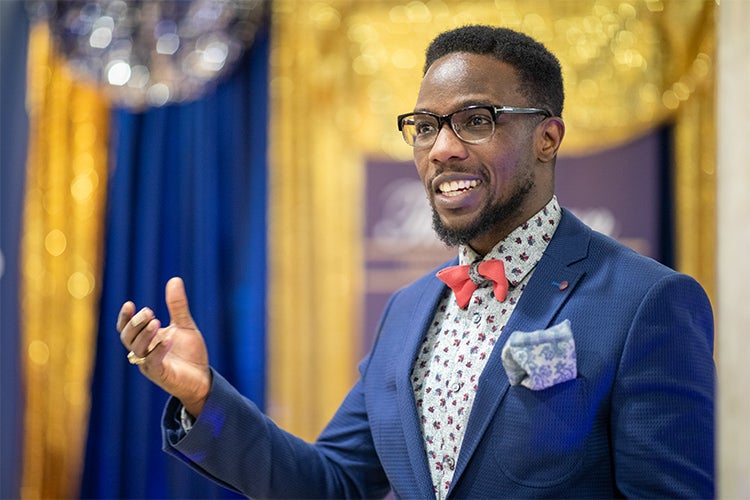 Henry Ssali is the founder and executive director of the African Alumni Association (photo by Nick Iwanyshyn)
"I want you to enjoy this moment and I want you to enjoy the spaces at this university," Ssali said. "Most of the time, we tend to complain about not having space for engagement in U of T spaces, the 'white' spaces, we call them.
"We welcome you here and hope you engage and enjoy these spaces."
Kelly Hannah-Moffat, U of T's vice-president of human resources and equity, told the gathering that the university is about excellence, but U of T can't be excellent without diversity of thought, diversity of community and embracing and being inclusive to all kinds of communities, including U of T's sizable cohort from African countries.
"It's very important for us to welcome people in our spaces, make sure people feel included in our spaces, and encourage you to be here and take the space you deserve to have. 
"What stands out is both the breadth and diversity of professional fields represented," she said, "but also the exceptional dedication and commitment of very talented people."
One of those talented people is Mariam Olafuyi, a doctoral candidate at U of T's Faculty of Law who was one of three to receive the emerging academic award. (A full list of winners is below.)
With a specialization in international trade law, Olafuyi's thesis is focused on economic integration in Africa and the role of non-state actors like businesses and non-governmental organizations in the unification of economic policies.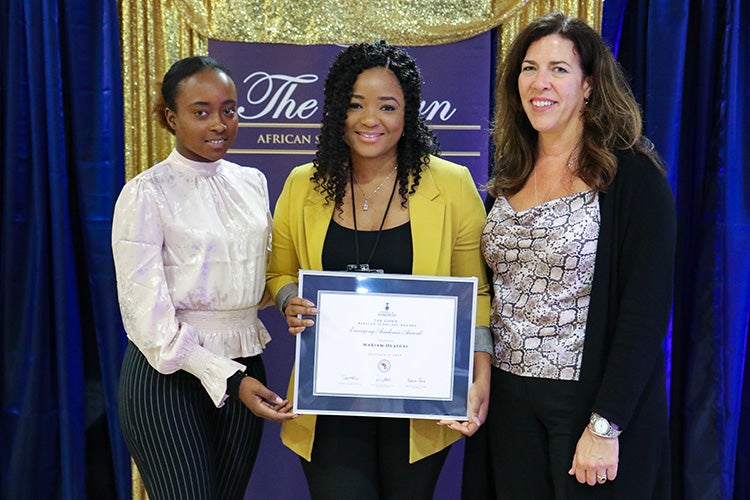 Mariam Olafuyi (centre) receives her award from Iris Hategekimana, an African Alumni Association volunteer, and Kelly Hannah-Moffat (photo by Perry King)
She is also the founder of GetIn, an education consultancy firm based in Nigeria that equips young people from underrepresented backgrounds with the skills and knowledge required to access quality education. GetIn also advocates for quality education in developing countries.
She says she is passionate about academia and her growing business, although managing both requires a lot of juggling.
"I can't see myself as a professional alone without seeing the other elements that are a part of that journey – mentoring other people, working with medical doctors and engineers. The journey in academia is similar even though the fields are different," said Olafuyi, who at times wakes up at 5 a.m. to take calls about GetIn.
Three years into her PhD, she's learning and growing. She is a 2018 Vanier Scholar and has earned a number of accolades, including the John Stransman Graduate Fellowship.
"I don't know anybody who has done a PhD who says, 'I got this, this is amazing.' It's a lot of ups and downs. You question your research, the quality of the work you produce.
"I'm grateful to have a supportive community – my husband, my supervisors are very supportive," she said.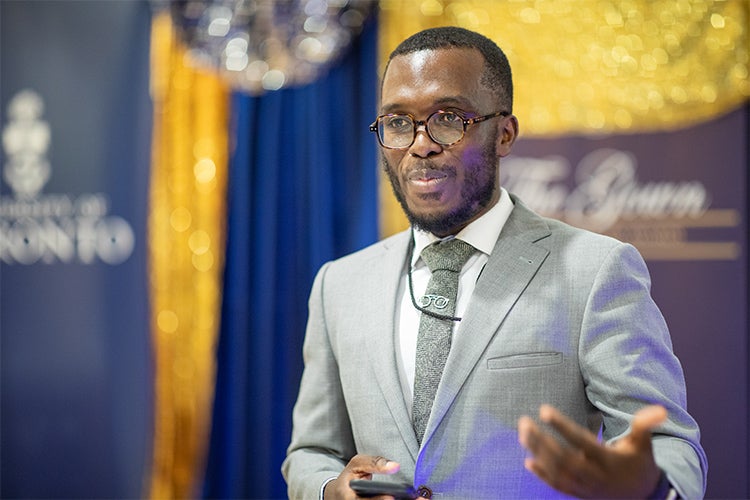 Michael Bosompra is an MBA student at the Rotman School of Management (photo by Nick Iwanyshyn)
Michael Bosompra, who was one of three to receive a social innovation award, also balances work and school. An MBA student at the Rotman School of Management, Bosompra is a senior product manager for Procter & Gamble, where he works to make sales teams more efficient through new technologies and processes.
"It's kind of like a consulant," he said. "What's been cool is that it's global work – having the opportunity to work with people in different parts of the world and see different parts of the world."
As a volunteer for a patient advocacy group and co-founder of So Soxy, a sock subscription company, he's busy, but loves the work. He says he is in awe of the young, Black community of which he's a part.
"There's a powerful community being built in Toronto," he said. "When I was younger, I didn't have a sense it was such a big community, but an award like this is a testament that our community is growing, the connections are growing. It's a sign of things to come and I couldn't be happier."
It's a budding community that Ike Okafor has been working to foster as senior officer of service learning and diversity outreach at the Faculty of Medicine. As one of three winners of the influencers' award, his work has contributed to an increase of Black applicants to medical school.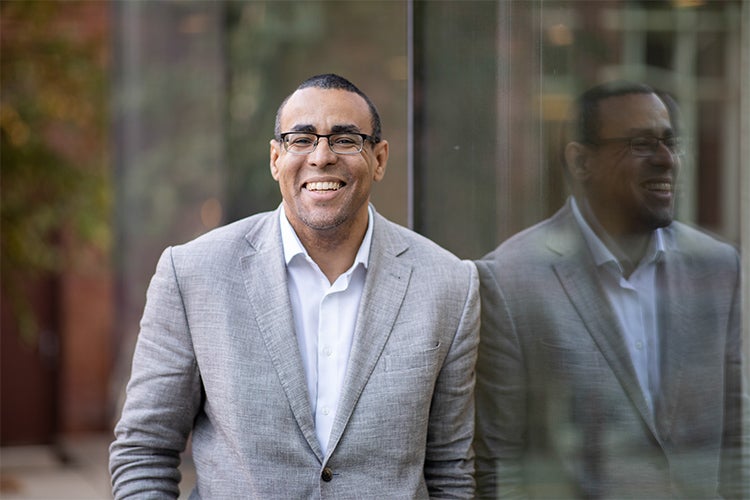 Ike Okafor helped develop the Faculty of Medicine's Black Student Application Program (photo by Nick Iwanyshyn)
A founder of the Black Students' Association when he was an undergraduate student at U of T, Okafor developed the Community of Support (COS) resource that provides admissions advising, mentorship opportunities and application support for medical school applicants. As chair of the Black Canadian admissions subcommittee, he helped develop the Black Student Application Program (BSAP), which provides a culturally safe space for Black students applying to medical school through enhanced representation of Black physicians, faculty members and medical students in the admissions file review and admission interviews.
Helping to develop the BSAP, the first initiative of its kind in Canada, was ultimately about creating greater access for Black students, in order to achieve better health and economic outcomes in those communities, as a country and as a society.
"There's, unfortunately, too many barriers that still exist," said Okafor. "A lot of my work has been working with community members and students to address these barriers substantively and create changes that see greater representation." 
"A lot of the work that I do is rooted in the African community and that experience, being in the diaspora. Part of what I do comes from that cultural experience, connecting people to resources across multiple cities and regions.  
"I'm very honoured to win," he said. 
---
Here is the full list of winners from this year's ceremony:
For the community development award:
Shakira Abubakar Weatherdon, manager, equity and inclusion, Nova Scotia Community College; CEO Shakira Weatherdon Enterprises; U of T alumna
Aanchal Vashistha, international speaker; mental health advocate; social entrepreneur; U of T alumna
Efosa Obano, social entrepreneur, founder of African Impact Initiative non-profit organization
For the outstanding recent alumni award:
Tabitha Oni, 2019 graduate with bachelor's degree, former president of the African Students' Association at U of T
Kimberly Asemota, 2018 graduate with master's degee in environmental science; environmental assessment consultant; social entrepreneur
Bernice Mawuli Datsomor, 2019 graduate with bachelor's degree; research assistant at the Ted Rogers Centre for Heart Research; peer mentor at Woodsworth College
Mubarek Abdela, 2019 graduate with master's degree in electrical engineering; volunteer; student mentor
For the social innovation award:
Michael Bosompra, MBA student, Rotman School of Management; senior product manager at Procter & Gamble; engineer; entrepreneur
Chioma Ifeanyi-Okoro, chartered professional accountant; tech entrepreneur; community developer
Olugbenga Olubanjo, 2019 graduate with master's degree in civil engineering; social and environmental entrepreneur
For the global impact award:
Chris Omara, co-founder of Peace Foundation Uganda; named to Forbes under 30 list; global peace ambassador; U of T alumnus
Diran Otegbade, founder and managing director, realtor.ng; software developer
Nengi Adoki, actress, writer and producer in theatre, web, television and film
For the emerging academic award:
Mariam Olafuyi, doctoral candidate, Faculty of Law; educational consultant
Suleyman Demi, 2019 PhD graduate from Ontario Institute for Studies in Education; educator; environmental activist
Ahmed El-Boraie, PhD candidate, department of pharmacology and toxicology and the Centre for Addiction and Mental Health
Moses Okumu, post-doctoral candidate at Factor-Inwentash Faculty of Social Work
For the volunteer award:
Souleik Kheyre, research associate, City of Toronto; outreach worker; youth mentor
Kalkidan Alemayehu, graduating in November with bachelor's degree; student leader; volunteer
Sahra Togone, researcher; volunteer and mentor; community developer
Abdalla Ali Al-Baalawy, immigration and corporate lawyer; community worker; entrepreneur
Jacqueline Kiwanuka, senior policy adviser, Government of Ontario; volunteer; community developer
For the influencers' award
Awad Ibrahim, professor in the Faculty of Education, University of Ottawa
Marieme Lo, director, African studies program; associate director for education at School of Cities; associate professor in African studies and women and gender studies, U of T
Ike Okafor, senior officer, service learning and diversity outreach, MD Program, Faculty of Medicine
UTC