On giving thanks and casting ballots: Check out these October events at U of T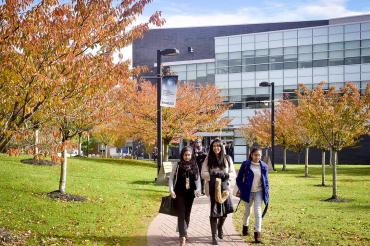 Fall has arrived and the University of Toronto continues to be packed with interesting and exciting events, ranging from talks by insightful speakers to art installations.
The federal election takes place on Oct. 21 and there will be debates happening on all three campuses to help you make an informed decision.
Here's a selection of some of the events that will be happening on campus this month:
Oct.1
The federal election campaign is in full swing, and the Scarborough Campus Students' Union is hosting a debate featuring the local candidates for the riding of Scarborough­­-Rouge Park.
Can machines learn from our mistakes? U of T's Marzyeh Ghassemi will lecture at the Centre for Ethics, addressing artificial intelligence and its applications in health care.
Oct. 2
Candidates for the riding of Mississauga-Erin Mills will gather for a debate at U of T Mississauga's Maanjiwe Nendamowinan Building.
Nobel Laureate John Polanyi will be speaking at the George Ignatieff Theatre about what Canada can do to prevent nuclear war. His talk will also be livestreamed on Facebook and YouTube.
Join U of T Mississauga's Equity and Diversity Office for Anti-"O" Convos that will explore topics in current events from an anti-oppressive lens. The first one will look into civic action and engagement.
Oct. 3
Candidates for University-Rosedale will be at the Medical Sciences Building for a debate hosted by the U of T Students' Union.
CNN journalist Daniel Dale, known for his fact-checking of U.S. President Donald Trump, will delivering the 2019 Snider Lecture at U of T Mississauga. His talk will be livestreamed online.
ARTSIDEOUT is a multidisciplinary art festival at U of T Scarborough bringing art installations and live performances as well as an art market featuring local artists selling their work.
U of T's Mark V. Campbell will be moderating a discussion on how art can connect across geography and cultures as a part of the Nuit Talks series, featuring Nuit Blanche artists.
Oct. 4
Every Friday, the Cinema Studies Student Union screens free films at Innis Town Hall and the films in October have a distinctly scary feel, starting with Jennifer's Body.   
Need to tune up your bike? Regenesis at U of T Scarborough is holding a free bike repair clinic on Oct. 4 and 11 at the U of T Scarborough Student Centre.
Oct. 5
Nuit Blanche is back for its 14th year and hundreds of artists will transform the streets of downtown Toronto and Scarborough with art installations from sunset to sunrise. Reza Nik of the John H. Daniels Faculty of Architecture, Landscape, and Design is one of the many artists involved - his installation, Project GUNK will look at Toronto's role in making Canada one of the world's largest producers of garbage.
From Oct. 5 to 9, students can vote on campus. Elections Canada will have polling stations open at Hart House Reading Room from Oct. 5 to 8 and at the U of T Mississauga Student Centre until Oct. 9. Even if you live away from home, you'll be able to send your vote to your home riding if you vote on campus. 
The U of T Symphony Orchestra will be performing at the MacMillan Theatre. The performance will include works such as Colgrass's As Quiet as and Beethoven's Symphony No. 7.

Participants get ready for the 2017 CIBC Run for the Cure on the St. George campus
Oct. 6
Run or walk to take on cancer at the CIBC Run for the Cure. The run will start at King's College Circle, with the route going through the St. George campus. A run in Mississauga will also take place around the U of T Mississauga campus.
U of T Scarborough students are organizing a group bike ride around campus. It's taking place outside the Management Wing and is open to all riders.
Oct. 7
Acclaimed Indian novelist Amitav Ghosh will be speaking at U of T Scarborough. His talk will be taking place in the Ralph Campbell Lounge. Refreshments will be served.
Oct. 8
Every Tuesday at noon, U of T Mississauga staff and faculty host wellness walks. See the fall colours around campus and chat about biology with Nagham Abdalahad on Oct. 8.
Oct. 9 
Photographer Jalani Morgan will be giving a talk at U of T Scarborough as a part of the department of arts, culture and media's visiting artist lecture series. His exhibition, 9 Bats, will be on display at U of T Scarborough's Doris McCarthy Gallery until Nov. 30.
Oct. 10
Celebrate Thanksgiving on campus. Hart House is teaming up with the Centre for International Experience and First Nations House at U of T to offer a traditional Thanksgiving feast.
U of T's department of Spanish and Portuguese is teaming up with the Embassy of Spain in Ottawa for the 2019 Spanish Film Festival. Every Thursday from Oct. 10 to 31, a selection of recent films from Spain will be screened at Northrop Frye Hall.
Join Gary Geddes, who is considered one of Canada's most distinguished poets, for a reading at U of T Scarborough, hosted by its department of English and the League of Canadian Poets.
Oct. 11
Advance polling stations for the federal elections are open from Oct. 11 to 14. Check your voter information card to find your advance polling station once it arrives in the mail after Oct. 2.
Oct. 16
U of T's Family Care Office will be holding a workshop dispelling the myths of dementia and Alzheimer's disease.
Join authors Karen Connelly and Tanya Tagaq for a discussion on the value of literature and their creative process. They'll be speaking at the Isabel Bader Theatre as part of Literature Matters, the Avie Bennett Chair in Canadian Literature annual lecture series.
Oct. 17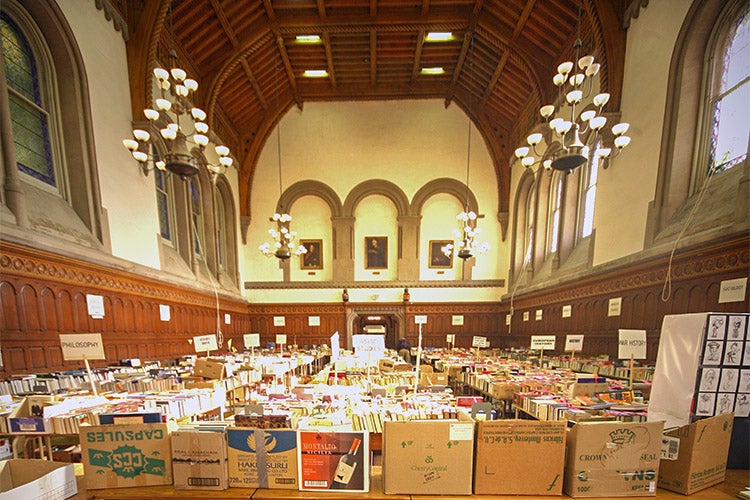 The fall book sale at University College
The University College fall book sale is back and will run from Oct. 17 to 20. Admission will be $5 on Oct. 17 and free on the other day. Students who show their T-Card can also enjoy free admission on the first day.
Oct. 21
It's Election Day! Polls will be open for 12 hours across the country as Canadians determine who will lead the next federal government.
Oct. 22
Brampton-based rapper Noyz will be facilitating a workshop at U of T Mississauga as part of Hart House's Hip Hop 101 Café series.
Oct. 23
The John M. Kelly Library at St. Michael's College is celebrating its 50th anniversary. Join author and St. Mike's alumnus Anthony De Sa, who will discuss his new book, The Need to Look Back. A reception and the opening of an exhibit highlighting the library's history will follow.
Oct. 24
Thousands of donated books will be on sale at the 44th annual Trinity College Book Sale, which will take place at Seeley Hall to Oct. 28. Admission is $5 on Oct. 25 and free the following three days.
Theatre Erindale will be having its opening night for The Glove Thief at U of T Mississauga's Erindale Studio Theatre. The performance runs from Oct. 24 to 27 and Nov. 1 to 3.
Oct. 25
Join U of T Veg Club and the U of T Students' Union for a free vegan breakfast at the Multi-Faith Centre.
Oct. 29
Dr. Jen Gunter, a bestselling author known for busting myths and falsehoods about women's health, will be speaking at the Rotman School of Management about how to combat pseudo-scientific claims made by wellness companies. She will be joined by Sarah Kaplan, director of the Institute for Gender and the Economy at Rotman.
Oct. 30
Hart House and the U of T Mississauga Indigenous Centre are bringing the Hip Hop 101 Café series to Mississauga. Saskatchewan-based Indigenous rapper Drezus will be leading a conversation at the Davis Building on how hip hop is being used by Indigenous artists to challenge settler colonialism. Drezus will also be leading a Hip Hop 101 Café at Hart House on Oct. 31
As part of the Toronto International Festival of Authors, authors Maureen Jennings and Helena Janeczek will be reading from, and talking about, their new books, Heat Wave and The Girl with the Leica, respectively, at U of T Scarborough's Ralph Campbell Lounge. The talk will be moderated by poet Daniel Scott Tysdal, an associate professor in the department of English.
Oct. 31
There will be free hot chocolate and free skate rentals at the Varsity Centre for MoveU's Scary Skate. The event is free for U of T students and $5 for everyone else. Bring your costumes.
UTC