The future of takeout? U of T startup partners with restaurants to offer reusable containers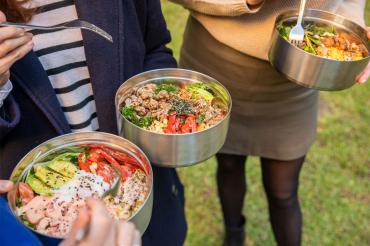 Mo Tahvili says juggling a marketing business, a startup and computer science studies at the University of Toronto is all part of building a better tomorrow.
"I've always had an interest in doing something that has a good cause and will benefit the future – whether it is sustainability, or diversity and equity," says Tahvili, who will receive a bachelor of science degree from U of T Mississauga this spring.
Tahvili is a co-founder and chief technology officer of Inwit, a Toronto startup that is dedicated to offering waste-free takeout. 
Inwit – a recent finalist in U of T's Adams Sustainability Innovation Prize competition – currently partners with 16 Toronto restaurants to offer takeout meals in reusable stainless steel containers. Inwit also offers a sustainable catering option, where corporate customers can order in advance for a work meeting or event. Through the Inwit web app, users can also order on-demand waste-free takeout from these restaurants, which will package their takeout in Inwit's reusable containers.
If customers return their containers within seven days, they receive "impact points." The points are rewards that can be used as discounts at Inwit's participating restaurants. For example, someone who has earned 40,000 points can receive $10 off their next order.
"We inspire people to take climate action on the issue of single-use plastics and waste in the takeout industry," says Erika Reyes, the company's president and co-founder.
Reyes says she was inspired to start the business in an effort to address climate change and the high levels of single-use plastics usage in the food industry. She recruited business partner Clément Bureau during Inwit's pilot phase.
To complete their team, Reyes and Bureau sought someone who shared their passion for making the takeout industry waste-free and who could improve the company's online platform. They ultimately connected with Tahvili in 2021, when Inwit joined the Venture Forward program at ICUBE, U of T Mississauga's entrepreneurship hub.
"I was a work study [at ICUBE], working mainly as a tech person ... and in some scenarios, helping with coding, marketing or any branding that startups need," Tahvili says, adding that he was excited to work with a startup that he felt passionate about. "This was a perfect opportunity for me to get myself into this industry, and into the sustainability effort," Tahvili says. "I feel good about what I'm doing as an entrepreneur."
"We all have the same mission. In the end, it's the same cause we're all fighting for."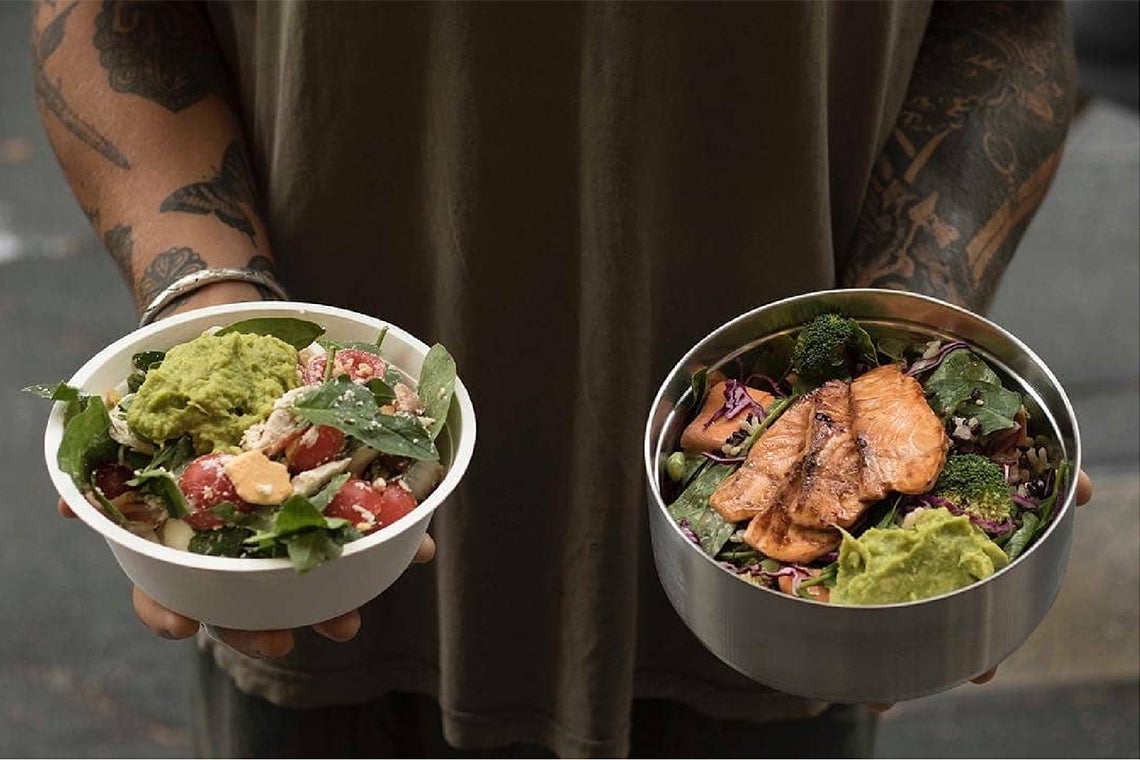 A disposable container, left, vs Inwit's reusable container (photo courtesy of Inwit)
Tahvili will join Reyes and Bureau as they pitch their startup during the Desjardins Startup Prize Pitch Competition on March 9 – part of U of T Entrepreneurship Week. The competition awards $100,000 in prizes to recognize, reward and accelerate the university's most innovative startups.
"We have heard a lot of positive feedback on our practice rounds before, so I'm excited," says Tahvili. "I'm also going to see a lot of familiar faces from working at ICUBE, and I'm excited to show them the pitch."
UTM