Future Sound 6ix: Faculty of Music teams up with YWCA, Nick Nurse Foundation to run music workshops for youth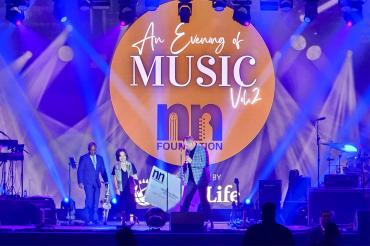 When Ellie Hisama was a professor of music at Columbia University, she founded a program called "For the Daughters of Harlem: Working in Sound" that brought together young, racialized women from New York City public schools to engage with music.
Now, Hisama, dean of the University of Toronto's Faculty of Music, is partnering with the YWCA on a similar project, bringing a group of racialized 14- to 20-year-old female-identifying and gender-nonconforming youth from local public schools to the University of Toronto's Electronic Music Studio, where they'll learn about music and audio production in two full-day workshops.
"Future Sound 6ix: Connecting Youth and Music Industry in Toronto" is being supported by the Nick Nurse Foundation, which is founded by Toronto Raptors head coach Nick Nurse and supports social justice initiatives that improves the lives of children and young adults through music, sports and literacy.
"I was excited to come to Canada and I was told Toronto is incredibly diverse – which it is," says Hisama, who joined U of T last year.
"I wanted to connect Toronto and U of T."
With the guidance of professors, students and guest instructors, the workshop's participants will focus on music criticism, music production and audio engineering. The workshops will culminate with a public performance showcasing the students' efforts.
Nurse, for his part, says he loves sharing his passion for music.
"I'm a big University of Toronto fan, a big Faculty of Music fan and I'm a big music fan – so this was a really good one on a lot of levels for our foundation to support," Nurse told U of T News. "I think it's a really cool, unique, cutting-edge project as well.
"Maybe it creates a spark for a lifelong passion that turns into a career for a young person, or maybe it improves somebody's self-image or gives them a chance they wouldn't have had. As our foundation continues to grow, we are doing things at the introductory, grassroots level like this all the way to scholarships and career development."
The idea for the U of T project began coming together earlier this year after Hisama and Megan Chang, a Canadian pianist and sessional instructor who holds both a master's degree and doctorate in music from U of T, discussed ways to help train musicians outside U of T and better engage with the surrounding community.
"I strongly believe that there are a lot of kids out there who have so much to offer creatively, but they just don't have the exposure or resources," Chang says.
"Monica Lin, the part-time community development and program facilitator at the YWCA, and I were talking, and she was trying to find something for young women to do. It just so happens that Ellie had done the 'Daughters of Harlem' project and we were like, 'Maybe we could do the same exact thing in Toronto.
"It's great that Nick Nurse has decided to fund this for us – and his vision for kids and music education all fits."
Adrian Berry, a U of T graduate and Future Sound 6ix program co-ordinator, and Eliot Britton, director of U of T's Electronic Music Studio and associate professor of composition, music technology, and digital media at the Faculty of Music, will help run the workshops. Student ambassadors will also be on hand to act as mentors for the students.
Hisama says she hopes the program helps make the Faculty of Music more accessible to the wider community.
"We are sometimes thought of as a strictly Western European classical music institution, or that we aren't interested in popular music," she says. "I hope we'll be able to dispel that and that this is a step towards a larger change."
To that end, Hisama says the Faculty of Music also recently launched a task force on community engagement.
"I'm trying to bring together this energy and knowledge and excitement about doing something that is part of the fabric of our community."
UTC