Toronto's future city builders: Cecelia Pye
"With how crazy the world is lately, I'm happy to wake up and not feel fearful in Toronto"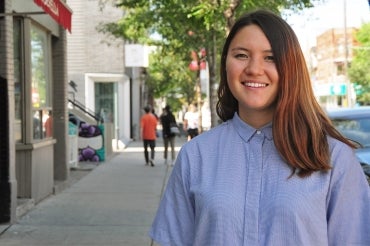 They're the new generation of Toronto city builders. 
Meet the ambitious University of Toronto students and recent grads poised to become big players in shaping the city's identity and contributing to its growth. 
This ongoing series from Romi Levine, who covers the city beat for U of T News, shares their stories.
---
Cecelia Pye is living, as she puts it, the millennial dream. 
As a project manager for the
Trinity-Bellwoods business improvement area
(BIA) and a coordinator for the Bayview-Leaside BIA, she gets to be her own boss, set her own work schedule and spearhead a slew of creative projects. 
"My time is very flexible which is what I enjoy about my job," says Pye, who is a graduate of University of Toronto's urban studies program.
And as the lone paid employee working with a group of volunteers, that flexibility means she's had to master all aspects of community building.
"I've worked on projects for beautification, marketing for the street, street festivals, one-off events as well as do their budgeting and help them with master plans," she says. 
Toronto is made up of more than 80 business improvement areas – organizations that help build the reputation of specific neighbourhoods in the city, funded by the public and private sectors. And according to the municipal government, it was Toronto that launched the world's first BIA 46 years ago. 
For BIAs, the big emphasis is on community outreach, which means Pye rarely has to sit in an office – opting instead for any one of the independent coffee shops scattered across the Trinity Bellwoods neighbourhood. We met in one of them – Ella's Uncle. The tiny café is one of many small businesses she works closely with. 
"It's exciting to work with people who are always creative thinkers and who want to support and create unique events in their neighbourhood," she says.
The Bellwoods BIA runs along Dundas Street between Grace and Bathurst Streets. Most of the stores there are independently-owned – which really adds to the neighbourhood's local feel, says Pye. 
"It's so eclectic and unique…[The term] 'buying local' is overused these days but it is good for the environment and it's good for local business and you're supporting the local economy. I think that is really important," she says.
But working for a BIA isn't without its challenges. With marijuana dispensaries popping up all over the city – and particularly within Pye's jurisdiction – she has to facilitate discussion and debate between tenants and sort through any controversy. She says a large part of running a successful BIA is keeping those lines of communication open.  
"There's a strong support system. So if there's something in the community that people are uncomfortable with or they're not sure what to do, there's a way to communicate that," says Pye. 
But one of the biggest issues faced by small businesses in the Bellwoods and Bayview BIAs, and all over the GTA, is the lack of regulation and protection for commercial tenants, she says.
"When a lease ends for a small business after they've been in the neighbourhood for three years – people know them, they're comfortable with them, they visit often, they've created a fan base for their business – once that three-year lease is up, the landlord can triple the rent if they want. That's so frustrating," says Pye.
"I have seen places just stay closed for a long time because they're waiting for a corporation to fill the place – which is fine – we're happy to see any space filled, it's just when it's empty for so long it's kind of sad and I don't think it adds to the neighbourhood or community."
Despite the city's shortcomings, Pye says Toronto has so much to offer that sets it apart from other cities around the world. What tops the list for her? Safety.
"With how crazy the world is lately, I'm happy to wake up and not feel fearful in Toronto," she says. 
Pye says she owes a lot of her passion for city building to the urban studies program and to Shauna Brail, associate professor, teaching stream and director of the program, adding that the internship program and the close-knit group of students were the highlights of her time at U of T. 
"I always think back and it's really inspired continuing work in urban planning," she says.