'Food for thought': U of T's Black History Month Luncheon goes virtual, features NHL exec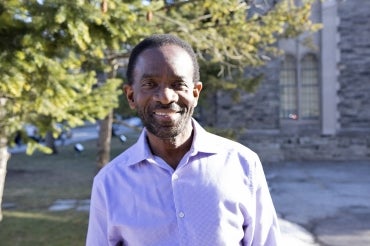 Glen Boothe had never skated or seen a game of hockey before moving to Toronto from Clarendon, Jamaica when he was a teenager.
He recalls falling in love with the lightning-fast sport after watching the Toronto Maple Leafs play the Bobby Orr-era Boston Bruins, a game he remembers for Orr's graceful movements.
"Damn, he's like Pelé on skates," Boothe remembers thinking to himself, adding that he eventually learned to skate on the rink in Nathan Phillips Square.
Now Boothe, who works for the University of Toronto's division of advancement and is a co-founder of U of T's annual Black History Month Luncheon, is hoping to inspire Black youth to fall in love with the sport and pursue their dreams, whatever they may be.
He and his fellow Black History Month Luncheon committee members have invited NHL Senior Executive Vice President, Social Impact, Growth Initiatives & Legislative Affairs Kimberly Davis to speak at the Feb. 26 event, which is being held online for the first time in 19 years.
In another first, organizers are using the event, sponsored by the NHL and Air Canada, to raise funds for Black students and scholarship.
Attendees will also hear from professional hockey players Kurtis Gabriel of the San Jose Sharks, Akil Thomas, who's playing in Berlin on loan from the L.A. Kings, and Josh Crooks of the Junior A Campbellton Tigers in Campbellton, N.B.
Davis, whose background is in corporate consulting and philanthropy, joined the NHL in 2017 and is helping the league foster representation and inclusivity from the locker room to the boardroom.
The NHL joined its players and teams last year by speaking out against the killing of George Floyd by Minneapolis police and racial injustice more broadly.
In an interview with the Los Angeles Times, Davis said the NHL fully backed its players' call for greater diversity. She also told the paper she isn't shy about making her voice heard when it comes to issues of diversity.
"I was raised to be strong and to be fearless, so I'm not uncomfortable at being in a room of people that look different than me," she said.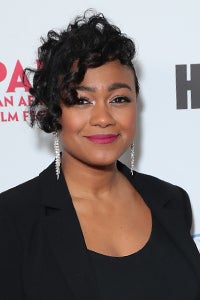 In addition to Davis, the luncheon will feature Tatyana Ali, known for her role as Will Smith's cousin Ashley Banks on The Fresh Prince of Bel-Air. The hit syndicated show, which last aired in 1996 and received a second life through streaming services, remains popular with audiences, particularly youth, Boothe says.
"The Fresh Prince is iconic," he says. "It was the story of a ghetto kid who makes it and that still resonates today."
The luncheon's organizers had to deviate from tradition this year as COVID-19 put a wrench in their plans. Typically, the event brings hundreds of people together over steaming plates of Afro-Caribbean cuisine, often including oxtail, curry goat, saltfish and Boothe's signature jerk chicken and pork (the key, he says, is to maintain a balance of ingredients so neither the taste of cloves, nutmeg, garlic or peppers is overpowering).
While food is typically the "star of the show" at the Black History Luncheon, Boothe says he hopes the online format allows more time for discussion – leaving attendees with "food for thought."
Boothe co-founded the luncheon with the help of his colleagues nearly two decades ago after he saw a blank space on the calendar during Black History Month.
Di Draganidis, who has worked with Boothe at U of T for 20 years, says she has volunteered to help with the event every year because she believes in its goal of bringing communities and cultures together.
"Being an ally should be more than just words," she says. "All of us should find some practical and tangible way to show support for diversity and inclusion."
What began as an office potluck has grown into U of T's marquee February event, drawing big-name guests like Raptors President Masai Ujiri, poet George Elliott Clarke and Canada's first Black woman MP and U of T alumna, Jean Augustine.
Event staff in the university's advancement division and at Hart House are helping the organizers navigate the many logistical and technical challenges of hosting such a large online event.
"We're really grateful for their help," Boothe says. "This takes a village."
With a movement for racial and social justice building momentum around the world, Boothe says the theme of the luncheon is more timely than ever.
"The idea of the lunch has always been to bring diverse cultures together, but what has happened this past summer has confirmed that this idea is so valid. It demonstrates that there is so much more work to be done to accomplish that cohesion that we're aiming for," he says.
"It confirms that we're on the right track."
Inset photos courtesy of NHL and by Leon Bennet via Getty Images
UTC