Basketball, charity, family: Raptors President Masai Ujiri speaks at U of T's Black History Luncheon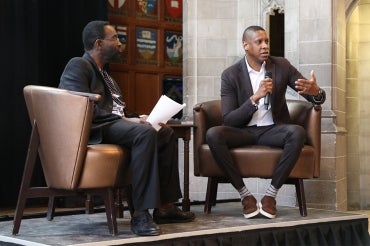 Other than his parents, who taught him to be fierce, competitive and kind, Masai Ujiri singles out one other important role model in his life: Nelson Mandela, who he once met.
"It dawned on me that there's something this man has done that we'll probably never see in our generation," Ujiri, the president of the Toronto Raptors, said of Mandela's leadership during South Africa's apartheid era during a keynote speech at the University of Toronto's Black History Luncheon on Thursday.
The NBA executive and founder of the global charity Giants of Africa added he was deeply moved by his encounter with Mandela.  
"[It] really inspires me to continue to honour him [so] more youth – my daughter, my son, all you young kids here – will continue to know the work that this man has done."
Ujiri's appearance was the focal point of the 17th annual luncheon event at Hart House, capping four weeks of Black History Month events at the university. The luncheon was organized by a team of volunteers led by Glen Boothe, who has worked at U of T's division of University Advancement for two decades.
The packed luncheon brought together students from the York Region District School Board, local politicians and Ambassador Adeyinka Olatokunbo Asekun, the Nigerian high commissioner. U of T President Meric Gertler, Kelly Hannah-Moffat, vice-president of human resources and equity, and David Palmer, vice-president of advancement, were also in attendance.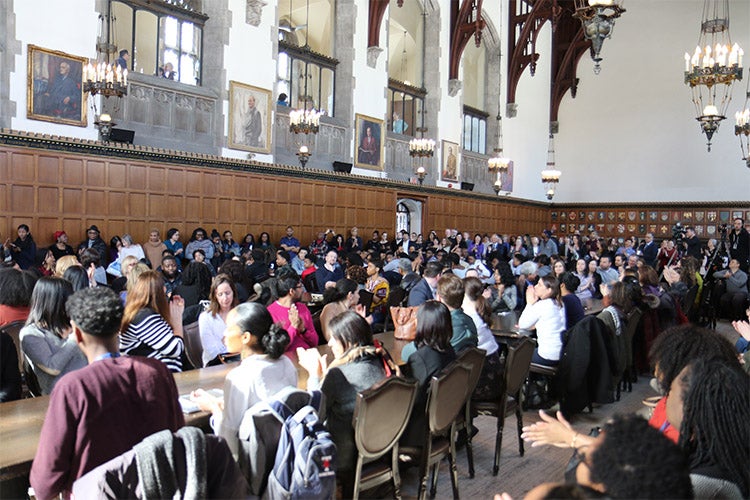 Hart House's Great Hall was packed for the 2019 Black History Luncheon, featuring keynote speaker Masai Ujiri (photo by Perry King)
Boothe explained the purpose behind the luncheon, which was livestreamed to all three U of T campuses and featured a steel pan artist and gospel singer.  
"For some people, it was not only a chance to meet Masai, but it was a learning experience," said Boothe.
"We want it to be a fun event. We also want it to be an outreach event – to go across cultures and to be educational so that people can appreciate what Black culture truly is rather than what is in the headlines."
Past keynote speakers have included Scarborough MPP Mitzi Hunter, George Elliott Clarke, renowned poet and professor in the department of English, and Dwight Drummond, a CBC Toronto news anchor.
Ujiri also participated in a question and answer session. The pre-submitted questions included how he navigates the worlds of business and philanthropy as a Black man, and what life was like for him growing up in northern Nigeria.
He was also asked how he manages his time between the Toronto Raptors, where he is the first African-born franchise president, and his charity, Giants of Africa, which he founded in 2016.
Ujiri said he was advised by many in basketball circles to maintain focus in order to be more effective.
"I thought about it very carefully because if you try to do everything all at once, you can't serve anybody," he said.
After conversations with his wife, Ujiri said he established clear priorities. "Outside of the Raptors – and winning – family comes first," he said.
"I think it's very important, family in our lives, and then it's the Raptors and what we do … and winning," he said, repeating the phrase "and winning" for third or fourth time in his remarks to a blend of laughter and applause.
Masai Ujiri takes time to pose for a picture with the high school students in attendance (photo by Perry King)
Ujiri also highlighted his work with Giants of Africa and said he was grateful for being invited to speak before so many young people.
"To see such beautiful, young, diverse people makes me happy," he said.
Ujiri asked the younger members of the audience to think about how they could change the world and affect others.
"The youth is the way for the world to go, whether that's this generation, Generation Z or whoever comes next – my daughter and son," he said.
He wrapped up his remarks with advice about taking pride in yourself.
"Be proud of who you are, of where you come from. Stand strong," he said. "I'm proud to be Nigerian, I'm proud to represent Toronto."
UTC