A food blogger's guide to Toronto's best on- and off-campus eats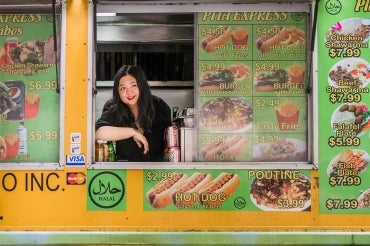 Buttery hotpot. Crispy sweet-and-sour pork. Creamy strawberry shortcake. This year, ditch the go-to fast food picks and treat yourself to all the delicious and diverse food options that the University of Toronto's three campuses have to offer.
Food blogger and influencer Joanna Luo walks us through her favourite places to eat near U of T's three campuses.  The U of T Mississauga alumna is no stranger to the Toronto food scene. As the creator and editor-in-chief of Toronto Diary, a food blog with around 700,000 followers across its various social media channels (WeChat, Weibo, Instagram and Facebook), she is a connoisseur of Toronto cuisine.
U of T News met with Luo to solicit her expert advice on finding tasty eats around the Greater Toronto Area. Here is Luo's curated guide to dining near the St. George campus, U of T Mississauga and U of T Scarborough.
---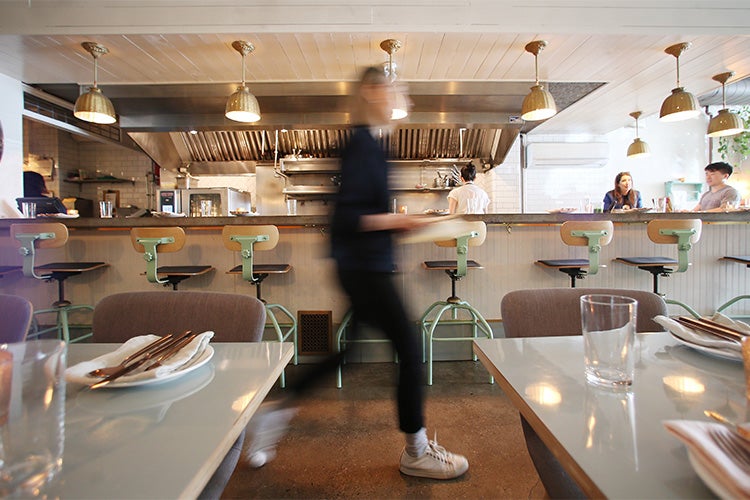 Grey Gardens restaurant (photo by Steve Russell/Toronto Star/Getty Images)
St. George campus in downtown Toronto
Luo frequents areas like Kensington, Chinatown and Baldwin Village – all within walking distance from campus – for their wealth of budget-friendly eats. "You are so lucky if you graduate from U of T downtown," she gushes, praising the ubiquity of good food around campus.
Hokkaido Ramen Santouka
"This brand is so popular in Japan," Luo says of Hokkaido Ramen Santouka. With a new location that's a 15-minute walk from campus, this is the perfect spot to try authentic Japanese cuisine.
Liuyishou Hotpot
Head to Chinatown for Luo's go-to hotpot spot. Liuyishou Hotpot has over 1,000 locations worldwide, one of which is fortuitously close to campus at Dundas and Spadina. The restaurant serves its most popular hotpot dish with a quirky twist: an intricate cow-shaped pat of spicy butter that's added for flavour. "[They start with a] spicy soup base…and they put the butter-cow in the pot to cool down the soup," Luo explains.
LeTAO
People know and love Uncle Tetsu (which itself is within walking distance of U of T) – but Luo's favourite place for Japanese cheesecake is LeTAO, one subway stop away from campus.
Grey Gardens
For students looking for a drink after a long day of classes, Luo recommends Grey Gardens in Kensington Market. The restaurant boasts upscale ambience, unique cocktails and a fully stocked wine bar. "Their food is delicious, too," Luo adds.
While Luo recommends students venture beyond campus for meals, you don't need to go far to eat well. U of T's St. George campus has shifted its food platform toward options that are healthy, sustainable, diverse and delicious. Now you can get a variety of offerings, from ramen to pesto pasta and butter chicken, without ever leaving campus.
---
U of T Mississauga  
Luo says that while the St. George campus is brimming with nearby restaurants, the other two campuses may require a short drive to reach the good stuff – but it's worth the extra mileage.
Apricot Tree Café
The Apricot Tree Café is a less than ten-minute drive from campus, with delicious eats that will satisfy any craving and an open-concept kitchen where patrons can watch their food being prepared. "Their crepe is really good," Luo says. 
168 Sushi Buffet
The 168 Sushi Buffet is a popular student hangout, and for good reason. For $30 and a short 10-minute drive from campus, you can feast on all-you-can-eat sushi, as well as other delectable Japanese dishes.
French Corner Patisserie
Luo suggests you follow your sushi dinner with dessert at the nearby French Corner Patisserie. "I always go there to buy strawberry shortcake – it's really good," Luo raves. "The strawberries are so fresh and the cream is handmade, not just some cream you buy from the supermarket." 
U of T Mississauga students don't need to rely on a drive for good food, however – there are tons of tasty on-campus offerings as well. From locally grown vegan dishes at Vegilicious to gluten-free Asian-fusion picks at Fusion 5, there is something to whet everybody's appetite.
---
U of T Scarborough  
YuanYuan Restaurant
Luo recommends Scarborough's YuanYuan Restaurant, located less than a 10-minute drive from campus. "Their popular dish is Tianjin-style crepes," Luo says, explaining that these speciality crepes are made with flour and egg and filled with sauce and youtiao (strips of deep fried dough). "This is very traditional food in Tianjin," Luo says. The dish is perfect for those seeking something unique: "The texture is crispy and a little bit sweet, a little bit spicy," she adds.
The Old House Chinese Restaurant
The Old House is another tasty option near campus. "They are famous for their sliced fish," Luo says. She recommends supplementing the dish with lvdagun, a popular Chinese snack that Luo describes as a "red bean rice cake." 
For those of you staying on campus, there are a host of tasty on-campus eats to accompany your off-campus outings, from curry dishes to burrito bowls and more.
---
Toronto's diverse food scene
Toronto is bursting with hidden culinary gems and nascent food phenomena just waiting to be discovered. Luo recommends the sweet-and-sour pork at Fantasy Eatery to anyone looking for eclectic eats. The piping hot pork is served in a dish of ice cubes, so the sweet-and-sour sauce instantly solidifies, creating a crispy shell for each piece of meat.  "[Usually] you need to eat fried [pork] immediately," Luo explains, "but for this dish…when it cools down and you eat it, it's still crispy."
Luo encourages students to take advantage of the diversity of Toronto's culinary scene. She recalls her surprise at finding a traditional Hungarian restaurant (such as this one) where she could order beef goulash soup, after having sampled the dish in Hungary. "That's why I really love Toronto," she says, "because it is multicultural and you can try different countries' food here."
While many of Luo's picks are meat- and carb-heavy, Toronto is full of vegan and health-conscious options. Near the St. George campus, Luo suggests Whole Foods (a 15-minute walk) for groceries, Calii Love (a 20-minute walk) for takeout and Early Bird (a 25-minute walk) for a sit-down meal. She recommends Early Bird's eggs benedict – the Hollandaise sauce is made with beets, adding a pop of pink colour to your brunch plate. "I love this place," Luo says. "The presentation is so beautiful…and [the food is] so healthy."
From writing papers to writing restaurant reviews
Luo double majored in economics and history at U of T Mississauga, where she made the transition from student with a hobby to full-time food blogger. Her studies helped her navigate the media world of tight deadlines and cramped schedules: "time management is really [important] and [U of T] taught me…how to make good use of my time."
Luo emphasizes the importance of considering the cultural and historical narratives behind the food you eat, and is grateful that her time studying history has made her a more mindful eater. She recalls blogging about a food market in Korea's Jeju Island where she sampled omegi-tteok, a type of Korean rice cake native to the region. Learning about the snack's history shaped the story Luo shared with her followers beyond the food's taste and presentation.  
"A long time ago, the Jeju people in Korea were so poor…[that they] had no money to buy rice," Luo explains, "so they used other food materials to [create] this snack". Omegi-tteok is made using millet, which, unlike rice, can be cultivated locally despite Jeju's rocky terrain and harsh climate. Luo aims to continue telling the stories behind the food she promotes and hopes to inspire others to consider the implications of what they consume.
When asked what her go-to food place was as a U of T Mississauga student, Luo laughs and answers, "to be honest, Tim Hortons". For her, the coffee shop's cheapness holds its allure: "I liked to order the chicken noodle soup combo, with sweet tea…and a muffin – so cheap."
While many students similarly rely on economical staples for the bulk of their on-campus sustenance, Luo encourages students to break that habit this year and take full advantage of the GTA's booming food scene.
UTC