With a focus on the connectedness of cultures, researchers aim to revitalize the global humanities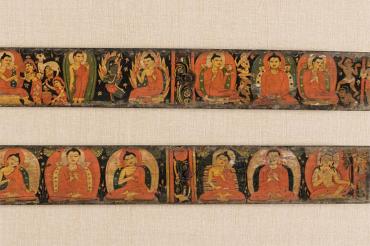 Two University of Toronto Mississauga professors are uniting scholars across the globe in an effort to answer the question: What should humanistic research look like in a post-pandemic world?
Ajay Rao, an associate professor in the department of historical studies, and Jill Caskey, a professor in the department of visual studies, are leading a research initiative called The Global Past that aims to break free of traditional boundaries in the humanities.
"The Global Past is a call-to-action for scholars of the pre-modern world, studying material or histories before circa 1500, to begin building a productive framework for research, teaching, and graduate training that is focused on the connectedness of cultures and archives," says Caskey, the chair of visual studies at U of T Mississauga.
"Our objective with the project is to revitalize the global humanities. By providing a more expansive understanding of the core questions of the humanities and a focus on what it means to be human, we are aiming to break free of traditional disciplinary boundaries and embrace non-Western and Indigenous ways of knowing, producing transformative knowledge in order to be a truly global university."
The project recently received a Connaught Global Challenge Award, with funding from U of T's Connaught Fund, Canada's largest internal university research funding program. Established 50 years ago through the sale of Connaught Medical Research Laboratories, the fund has since given out more than $178.7 million to U of T researchers, supporting a wide array of scholars and projects across a diverse range of fields.
"This is exactly the kind of important and impactful research the Connaught Global Challenge Award was created to support," said Professor Leah Cowen, U of T's vice-president of research and innovation, and strategic initiatives. "I'm looking forward to seeing the results of this innovative collaboration."
The two principal investigators are currently leading a team of 21 multidisciplinary scholars – 15 based at U of T and six international partners from institutions in Singapore, Egypt, and India – with a focus on research collaboration. Participating researchers based at U of T Mississauga include Alexandra Gillespie (English and drama), Maria Hupfield (visual studies and English and drama), Ruba Kana'an (visual studies) and Karen Ruffle (historical studies).
Over the duration of the two-year project, the team will organize three thematic, hands-on workshops in Toronto, Egypt and Singapore to establish the network and deepen the collaborations among participating scholars and graduate students.
"Graduate student research exchange is also an integral part of the Global Past project," says Rao, U of T Mississauga's vice-dean, graduate and postdoctoral affairs.
"The workshops we have planned with our research partners around the globe will help to build the foundations for graduate student mobility between Global South universities and the University of Toronto. We are also aiming to establish a new talent pipeline to attract students to grad programs at U of T, as well as create diverse training opportunities for doctoral students to gain expertise from supervisors here and abroad."
The research outputs for the project are also varied: from blogs, podcasts and vlogs to collaborative reflections that chronicle participants' experiences and document the research activities. The project will also culminate in a "Global Past Manifesto" that will be collaboratively written and published in an open-access, peer-reviewed scholarly journal.
"Instead of preparing an edited volume of specialized, discipline-specific research, this shared manifesto will bring together the range of expertise of participants in the project," says Caskey.
"The Global Past Manifesto will integrate theoretical frameworks and methodologies to propose concrete changes in humanities scholarship, and this will also provide the opportunity for mentorship of junior faculty and graduate students. We will also propose new ways to conduct research, moving beyond accepted limits of knowledge."
UTM