Five things to look forward to at Entrepreneurship Week 2022
The University of Toronto is preparing for its sixth annual Entrepreneurship Week, a four-day showcase of U of T's diverse and extensive entrepreneurial and startup ecosystem.
Taking place from March 7 to 10, U of T Entrepreneurship Week features 15-plus events – startup showcases, pitch competitions, keynote speakers, workshops, panel discussions and more – delivered through an easily accessible virtual platform.
Events are free and open to all: students, entrepreneurs, alumni, mentors, business leaders, investors and anyone else who is looking to be inspired by startups, their founders and one of the most dynamic research-based startup ecosystems in the world.
Here are some of the key events and themes for the upcoming edition of U of T's annual celebration of all things entrepreneurial. 
---
A fireside chat with an Olympic legend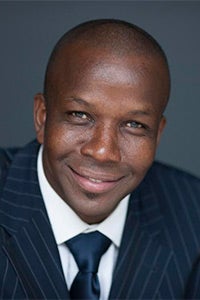 Among this year's most anticipated events is a fireside conversation with Canadian Olympic icon and entrepreneur Donovan Bailey.
One of the greatest sprinters of all time, Bailey has secured a place in Canada's Sports Hall of Fame as a track and field legend, held three world records (currently holder of the 50-metre record), two Olympic gold medals and was named Track & Field News sprinter of the decade for his stellar 10-year career.
Bailey has since shifted his competitive focus from sport to business as the CEO of Bailey Inc. He has spent more than 25 years building successful business ventures across the globe in real estate, restaurant, and health and wellness industries.
On March 9 at 12 p.m., attendees can tune in for the keynote event From the Track to the Boardroom, a fireside conversation with Bailey that will be moderated by Rita Trichur, business writer for The Globe and Mail. The talk will focus on the parallels between competing in sports and business.
Student startups compete for funding and prizes
With over $60,000 in prizes up for grabs, 11 student startup teams in two categories – early-stage and later-stage – prepare to compete in the U of T Entrepreneurship (UTE) Startup Prize pitch competition. The pitches will be judged by a panel of investors and successful founders.
This year's competition includes finalists from a range of fields – health and wellness, biotech, AI, consumer packaged goods, information and communications technology and cleantech. Kicking off day one of Entrepreneurship Week on March 7 at 2 p.m., the business pitch competition will recognize, reward and accelerate U of T's most innovative startups.
Back for its third year, Pitch with a Twist features an all-women lineup of contestants and judges to celebrate International Women's Day on March 8. The annual event hosted by U of T Mississauga accelerator ICUBE focuses on early-stage ventures from a variety of sectors pitching their business ideas for cash prizes and in-kind support.
Last year's Pitch with a Twist winners included Elsie Amoako, founder of Mommy Monitor, Joella Almeida, co-founder of MedEssist and Nancy Hamdy and Linta Mustafa, co-founders of Axonaly.
Tune in at 5:30 p.m. to watch founders of U of T startups pitch for top prizes and to show your support for women-identifying entrepreneurs.
EDI in entrepreneurship: Supporting underrepresented founders
Following the launch of the Black Founders Network and the Nobellum Innovator Program in partnership with U of T, several events on this year's Entrepreneurship Week roster will prioritize the need for equity, diversity and inclusion in entrepreneurship.
Nobellum, a non-profit social and technology venture founded by U of T alumna Melisa Ellis is joining forces with U of T to help launch at least 100 Black-owned startups by 2025. The Nobellum Innovator Program open house at Entrepreneurship Week will provide a forum to discuss the program's initiatives and invite innovators to join, while Nobellum's Meet the Founders session will introduce prospective entrepreneurs to the founders behind its vision.
In addition, Two-eyed Seeing in Entrepreneurship with Jonathon Redbird and Christina Tachtampa will focus on how Indigenous Knowledge applies to the fields of entrepreneurship and business education. Presented by ICUBE and The BRIDGE in partnership with RedBird Circle Inc., this session will introduce students to duality in entrepreneurship and education and invite them to shift their perspectives about the concepts of self, community and connection to the spirit of the land.
Returning to Entrepreneurship Week, the highly attended conversation series, Fireside at FemSTEM invites special guest speaker, Sandy Skotnicki to share her experience as a distinguished entrepreneur in the health-care space. Skotnicki is the founding director of the Bay Dermatology Centre, an assistant professor in the department of medicine in the Temerty Faculty of Medicine and the author of Beyond Soap: The Real Truth About What You Are Doing to Your Skin and How to Fix It for a Beautiful, Healthy Glow. Widely regarded as the "go-to" dermatologist in Canada for ingredient reactions and safety, she regularly provides commentary and contributes to medical journals, media outlets and speaks on reactions to chemicals in the skincare industry.
The convergence of arts and entrepreneurship
New this year, Toronto Music Entrepreneurship Exchange (ToMEE) is hosting a dynamic panel discussion about innovation in music performance and research.
An all-alumni panel from the Faculty of Music, including Adrian Berry, Hayley Janes, Adam Fainman and Renee Fajardo, will discuss topics such as collaboration and reciprocity in creative cities, beatboxing research and technology, and opera for a 21st-century audience.
Innovations in Music Performance and Research is the inaugural Faculty of Music event to take place during Entrepreneurship Week and is scheduled for 3 p.m. on March 8.
Finding balance: Mental health session for entrepreneurs
Back by popular demand, H2i's Stress Management and Mental Wellness Session for entrepreneurs will close off Entrepreneurship Week with an address by keynote speaker Soroosh Vafapoor, community wellness co-ordinator for Trinity College and a registered psychotherapist.
This keynote presentation will be followed by a candid panel discussion with entrepreneurs – including Harold Wodlinger, CTO of ViTAA Medical, Michael Floros, COO of Cohesys and Wendy Naimark, CTO of Ripple Therapeutics – who will discuss their experience managing stress and maintaining work-life balance.
Entrepreneur or not, the event promises to deliver helpful tips and tricks to disconnect, find balance, manage stress and seek out support in a safe and welcoming space.
UTE