What now? U of T experts discuss policy changes under President Trump
As U.S. President-elect Donald Trump prepares to take office, what policy changes can Canada and the world expect
With the shock now wearing off, the world prepares for changes under a Trump presidency.
On Thursday, President-elect Donald Trump met with President Barack Obama to discuss the transition of power. Not on the table were some of the Obama policies Trump has threatened to revoke or change once elected. 
At the University of Toronto, experts on Wednesday weighed in on the results of the election. Today, our faculty with expertise in areas such as global climate policy, LGBT issues and health care tackle some of the policies that many expect will be overhauled under Trump.

U.S. President Barack Obama meets with President-elect Donald Trump in the Oval Office on Thursday (photo by Win McNamee/Getty)
---
We begin with climate change policy. Matthew Hoffmann, a professor of political science at University of Toronto Scarborough and co-director of Munk School's Environmental Governance Lab talks about international agreements reached at the Paris Climate Conference.
What can we expect from Trump regarding climate change?
It is not hyperbole to say that the Trump administration will likely be a disaster for climate change policy in the United States and for the pursuit of an effective global response to climate change. The risks on climate change policy from this election are manifold and serious. We are likely to see a reversal of the directions and leadership that the Obama administration was pursuing in the U.S. and abroad on emissions reductions and support for renewable energy. Meeting the climate crisis just became much harder than it already was with an engaged United States.
U.S. climate policy is almost certainly headed for a stark, retrograde shift given that the president-elect has described climate change as a hoax perpetrated by the Chinese and that his transition team has already included a noted climate denier as the person heading up the transition at the Environmental Protection Agency (EPA). Trump made various campaign pledges along the way to gut the EPA entirely and to cut all funding for renewable energy and climate change research.
President Obama's signature policy, the Clean Power Plan, is also virtually certain to be abandoned both because the new administration will not pursue it, and it is likely that a Supreme Court including a Trump nominee would strike it down anyway. If the Trump administration's actions in any way match the campaign rhetoric, U.S. climate policy (and energy policy more generally) will be set back decades.
Given that the United States is a key contributor to global emissions and had been looked to for international leadership on global climate action, the damage a Trump administration promises will not be limited to U.S. climate policy. The Trump administration has various means to officially withdraw from the Paris Agreement, or could, just as easily and perhaps with less political fallout, simply not pursue the commitments that the Obama administration put forward in the Paris Agreement (because of a lack of enforcement measures on countries achieving their pledges in the decentralized approach to global climate governance).
In addition, the bilateral deal between the United States and China that paved the way for the Paris Agreement is now in significant doubt. The loss of U.S. leadership on the global stage also has the potential to dampen other countries' ambitions and pursuit of aggressive climate action.
There is no sugarcoating the potential for serious setbacks on climate change that a Trump administration portends – setbacks that frankly have the potential to make it impossible to stave off some of the worst consequences of climate change and therefore put millions of lives at risk over the coming decades from various climate impacts (sea level rise, changing drought and storm patterns, heat, severe weather and flooding, secondary climate-induced conflict, etc.). 
These are the risks of a Trump administration in terms of climate action and policy and we should be clear-eyed about them. However, we should also remember that there are countervailing forces and that even a disastrous Trump administration cannot derail all action on climate change. There is quite a bit of momentum on climate change globally and within the United States that will continue to build in spite of Trump's election.
The costs of renewable energy relative to fossil fuels continue to fall, and the growth of renewable energy capacity and use worldwide will likely continue to grow rapidly regardless of the results of the U.S. election. Trump almost certainly cannot bring back coal in the United States because of the economics of energy production have shifted so distinctly in the last 10 years.
Internationally, the Paris Agreement is a decentralized approach to climate change so the world does not depend on the U.S. to take action. Every country has designed its own plan. Other countries will need to forge ahead; however, and even redouble their efforts and urgency. Finally, a great deal of action on climate change, especially in North America, takes place at the state/provincial and municipal levels and amongst businesses and NGOs. This is where energy on climate action has been and will need to be moving forward. 
A number of post-election reflections that have spread around social media are urging that the election of Trump be met with resolve and organizing to prevent his campaign rhetoric from becoming reality.  The world now needs other nations, sub-national actors (cities and provinces), corporations, and NGOs to significantly rally around the cause of climate action. This election must serve as a clarion call to action on climate.
What does this mean for Canada?
The Trump administration will significantly complicate energy and climate policymaking for Canada. First, it is clear that pipeline approval will not be an obstacle from the U.S. side of the border, and I expect that a new Trump administration would offer approval for Keystone XL within weeks if not days of inauguration. However, cooperation on energy and climate change is now significantly uncertain and Canada's new federal policy on climate change will be significantly out of step with U.S. policy. The notion of a continental approach to energy is in question and such an approach to climate policy is almost certainly dead. This will be a significant challenge for Prime Minister Trudeau to navigate. 
Internationally, Canada faces a choice of standing with much of the rest of the world in pursuing urgent action or being sucked into a new North American obstructionism on climate change. Canada no longer needs a decent climate policy to trade-off for pipeline approvals in the United States. The question is whether we will pursue progressive climate policy because it is the right thing to do, especially in the context of open hostility to climate action from the United States.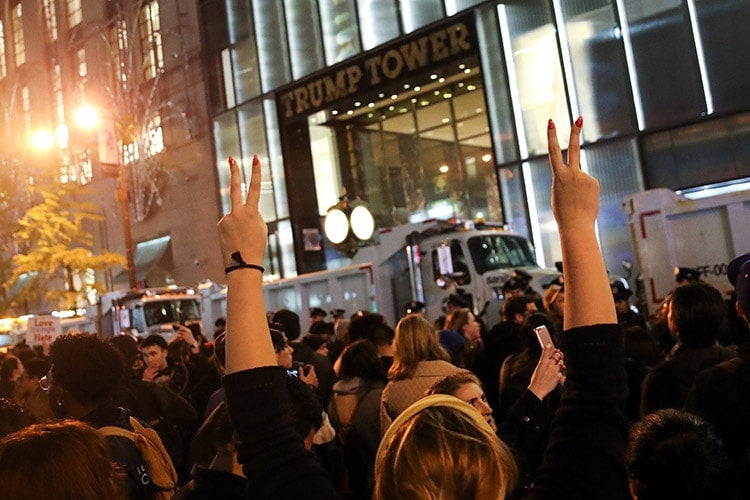 Protesters gather outside Trump Tower following Trump's win (photo by Drew Angerer/Getty)
---
Brenda Cossman, is a professor in the Faculty of Law and she's director of the Mark S. Bonham Centre for Sexual Diversity Studies in the Faculty of Arts & Science. She spoke about same-sex marriage and LGBT issues under threat.
"President-elect Donald Trump does not have an official policy plan on LGBT issues.  But he and Mike Pence have repeatedly stated their opposition to LGBT rights.  Trump plans to appoint conservative justices to the Supreme Court who he hopes will overturn marriage equality. He has stated his support for local state anti-transgender laws.  He has pledged to  sign the Republican-backed First Amendment Defence Act, a law that would permit forms of anti-LGBT discrimination on the grounds of religion.
"The Republican party, which controls Congress, passed a platform earlier this year that contained some of the most anti-LGBT provisions in years, including an attack on same-sex parenting and opposing a ban on conversion therapy.
"Together, the executive and legislative branches are committed to undermining all of the LGBT rights advances of the last decade. Together, they can appoint Supreme Court justices who will help carry out this agenda.  
"I have no doubt that they will.  Because repealing same-sex marriage and supporting anti-trans legislation is a lot cheaper than building a wall. Trump and the Republican Congress can deliver on their hateful promises to their base with relatively little cost.  And the cost to LGBT lives is not part of the equation."   
---
Raisa Deber, a professor at the Dalla Lana School of Public Health Institute of Health Policy, Management and Evaluation spoke about Planned Parenthood and potential changes to Obamacare.
What will the next four years look like under Donald Trump? 
Trump was incredibly vague about exactly what he was planning. He had a number of overall goals but he never really said how he was going to get there. 
One of the things that is interesting is that because the Republicans took both the House and the Senate and have been talking about stacking the courts, there aren't really a lot of blocking points. What the Republican Congressional delegation is saying is that they're going to put a whole lot of religious conservative positions in place now. 
I'm expecting they'll move very quickly on some easy things like taking away money from Planned Parenthood. 
The only thing that Trump has indicated that he really cares about is making sure you remove the tax burden on people like him. 
What's going to happen to Obamacare?
What they've said is they're going to get rid of Obamacare, but a lot of these things are run at the state level. Can they require states to remove coverage? Is there going to be lobbying from people who had coverage and are then going to lose it? To what extent are they going to stick with what they're claiming, or are they going to decide that this may lose them enough votes that they don't want to go that route?  
One of the things Trump said he wanted to do is medical savings accounts. Medical savings accounts make no sense. If you take a look at health expenditures in every country including the U.S., most people are relatively healthy and don't have high expenditures. A tiny number of people account for most of the health expenditures. 
Nobody wants to insure the small number of people who are high-cost. 
One of the problems you run into with these models is what exactly is happening to that small number of sick people? 
So when he's talking about medical savings accounts, how nice, but they don't work for you if you have high needs. 
---
U of T political scientist Peter Loewen, head of the School of Public Policy & Governance spoke about changes to the Supreme Court and how that could impact the issue of abortion.
"I don't imagine Trump will do much on same sex marriage, thankfully so. That issue appears more or less settled.
"He will; however, appoint a new justice who as a part of a new conservative majority will likely be more open to hearing challenges to Roe v Wade.  But even then, the decisions of the court rarely fulfill voters' every wish." 
---
Andreas Park is an associate professor of finance at University of Toronto Mississauga, Institute of Management and Innovation and the Rotman School of Management. He explains the fluctuations in the international markets and weighs in on Trump's economic plan. 
There was a dip in financial markets as the election results were coming in – what happened?
This dip happened at a time when the major markets were closed. The dip was really something in the futures market. It was noticeable that it happened. But at the end of the day, it's not a reflection of the market as a whole. 
If you look at the volatility at the moment, it's actually very low. When you look at the volatility index – which is the major measure for volatility – there's no indication that there's a huge increase in volatility because of Trump. There is certainly some uncertainty involved. We don't know what the man is like – what kind of decisions he's really going to make. 
What is Trump's relationship with Wall Street? 
You have to look at different levels. There's the question of the regulation of financial institutions, to supervise what they're doing and possibly to change some of the tax loopholes that some people who work on Wall Street enjoy and have the particular ability to exploit. Trump has come out very strongly against those loopholes and against people who exploit these loopholes.
But then when we think of financial markets as a whole, they should be to some degree a reflection of the economy. As far as markets are concerned, we should think about the real economy – Wall Street, stock prices, futures markets, exchange rates will reflect all of that.
One issue – which probably the banks hope for – is that given there is a Republican Congress, some of the regulations which they perceive to be burdensome will be changed. There are some parts of the regulation that came after the financial crisis that had unintended consequences that probably require some attention.
How will his economic policy affect Canada and the rest of the world?
Here's one of the real concerns: he puts in a policy – huge tax cut of some form – that probably creates some economic boom in the short-term. But what happens if it goes south? 
At the moment, we have a situation where there's an extremely low interest rate.  There's no monetary policy instrument you have to avert a disaster in the economy. The only thing you have at this point is fiscal policy. You do poor fiscal policy, one way or another, you can get your country into a real problem.
If something bad happens in the U.S. – like the U.S. flies into a recession – of course Canada will suffer, and of course the rest of the world will suffer. We're all connected.
At the same time if there is a boom, we will benefit from that short-term boom.
Should people be concerned about any of their personal investments?
We don't know what's happening. It could go either way. If he implements what he says he will do, I think things don't look great because in the long-run he will probably create huge deficits and that has the capacity to create a prolonged recession. 
If he kills Obamacare, short of the big cost-factor, you're harming people who don't have insurance. That takes money out of their pockets. That will have a negative economic impact on their spending behaviour.
The average investor should make sure that he/she is well-diversified – this is the usual advice.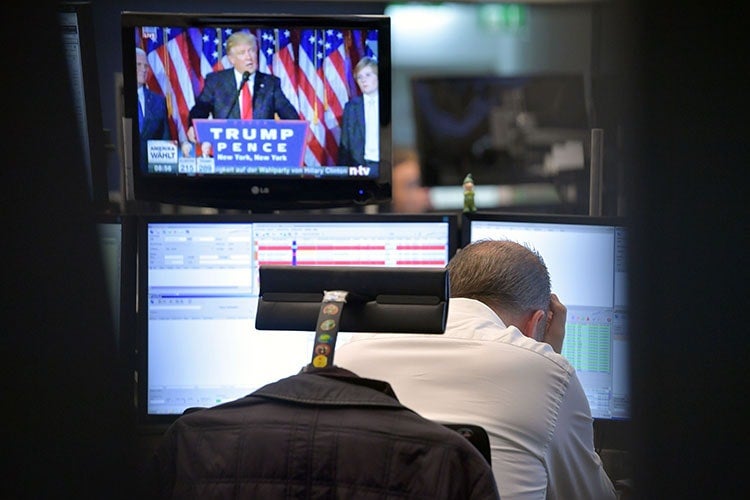 Inside the Frankfurt Stock Exchange on the night of the Nov. 9 elections (photo by Thomas Lohnes/Getty)