'An experience I wouldn't want to encourage': U of T's Tina Malti on separating refugee children from families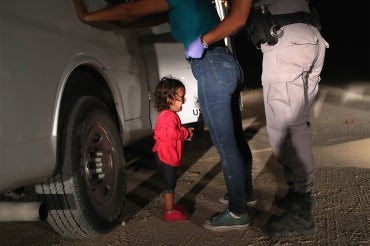 A two-year-old girl in a red shirt stands next to a white border patrol truck at night, crying. Her mother stands with her hands against the truck as a border official wearing latex gloves searches and detains her. In that moment, the child looks very alone.
The photo by Getty Images photographer John Moore went viral, becoming a representation of the pain and anguish brought about by family separation at the United States border with Mexico, and went on to win the 2019 World Press Photo of the Year. While the Honduran asylum seeker and her daughter were not ultimately separated, the image served as a powerful reminder of the trauma migrant children face.
"From a child development perspective, separation is an experience I wouldn't want to encourage," says Tina Malti, a psychology professor at the University of Toronto Mississauga, noting separation at the border has a negative effect on child development.
Malti, who won the 2019 Desmond Morton Research Excellence Award, made the comment during the annual Desmond Morton Research Excellence Lecture after she was asked about the impact of the family separation policy on children. The question arose after Malti presented her research, which strives to understand how children become kinder, less aggressive and overcome traumatic stress.
With tens of thousands of refugee children around the world unaccompanied or separated from their families, the question of what impact these experiences will have on their behaviour looms large.
Malti's recent research focuses on kindness in children, which she notes is an important virtue that is recognized as a value. "Kindness is one way to become humane," she explains, adding it leads to more inclusive societies as it builds tolerance and peace.
"Children are not born good or bad," Malti adds. "All children have the potential to become kind."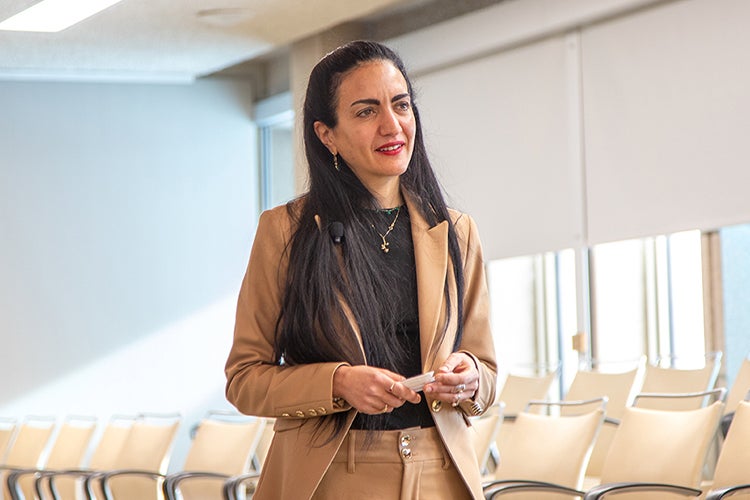 Tina Malti, a professor of psychology at U of T Mississauga, won the 2019 Desmond Morton Research Excellence Award, which recognizes outstanding career achievement in research and scholarly activity (photo by Drew Lesiuczok)
The capacity for kindness evolves over time, but for Malti the question is when this "remarkable capacity" for kindness emerges in children and how war-related trauma experienced by refugee children affects kindness.
Malti and her team are currently studying prosocial development and the mental health of refugee children resettling in Canada. The study focuses on newcomer families with children ages five to 12 who were displaced for an average of three-and-a-half years.
Kent Moore, U of T Mississauga's vice-principal, research, says Malti's research is a topical subject as society begins to grasp the issues around mental health. 
Witnessing violence and experiencing family separation has a negative effect on prosocial development, Malti says, explaining refugee children score lower on emotional regulation. They do, however, score similar to the average using other metrics, including sympathy.
"When it comes to kindness, I think it's important to see the complexity of the phenomenon," Malti says, noting it's important to understand the foundations of kindness, and how, when and why it emerges in and across populations. She adds that her goal is to "nurture the potential for kindness in every child."
UTM