Eva Lau, co founder of Two Small Fish Ventures, says universities key to Toronto's growth in tech
U of T alumna is among the members of the U of T community speaking at this year's Collision conference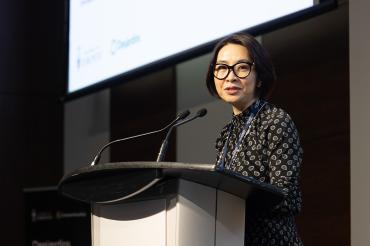 As one of the entrepreneurs on the front lines of Toronto's rise as a modern tech hub, Eva Lau says the University of Toronto will play a critical role in keeping the city on the cutting edge by fostering the next generation of innovators.
"I've been in this ecosystem long enough to see how it has matured," says Lau, managing director and co-founder of Two Small Fish Ventures, which invests in early-stage tech companies and has backed successes such as SkipTheDishes, Sheertex and U of T drug discovery startup BenchSci.
 "And I have to give credit to the universities."
An alumna of the Faculty of Applied Science & Engineering, Lau is among the U of T founders, alumni and faculty expected to speak at the Collision conference from June 26 to 29 – a list that includes University Professor Emeritus Geoffrey Hinton, known as "the Godfather of AI," who has garnered global attention for sounding the alarm about the existential risks of the technology he helped developed.
At a special session on June 28, Lau – who was formerly the head of community at online storytelling platform Wattpad – will talk about the positive impact that diverse mentors can have on founders as they go through the accelerator and incubator experience.
She recently spoke to U of T News about the benefits of diverse mentorship and how U of T's emphasis on entrepreneurship has bolstered Toronto's startup scene.
---
How does having diverse mentors help founders and startups grow?
Mentorship is something that a lot of founders may take for granted. They'll say, "I need someone who understands this space." If they're building financial products, they'll look for someone in the financial sector, for example.
But if we continue to iterate in a domain, we will always get incremental improvements of existing products. Disruption actually happens when people put their minds together and think outside the box. You need to surround yourself with people who think differently from you, who bring different perspectives.
Mentorship is more than getting advice about how to follow other people's paths to success. It's about building your own DNA, looking at things from a 360-degree perspective and making use of the advice around you so that you can chart your own path to build a product that works for everyone.
How did your education at U of T Engineering help you as an entrepreneur?
When I was at U of T, I studied industrial engineering. One of the subjects that intrigued me most was human factors – the product-human interface, designing products that suit human needs.
Addressing human issues is what innovation should be all about. When you design a product, you need to understand how humans will interact with it, because that's what's going to drive user adoption.
That was a real eye-opener for me. It's not enough to create something that solves a problem for people. You have to think about how people are going to use your product to solve that problem. I'm not only the creator; I'm creating a solution for an actual person.
How have you seen Toronto's startup scene evolve and where do you see it heading?
I've been in this ecosystem long enough to see how it has matured. And I have to give credit to the universities. Back when I was at U of T, entrepreneurship was barely mentioned. Nowadays, entrepreneurship is a building block of education.
At U of T, there's the Creative Destruction Lab at the Rotman School of Management, the Entrepreneurship Hatchery at U of T Engineering and so many other incubators and accelerators.
That seed of entrepreneurship gets planted very early on, right after high school. And in the past couple of decades, we've seen more and more tech companies founded in Canada – Shopify, Wattpad, Wealthsimple and many others. That's inspiring a lot more young people to follow suit.
We're also seeing more budding entrepreneurs get first-hand experience working at companies as part of their education. For example, the Faculty of Applied Science & Engineering has the Professional Experience Year Co-op Program, where students can earn up to 20 months of work experience before they graduate. That's a game-changer.
That's why we're seeing the maturity of the startup ecosystem. Our young generation is no longer limited to learning from textbooks, professors and parents. They can get a diversity of mentorship during their formative years.
What advice do you have for aspiring entrepreneurs at U of T, particularly women or people from diverse backgrounds?
Absolutely reach out to our amazing alumni network. And don't limit yourself to alumni from your faculty. Reach out to alumni from the engineering school, or perhaps in philosophy, or physics, or history or business. Bring in different experiences to create your own recipe for success.
What will you be keeping an eye out for at the Collision?
I am so keen to listen to Geoffrey Hinton and other U of T co-founders talk about trends in artificial intelligence. I'm absolutely a believer that AI is going to bring so much more productivity improvement – or even disruption – to our ecosystem.
Certainly, there are concerns around AI. But the history of technology shows that innovation always creates some friction in the beginning, but the long-term gains are beneficial to everyone.
I want to hear from the people who are at the forefront of AI, and as importantly, see how their messages are received. How is the crowd reacting to what these influencers are saying? Because that's a good temperature check.
UTC