Entrepreneur or employee? Experts at U of T event to offer guidance to those contemplating a startup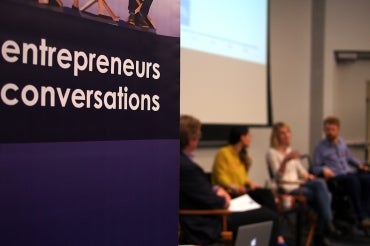 Thinking of launching a startup? Building a business and shaping your own destiny can be incredibly rewarding – but being an entrepreneur may not suit everyone. 
Nat Korol, a founding partner of a digital experience firm Hyphen Co., is among those with experience on both sides of the fence. Before striking out on her own, the U of T alumna spent a decade working in the financial and media industries for companies that include BMO Nesbitt Burns and Raymond James.
Similarly, Fotini Iconomopoulos, the founder of Forward Focusing, created a successful negotiation advisory practice for a global firm, but later decided to be her own boss. 
The two will be addressing the subject at an upcoming Entrepreneurship 100 talk held by the University of Toronto's Impact Centre, one of several entrepreneurship hubs at U of T. They will be joined by Sam Dumcum, the program co-ordinator at U of T Mississauga ICUBE accelerator. 
U of T News caught up with Korol and Iconomopoulos in advance of Thursday evening's free event (more information here) to ask three quick questions about their experiences. 
In your experience, what's the biggest upside to being an entrepreneur?
Korol (left): Professional accountability to yourself (some call this 'freedom' but it's not really), never ending learning and there's always room for improvement, creative problem solving.
Iconomopoulos (below right): The autonomy that comes with being your own boss. Having the perception of control over your schedule. It becomes just as crazy, or more so, but you're choosing to do it as opposed to doing it at someone else's whim. 
Biggest downside?
Korol: It's not easy getting quick guidance or input from experienced leaders because you're not around them all the time (the way you'd be in a large firm) which is why hiccups happen quite often and it's not efficient (and frustrating at times); no "retirement plan"; super long days.
Iconomopoulos: The lack of camaraderie. I miss having someone at my level with whom I can spar and brainstorm. Self motivation can be hard 100 per cent of the time. That can sometimes come with growth but, even then, when you're the boss it's hard to find those who can support you when times are tough. I find it very isolating. 
If you could offer one piece of advice to someone who is thinking of launching a startup, what would it be?
Korol: Hard work pays off so don't be lazy, don't get discouraged and have a firm understanding of why you're doing this.
Iconomopoulos: Talk to people. Get feedback from both sides of the spectrum, not all like-minded people. 
UTC