'The entire world coming together': U of T alumni's website highlights COVID-19 research, recoveries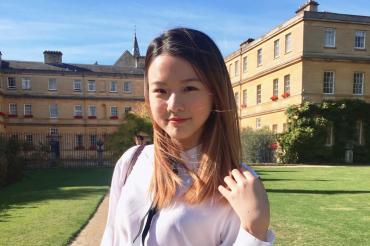 In March, as the number of COVID-19 cases ascended worldwide, University of Toronto alumna Juliana Lee realized that she had been posting so much negative news about the pandemic on Instagram and Facebook that she herself was becoming anxious and depressed.
"Frankly, I didn't realize what I was doing to my own mental health," she says. "I started to look for positive news and I realized that there's actually so much out there regarding recovering patient stories and treatment and vaccine news, but the news media doesn't give enough of a spotlight to those.
"I thought, 'Why not create a website that focuses on those specifically?'"
Along with fellow Trinity College alumna Sophia Shim and current master's student Leo Zhu Lee, Lee launched www.covid19recovery.net on March 18 to promote promising news associated with COVID-19. The site highlights the many vaccines being developed throughout the world and the stories of people who have regained their health after battling the virus. It also aims to educate, by explaining the science associated with the pandemic, and provide levity, with a quarantine playlist, links to music livestreams and suggestions for indoor health and wellness activities.
Lee's favourite part of the website is the "community" section that focuses on the good works of people around the globe – from the U of T medicine students who are performing domestic tasks for health-care workers to people in Turkey who are leaving food packages outdoors for the needy.
The site garnered thousands of unique visitors from more than 70 countries in its first two weeks. It is now on Instagram and Facebook and offers a weekly newsletter.
Lee is well-suited to explain science to a general audience: She has a bachelor's degree in immunology and biochemistry from U of T and now studies infectious diseases as a master's student in clinical medicine at the University of Oxford. (Lee's lab work involves studying malaria, while some of her lab colleagues are currently working on COVID-19 vaccines.)
She traces her interest in explaining science to the public to an experience in a second-year organic chemistry class at U of T. She had participated in a chemistry challenge and was selected to present her slides.
"It was such an amazing feeling to be able to present something that I know to people that I didn't know," she says. "That feeling still carries on, and I think that might have been what powered me to develop this website showing what I know to the general public."
The website has not only helped alleviate some of Lee's own anxiety, but it has made her acutely aware of the empathetic global response to the pandemic.
"One thing I realized while maintaining this website was that, literally, everyone around the world is moving toward one goal, which is fighting COVID-19," Lee says. "I think it's such a wonderful thing that's happening because I don't remember ever seeing the entire world coming together to fight for one goal. Seeing all these communities from different countries doing good for others is really heartwarming."
UTC