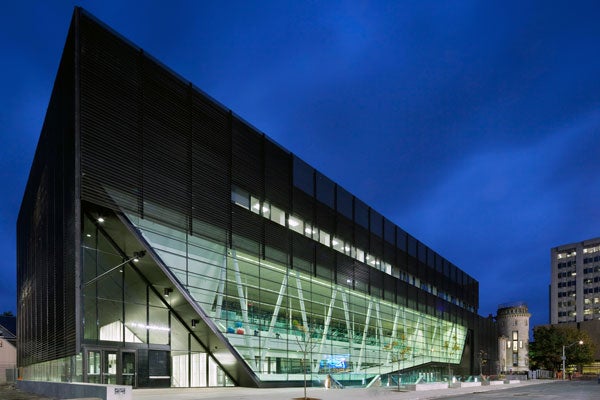 Doors Open Toronto: 12 things you must see at U of T
On May 23 and 24, the annual Doors Open Toronto (presented by Great Gulf and produced by the City of Toronto) is set to take over 155 buildings in Toronto with the theme "Sports, Recreation and Leisure".
This year, the University of Toronto is sponsoring 14 free walking tours throughout various areas of the city.
During the walking tours, local experts will take guests on a walk through time, into ravines, along the lake, through Indigenous lands, and past historical architecture. U of T is hosting two walking tours at the St. George and Scarborough campuses, and here are 12 reasons why you can't miss these tours.
(Note: Registration is required for the walking tours.)

1.    The ghost of University College
U of T's famous ghost story started in 1857, when University College was still under construction. Two friends who were working on the building got into a fight over a woman. A chase ensued, an axe was used, a body was found, and a ghost has been haunting this building since.
2.    The Most Magical Library (according to Buzzfeed)

 (Image by Andrew Louis via Flickr)
Earlier this year, Buzzfeed readers voted the Thomas Fisher Rare Book Library the top most magical library they have visited. This dramatic library houses six floors of rare manuscripts by literary legends such as Shakespeare, as well as medieval manuscripts that look like they were dropped off by Robin Hood himself.
3.    Hart House's wartime stories

 (Image from University of Toronto Archives)
Hart House wasn't completed until 1919 but, while it was still under construction, it was used to house trainees who went on to fight in World War 1. Later, it was used as a treatment facility and an indoor target practice facility. You can still see marks from live ammunition on the walls of this building.
4.    Sneak peek of Pan Am locations
In less than 50 days, the Pan Am & Parapan American Games will bring 250,000 to Toronto from across the world. U of T is proud to be home to several games. Our Scarborough campus will feature diving, fencing, swimming, modern pentathlon, wheelchair tennis and sitting volleyball. Our St. George campus will host field hockey, football 5-a-side and 7-a-side and archery. Doors Open guests will have a chance to see several of our games venues.
5.    Medieval Art from the Malcove Collection
 
(Image courtesy of UTAC - Lucas Cranach, Adam and Eve, 1538)
U of T has a spectacular art collection within its walls and the Malcove Collection housed at the University of Toronto Art Centre is particularly note-worthy. It includes a third century Anatolian marble bust of Zeus Ampelikos, a Syro-Palestian glass jug (ca. 100-299) and several works from Early Christian, Byzantine and Post Byzantine eras.
6.    A peaceful oasis within the city

 
(Image courtesy UTSC)
The Highland Creek Ravine, which runs through the University of Toronto Scarborough, is a wildlife sanctuary and a popular destination for hikers and naturalists.The peaceful trail provides a refreshing break from the bustling city that surrounds it, and is frequented by wildlife photographers and nature-lovers. This ravine also serves as an outdoor classroom for UTSC, where faculty and students – often in collaboration with the City of Toronto and the Toronto Region Conservation Authority – work on ecological restoration, wildlife protection and conservation and water quality monitoring among other environmental concerns.
7.    The first indoor swimming pool in Toronto (Stewart Building)

 
In 1894, Toronto-based architect E.J.Lennox designed the Toronto Athletic Club at 149 College Street. Following a Richardsonian Romanesque style for this building, Lennox – who is also known for designing Old City Hall and the King Edward Hotel – built Toronto's first indoor swimming pool in the basement of this building.
 
8.    Filming locations for Hollywood films and TV shows

Hundreds of films and TV shows have been filmed on our three campuses. During Doors Open, you will be walking where film crews have shot films including Mean Girls, The Incredible Hulk, RoboCop, Good Will Hunting (shown above) and Cinderella Man; as well as TV shows including Friends (The One Where Joey Speaks French), Fringe, Covert Affairs, Orphan Black and Hannibal.
9.    First game of football, ever.
 
(Photo courtesy University of Toronto Archives)
"Gridiron" football, which is the Canadian and American version of football, has roots in U of T's front campus. The first documented game took place in November 1861 between U of T students on the front campus fields.
10.    The Observatory that predicted weather during WW2

 
(Postcard view of the Dominion Observatory, c.1910; John Chuckman. Toronto Postcards Volume 03.)
During the Second World War, the Observatory at 315 Bloor Street W. was the headquarters for Dominion Meteorological Service. The Service developed a 24-hr weather service to assist air mail flights. During the war, the Observatory was a site for training officers to identify weather patterns instead of relying on radio communications.
 
11.    Butterflies at UTSC
 

(Image courtesy UTSC)
Each year, hundreds of butterflies flock to the grounds around UTSC. In the middle of the campus, they often stop at the Fred Urquhart Memorial Garden, which boasts flora that attracts butterflies and helps them thrive. The garden is named after Fred Urquhart, who tracked the migratory paths of monarch butterflies across North America and was a zoology professor at UTSC.
12.    Top-tier Athletes and World-Class Training Facilities

The Goldring Centre for High Performance Sport is a unique fusion between research facility and state-of-the-art competition and training grounds for the Toronto community. Doors Open guests will be able to see architectural elements of this stunning building as well as live demonstrations of various sports, and take selfies with Pan Am competitor and U of T athlete Zack Chetrat and Olympic gold medalist and U of T coach Vicky Sunohara.
And if these 12 reasons are not enough to entice you, those of you who join us on the U of T and UTSC walking tours will also receive a free gift (subject to availability). Register soon; space is limited.
Sarah Khan is a writer with U of T News.