Dance app developed at U of T takes some big steps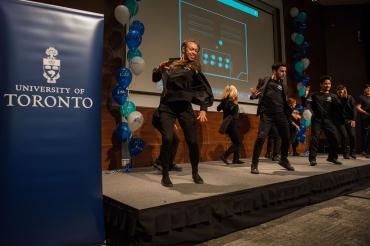 StageKeep, an app created by two University of Toronto alumni that helps choreographers map out their routines, is making some big moves in the dance world.
Maple Leafs Sports and Entertainment has expressed interest in using the app for its Raptors Dance Pak after it was recently used by a dance school for a halftime performance at a Toronto Raptors game.
Amberley Waddell, the Raptors Dance Pak's choreographer, said she is meeting Wednesday with Axel Villamil, StageKeep's CEO and founder who developed the app with computer science alumnus William Mak at U of T Scarborough's The Hub accelerator.
"It was a dream of mine to do something with the NBA and I was too short to do basketball, so this should suffice," joked Villamil, who also said he knows of choreographers in Los Angeles who are using the app.
StageKeep is also teaming up with governing dance organizations to develop a program that would provide the app at a heavily reduced price, or in some cases for free, depending on need.  
"It's good for us because we get more users, but it's also a way to give back to the community so we can make sure everybody gets their hands on the boundless creativity that it can provide," said Villamil.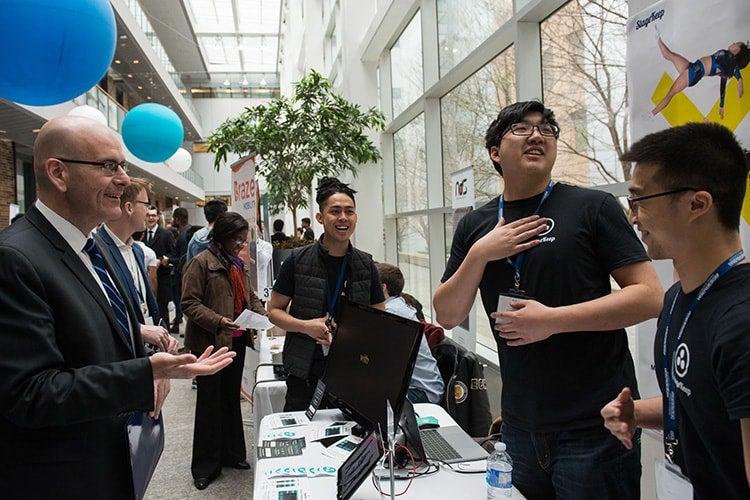 Steven Del Duca, Ontario's minister of economic development and growth, visits StageKeep's table at last week's U of T Startup Showcase (photo by Laura Pedersen)
StageKeep officially launched the choreographer portion of the app during the U of T Startup Showcase Thursday. It will allow choreographers to plan performances, sync their formations to music, visualize transitions and organize their dancers.
The collaborative elements of StageKeep will be available in early April when it's released in full with the dancer portion. At this stage, choreographers will be able to send their routines directly to the dancers and get feedback.
Villamil credits his time at U of T for teaching him to deal with the stress of founding a startup company.
"This feels like a final to me," said Villamil. "After graduating I said, 'I'm never going to feel these crazy late nights again.' Wrong. Totally felt them in this startup life."
UTSC