Courses, clubs and committees: How to get involved with sustainability at U of T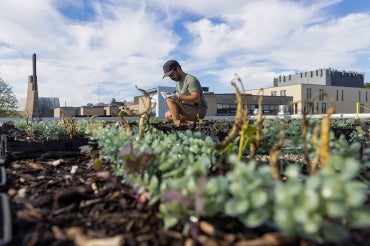 Sustainability-minded students who want to have a positive impact on the planet have no shortage of opportunities to get involved at the University of Toronto.
From hands-on campus projects to volunteer opportunities and courses, U of T students can expand their knowledge, gain new skills and engage with sustainability efforts – on campus and beyond.
"At U of T, there are very many ways for students to get involved and show leadership in sustainability issues," said Professor John Robinson, co-chair of the President's Advisory Committee on the Environment, Climate Change and Sustainability (CECCS).
"Student initiative and leadership have been crucial in influencing U of T responses to sustainability in the past and will be even more important going forward, helping to shape the university's role in fostering transition to a sustainable world."
Sustainability initiatives at U of T run the gamut from climate action to social justice and equity, in keeping with the United Nations Sustainable Development Goals (SDGs). This broad definition of sustainability recognizes the intersectionality of challenges and underscores the importance of bringing diverse perspectives to bear when tackling sustainability issues.
Here are just a few ways you can become involved with sustainability at U of T:
---
Learn about U of T's sustainability initiatives
As the fall term kicks off, there's no better way to get a crash course on sustainability at U of T than by visiting the Sustainability Office booth at the Clubs Fair on the St. George campus on Sept. 7. If you can't make it to Clubs Fair, follow @SustainableUofT and @UofTCECCS on Instagram to learn about initiatives and win prizes through social media giveaways. You can also follow the Sustainability Offices at U of T Scarborough and U of T Mississauga to learn about sustainability efforts on those campuses.
The tri-campus Sustainability Offices act as hubs of sustainability awareness and services and are dedicated to cultivating a culture of sustainability by drawing on the enthusiasm and skills of each local community. For instance, the Sustainability Office on the St. George campus empowers students who live in residence to follow sustainable practices and get their room, floor or residence certified through the Sustainable Change Programs.
And Check out U of T's Sustainability homepage to learn about the university's flagship sustainability initiatives – including a commitment to divest from fossil fuel investments and its ambitious pledge to achieve a climate-positive St. George campus by 2050. The latter includes the construction of a massive geoexchange field below King's College Circle – in connection with the Landmark Project to revitalize the St. George campus's historic core – that will help U of T cut emissions by 15,000 tonnes per year.
Courses and programs
Keen to incorporate sustainability into your learning? U of T offers more than 3,000 sustainability-oriented courses that represent 30 per cent of all undergrad courses. Check out the Sustainability Course Inventory and look up offerings across the campuses and divisions.
You can get involved with real-world challenges by enrolling in one of the many "Campus as a Living Lab" and "Community-Engaged Learning" courses, which help you contribute to sustainability initiatives at U of T or at private and public sector partners. For example, as part of a Campus as a Living Lab course taught by Robinson, graduate students in the Munk School of Global Affairs & Public Policy explored a range of urban climate policy challenges last year on behalf of the City of Toronto and the Atmospheric Fund. To date, U of T students have completed over 330 "Campus as a Living Lab" and "Community-Engaged Learning" projects.
U of T also offers over 100 graduate and PhD programs with sustainability-related content, which can be found on the Sustainability Graduate Program Inventory.
Sustainability Pathways
U of T's Sustainability Pathways program helps you enhance your skill set and credentials through certificates and minors, extra-curricular activities and experiential learning.
There are three components to the program:
Become a Sustainability Scholar – and have the designation recorded on your academic transcript – by earning one of these certificates or minors:
Certificate in Sustainability (Faculty of Arts & Science)
Certificate in Sustainability of the Built Environment (Daniels Faculty of Architecture, Landscape, and Design)
Sustainable Energy Minor (Faculty of Applied Science & Engineering)
Environmental Engineering Minor (Faculty of Applied Science & Engineering)
Certificate in Sustainability (U of T Scarborough)
Certificate in Sustainability (U of T Mississauga – to be launched in 2023)
Establish yourself as a Sustainability Citizen by participating in extra-curricular sustainability activities run in partnership with the tri-campus Sustainability Offices – and have the term "Sustainability Citizen" added to your U of T co-curricular record. The program is set to be launched later this fall (sign up for the monthly sustainability newsletter for details)
Stand out as a Sustainability Leader by completing the Sustainability Scholar and Sustainability Citizen programs plus a capstone activity (this program is currently being developed, so stay tuned to the sustainability newsletter for updates when available)
Student groups and clubs
Did you know there are over 240 student groups, clubs, societies, unions and associations at U of T whose mandates align with one or more of the 17 UN Sustainable Development Goals? Check out the Sustainability Student Group Inventory to peruse them all.
Leadership opportunities
Ready to take on a leadership role? Consider putting yourself up for the Student Advisory Committee of the SDGs @ U of T institutional strategic initiative (ISI), where you can help advance the UN Sustainable Development Goals at U of T.
You can also get involved in one of the four sub-committees of CECCS – teaching and learning; research; operations; and engagement and partnerships.
Get funding for your sustainability project
The annual Adams Sustainability Celebration offers several funding opportunities for students with a demonstrated interest in sustainability. They include the $5,000 Adams Sustainability Student Grants for students working to advance sustainability on campus and $25,500 in funding for innovative student-led projects and start-ups through the Adams Sustainability Innovation Prize Competition. You can also apply for as much as $300 in funding for student-led activities that will form a part of the Adams Sustainability Celebration programming.
If you're an undergraduate student summer researcher working on a climate or sustainability topic, you can apply for a Climate Positive Energy Summer Undergraduate Research Program award worth $5,000.
Stay informed on sustainability events year-round
The best way to ensure that you don't miss out on any sustainability events is to keep tabs on the Tri-Campus Sustainability Calendar. Attending any events listed in the calendar will enable you to earn credit towards the Sustainability Citizen program.
Organizing a sustainability event? Submit your event to include in the calendar and attract more interest and attendees.
UTC