U of T's geoexchange project to cut emissions by 15,000 tonnes per year: blogTO, CBC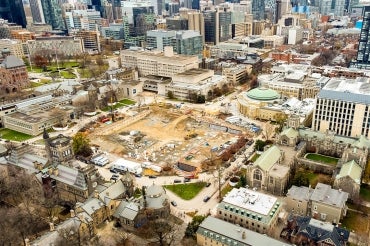 The geoexchange project being installed deep under the University of Toronto's Front Campus is drawing attention locally and beyond Ontario. 
"It may not get the same level of attention as the massive skyline-transforming towers popping up around Toronto, but a project of astounding scale is taking shape deep below the University of Toronto's St. George Campus," blogTO recently reported.
As blogTO notes, the project – which uses the Earth to store surplus heat in the summer for use in the cold winter months – doubles as a learning opportunity for students. "We've designed the mechanical room in such a way that we can actually host lectures in there," Ron Saporta, U of T's chief operating officer, property services and sustainability, told U of T News. "In the future, engineering students won't just read about geoexchange in textbooks, they'll be able to physically see how it works."
Marc Couture, director, sustainability and energy management, spoke to Radio-Canada, CBC's francophone counterpart, about the project. 
It requires digging 250 metres under the surface, he said. "That's half the height of the CN Tower," he said. 
"This installation will allow us to reduce our greenhouse gas emissions by about 15,000 tonnes per year. So, for us, that's about 20 per cent of the total for the University of Toronto St. George campus."
UTC