Chuck O'Reilly takes over from Daren Smith as head of U of T Asset Management Corp.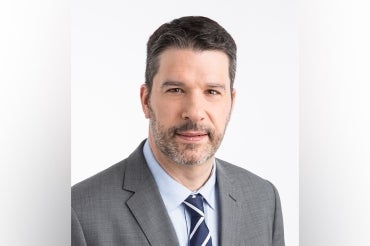 Chuck O'Reilly will become the new president and chief investment officer of University of Toronto Asset Management Corp. (UTAM), which manages more than $13 billion in pension, endowment and other assets on behalf of the university.
O'Reilly brings to the position a decade of experience as a senior portfolio manager at U of T's separate specialized investment management corporation. Currently head of public equities, he will take over from President and CIO Daren Smith as Smith prepares to take on a new career opportunity overseas after nearly 13 years with UTAM.
The leadership transition is scheduled for the end of July.
"I'm fortunate to be moving into this role with a great team and best-in-class infrastructure," said O'Reilly, who previously worked as director of the fund management group at Ontario Power Generation before joining UTAM in 2011.
"I'm excited for the opportunity to build on the successful, sustainable investment approach that Daren played such a key role in establishing, and to continue to generate great returns for the university going forward."
Smith, who was named president and CIO in 2016, praised his successor as a talented and capable leader.
"Chuck has been a key part of our team for over a decade – and helped me build out the team – so I know I'm leaving UTAM in very good hands," Smith said. "He has been a key contributor to making our investment processes more rigorous and systematic, and therefore more sustainable. He's a thoughtful investor, a strong team player, a great mentor to his team and a collaborative leader.
"I'm very happy to pass the torch to Chuck and I'm confident that UTAM will continue to reach new heights under his leadership."
Established in 2000, UTAM oversees the investment of U of T's financial assets to generate the best possible long-term results – while adhering to all client constraints – through skilled investment management, robust risk management and taking material environmental, social and governance (ESG) considerations into account. Rather than buying and selling stocks and bonds itself, UTAM uses a "manager of managers" approach by selecting investment managers to invest on its behalf.
As the incoming president and CIO, O'Reilly will oversee the transition of U of T's pension assets to the new University Pension Plan Ontario (UPP). Set to launch July 1, the jointly sponsored UPP will serve plan members and retirees at U of T, Queen's University and the University of Guelph – with other Ontario universities expected to join over time.
"I would like to congratulate Chuck O'Reilly as he prepares to take on this key position of leadership," said U of T President Meric Gertler. "As a core member of UTAM for the past decade, he has played an instrumental role in growing U of T's assets while taking decisive action to reduce the carbon footprint of its pension and endowment portfolios.
"I'm looking forward to working with him more closely as UTAM's next president and CIO."
President Gertler also praised Smith for his accomplishments in the role.
"Under Daren's stewardship, UTAM has delivered excellent returns on the university's financial assets," President Gertler said. "At the same time, UTAM has established itself as a global leader in responsible investing, thanks to concerted efforts to integrate environmental, social and governance factors into all facets of its work."
Richard Nunn, chair of UTAM's board of directors, said O'Reilly has the experience and skills needed to support the transition of pension assets into UPP and chart UTAM's future.
"It's also a great testament to Daren's leadership that he thought ahead to develop Chuck to be his successor," Nunn said.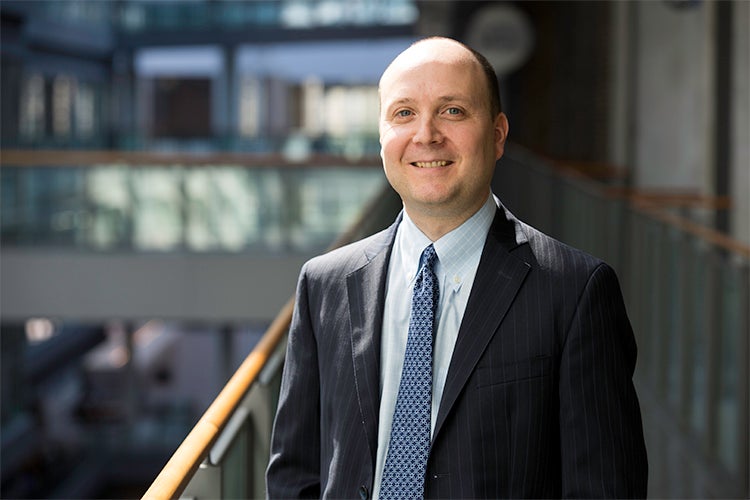 Daren Smith, who was named president and CIO in 2016, said he was especially proud of the strides UTAM has made in establishing itself as a leader in responsible investing (photo by Johnny Guatto)
With Smith at the helm, U of T's pension and endowment portfolios each generated annualized net returns of 8.4 per cent over the past five years. Over 10 years, UTAM generated more than $525 million in added value for the two portfolios combined, according to the most recent annual report.
Smith credited UTAM's strong returns to "the quality of people we have at UTAM and the processes that we've developed, refined and honed for more than a decade, as well as the time and effort that we have devoted to risk management."
Smith said he was especially proud of the strides UTAM has made in establishing itself as a leader in responsible investing.
In early 2020, UTAM pledged to reduce the carbon footprint of the university's pension and endowment portfolios by 40 per cent from 2017 levels by the year 2030 – a goal Smith said UTAM is now on track to achieve this year.
"I've already been consulting with President Gertler about resetting the target," he said. "We're working closely with the university on determining what the new and more ambitious goal should be going forward."
UTAM also scored an "A+" across all categories in its most recent assessment by the United Nations-backed Principles for Responsible Investing. Last year, UTAM and U of T joined more than a dozen Canadian universities in signing the Investing to Address Climate Change charter, a landmark charter that calls on universities to tackle climate change by committing to responsible investing practices.
Smith said UTAM's sustained progress on responsible investing has been accelerated by its decision to integrate environmental, social and governance considerations into its investment decision-making, as opposed to treating it as a separate endeavour.
"What you sometimes see at other organizations is that there's a dedicated responsible investing team, and there isn't always great co-ordination between that team and the investment team, who are ultimately making investment decisions," said Smith.
"We've really tried to embed responsible investing across the firm starting from the top."
In a joint statement, David Denison and Geoff Matus, co-chairs of UTAM's investment committee, praised the work of Smith and O'Reilly and expressed confidence in UTAM's ongoing stewardship of U of T's financial assets.
"We have worked very closely with the management team for the past 12 years, and have been very impressed both by their investment ability and commitment to transparency in their communications and interactions with stakeholders," the statement said. "Daren has shone as a leader throughout his time at UTAM, and we are happy for him as he moves on to a new and exciting international position. He leaves us with a very strong team, so well exemplified by Chuck, who was such an obvious choice to succeed Daren.
"Chuck has displayed an impressive depth and breadth of investing capability and has earned the respect of his colleagues, the investment committee, President Gertler and the university administration.
"We are confident that under his leadership UTAM will continue its impressive track record of investment performance while maintaining its strong commitment to ESG principles and close alignment with the goals and priorities of the university."
UTC