Christmas dinner in the 19th century: U of T food historians consider what traditions remain the same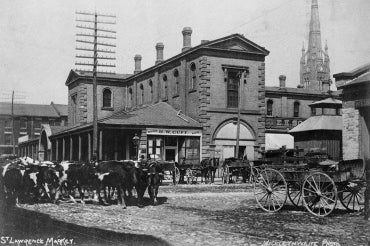 What was Christmas dinner like in the 19th century? A holiday feast in Victorian Toronto would look different than one today, but many traditions were similar.
"If you were sitting at a typical dinner table during Christmas in Victorian Toronto, you would be struck at how remarkably British everything looked," says University of Toronto food historian Jeffrey Pilcher.
"Toronto was a heavily Anglo town and the food culture would have reflected that. Most of the sources from the time that we have, like cookbooks, are very British." 
Much of the story of Toronto's multicultural food history is currently being unpacked by Pilcher and researchers in the Culinaria Research Centre at U of T Scarborough as part of the Tasting the Global City project that involves, among other things, a digital map of Toronto's food system during different historical periods.  
The 1831 edition of The Cook Not Mad – which would become the first cookbook ever published in Canada – reflects the traditional British diet.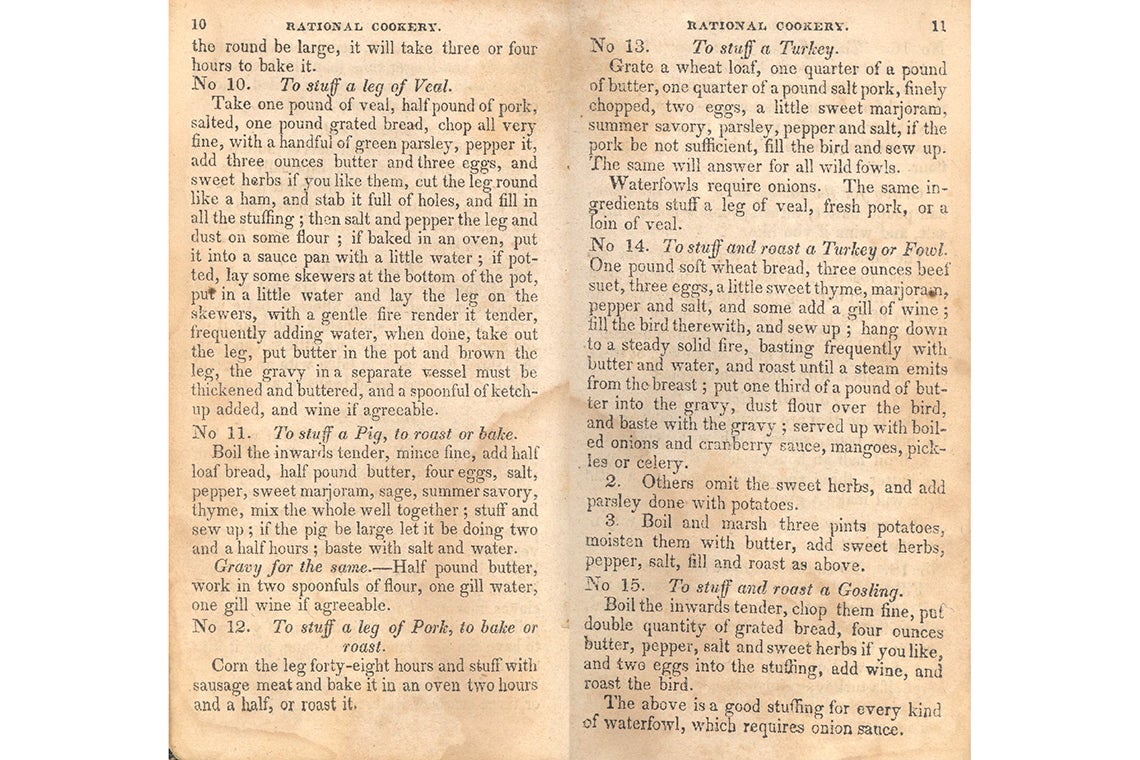 The Cook Not Mad was the first cookbook published in Canada.
One recipe for plum pudding, a popular British Christmas tradition, calls for eggs, flour, salt, sugar, milk, plums and beef suet, served with a "sweet sauce" on the side. While most ingredients could be sourced locally, Pilcher notes some, like plums, would have to be imported.
He says plum pudding, along with maybe a fruitcake, sugar cookies, mincemeat tarts, ham or a big game bird like goose, duck or turkey sourced from farms surrounding Toronto, would be fairly common at a Victorian Christmas meal.
Torontonians could buy their holiday food from one of three public markets by the middle of the 19th century, including St. Lawrence, which opened in 1803 and is still in operation today at Front and Jarvis Streets, as well as St. Patrick (1836) and St. Andrew (1850).
While the influence of Jewish-owned butcher shops and Italian-owned fruit and vegetable stands wouldn't really take hold until the early 20th century, by the closing decades of the Victorian period it wouldn't be uncommon to see some of those businesses popping up around town.
"By the 1880s you've got a small number of merchants involved in the fruit trade, and many of them are coming from Sicily and the hinterlands around Genoa," says Pilcher, adding there were a lot of fruit shops along Queen Street West, many of which were Italian-owned.
Most of the meats served over the holidays could be bought at the markets or at local butcher shops. Many of the Jewish-owned butcher shops that would come to define the kosher trade in Toronto were a late Victorian (post-1880s) development, but some existed earlier in the century.
"The big slaughterhouses that are going to characterize Toronto's reputation as Hogtown were really only starting to grow in the late 19th century, so most meat would be slaughtered at the local butchers," says Professor Daniel Bender, who teaches food history courses at U of T Scarborough.
Smoked meats like ham and bacon would have been popular in the Victorian diet, so too would be tea, maybe with a teaspoon of sugar. Bender says that sugar had traditionally been used as a spice, but as it became more affordable throughout the 19th century it became increasingly common in most people's diets.
"Virtually everyone in the city at the time would likely have had a cup of tea at some point over Christmas," he says. "In fact, calories from sugar would become an increasing part of everyday life, and sugar combined with tea is really the essence of the Victorian diet." 
Bender says that holiday foods tend to be the most heavily spiced, and this would be true for the Victorians. Christmas, after all, would be one of the most important days on the calendar for most living in Protestant Toronto.
"Spices like nutmeg, which hardly get used any other time of the year, end up in Christmas foods," says Bender. "These foods also tend to be our most traditional and as a result the ones that tend to change the least over time." 
Some of the foods we often associate with the holidays were also being imported from parts of the world that would seem very exotic to most living in Victorian Toronto, says Pilcher. Oranges, which eventually became heavily associated with the holidays, were mostly imported from Spain and were a special treat that could be afforded by the wealthy. Nuts and dried fruit like prunes were also being imported from the Balkans.
"Canada, and Toronto in particular, was just beginning to become connected to this larger food system that we all know well and nowadays really take for granted," says Pilcher.
"It really wasn't until the very end of the Victorian period and beginning of the 20th century that the influence from Jewish, Italian and Chinese migrants on Toronto's tastes really take place." 
UTSC