China connection: U of T accelerator creates 'soft landing program' in Nanjing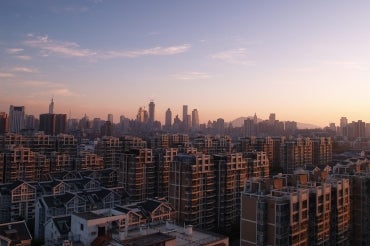 The road to manufacturing a first product leads many startups to China – but figuring out where to go once there can be daunting. 
That's what Bin Liu, the CEO and co-founder of mobility device startup iMerciv, discovered when he first sought out a Chinese supplier to make the plastic casing for his company's BuzzClip, a wearable sensor for blind and partially sighted people.
"It's pretty easy to find a [Chinese] manufacturer, but it takes awhile to find a reliable one," says Liu, a University of Toronto engineering alumnus.
Now, U of T's Impact Centre accelerator is hoping to make it easier for startups following in iMerciv's footsteps to forge business connections in the country of nearly 1.4 billion. 
The entrepreneurship hub, one of nine on campus, recently announced their intent to create a "soft landing program" in partnership with Chinese investment firm Diantou.net. The program, based in Nanjing, will provide technology, legal, marketing and other services to technology startups eager to gain a foothold in the huge Chinese market.
In return, the Impact Centre will run entrepreneurship training courses for Chinese students, researchers and startups. 
"If a [Canadian] company is looking for manufacturing partners, it would be nice if they didn't have to do it over Skype or over the phone – especially if they're making a big decision about a purchase order," says James Li, a project manager at the accelerator.
"Even something as simple as having a home base where they can land and meet with partners and clients."
Bin Liu, the co-founder and CEO of mobility device startup iMerciv, presents at a recent Telus pitch competition (photo courtesy of Telus)
Liu says such a program would have been a big time saver for iMerciv, which he co-founded with Arjun Mali in 2014 and launched with the help of the Impact Centre. 
"It took me literally hundreds, if not thousands, of hours to find a manufacturer," he says of the Shenzhen firm that is now making thousands of BuzzClips.
The device clips to users' clothing and vibrates when it detects a looming object like a tree branch in its path. Liu, who recently won a $100,000 grand prize at a Telus pitch competition, says he was inspired to find a solution after his father, an engineer who lives in Botswana, was diagnosed with glaucoma. 
The BuzzClip is a sensor that clips to clothing and vibrates to warn users of objects in their path (photo courtesy of iMerciv)
Professor Cynthia Goh, the Impact Centre's director, said in a statement the program will allow the U of T accelerator's companies to "hit the ground running" when looking for development, manufacturing, distributing or marketing partners in China. 
Chuan Feng, the general manager of Diantou.net, added that the partnership "builds a bridge" between China and Canada. 
"Not only will more people in China enjoy the benefit of innovative Canadian products and services," Feng said in a statement, "we will also educate Chinese universities and students about technology transfer and company incubation so they can develop their own innovative startups."
UTC